These Nonprofits Are Behind Some of TV's Most Important Storylines
If you remember the reveal on Grey's Anatomy that Dr. Sam Bello was a DACA recipient or Mateo's surprising backstory of being an undocumented Filipino immigrant on Superstore, you've seen a storyline that Define American has consulted on. The nonprofit, which focuses on immigrant narratives, is currently working to improve diverse storylines on television. While folks in the industry are working toward creating opportunities for diversity in front of and behind the camera, it's equally important that the narratives told reflect our world. In fact, Define American is just one of the many organizations doing the on-the-ground work to bring more accurate voices and lived experiences to the small screen.
On Roswell, New Mexico's second season, Define American worked with the team on nuanced storylines involving the complexities of seeking healthcare while undocumented and a harrowing experience involving ICE agents.
"We'll typically bring in several people with 'lived experience' with us," said Noelle S. Lindsay-Stewart, head of entertainment partnerships and advocacy at Define American. "It's important that whoever comes into those rooms has agency over their own stories and what they decide to share." Initial meetings with writers' rooms typically include an "Immigration 101" overview focusing on the types of misguided narratives that have historically been seen — both the hypercriminalized ones and the "worthy immigrant" (that is, the trope of arguing that a specific immigrant "deserves" good treatment because they're so smart/good/useful) narratives.
"The goal is to help writers tell these stories in all their complexities, without vilifying or sanctifying."
Fiction is crucial for educating audiences about stories they might not hear about — or might have misconceptions about — in the real world. Between the person-to-person connections and the resources the organization provides, the goal is to help writers tell these stories in all their complexities, without vilifying or sanctifying. For example, Roswell features an ongoing storyline about a Latinx family of mixed immigration status: father Arturo is undocumented, while daughters Rosa (Amber Midthunder) and Liz (Jeanine Mason) are American citizens by birthright.
"I feel a sense of relief," Mason said of having Define American consult. "I could feel confident we had all the resources to do best by this story," noting that she had previously worked with the organization on Grey's, where the storyline was "more about the subtleties of the legalities." As DACA recipient Sam, she had to explain on screen, for instance, that the "green card marriage" trope wouldn't work in that situation. As Liz, immigration colors a protagonist's storyline.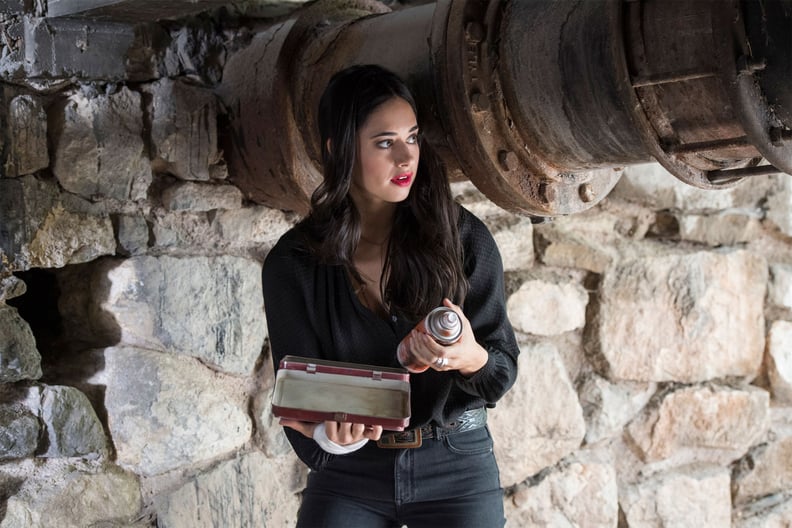 "I'm first generation, but my family's Cuban, so our immigrant experience is vastly different than the one people are experiencing right now. My parents were welcomed as asylum-seekers, my siblings and I all call ourselves Cuban-Americans . . . but there was never any doubt this was our home. Liz's experience is so contrary; there's such a pressure to be so quiet and delicate."
During a pivotal scene on Roswell: New Mexico, ICE agents who have been harassing Arturo throughout a health scare turn up at the Ortechos' diner. Liz is able to use the privilege she does have (as an American citizen) to push back in a way her father can't — which Mason points out is something we all can do: use what privileges we have to stand up for each other.
"It's only when [the agent] oversteps that she feels a need to check him, and that's her own privilege," Mason said. "It was satisfying to get to be disorderly for a second . . . to get to say the truth and claim back a little power from someone accustomed to mowing me and my family down."
When the show does venture into stories that seem familiar, Mason pointed out, it still works to add nuance. The character of Rosa, for instance, is a recovering addict, but, in context, it's just one part of representation.
"Rather than [being] taboo or for shock value, we approach it as something that can further a conversation," Mason said. "We have Liz, who's a scientist, and Kyle [played by Michael Trevino, a Mexican-American actor], who's a doctor, the two of them being Latinx best friends from childhood, top of their game, and it's not gawked at, it's just a simple truth. The beautiful thing about Rosa is that so much of the work we have to do is understanding this [addiction] can happen to anyone. To not ostracize it but to understand that talking about mental health is so taboo within our community . . . It was a really necessary conversation to have."
Immigration isn't the only issue being represented with more nuance on primetime TV today, thanks to the work of nonprofits. Planned Parenthood, for instance, has worked since 2016 to assist shows with depicting abortions.
"Nonprofits like these are crucial to helping writers tell stories that reflect the full spectrum of human experiences — and, in turn, helping audiences discover new ideas they might not otherwise encounter."
"Over 50 percent of people actually believe that the health care information they see on TV and film is accurate," Alencia Johnson, director of public engagement at Planned Parenthood, told Yes! in 2019. "Therefore, we need to make sure that abortion storylines — storylines about sexuality, love, relationships, birth control, whatever it may be — related to gender and reproductive rights are accurate."
Consulting on long-running shows isn't the only way nonprofits are working to redefine narratives in Hollywood, though. Define American is developing its own original content, often in partnership with established producers and networks, in order to help fill in the gaps of untold stories.
"We match the mandate the network is looking for to our message," explained DJ Reed, Define American's TV and film development manager. "We're trying to make an actual change. When we take meetings, industry folks are often surprised at our approach to the creative process, our deep industry knowledge, and the connections we have to immigrant communities across the country." Meanwhile, several nonprofits are called upon to help shows develop strong stories from day one.
"We are meeting with the networks and then reaching out to them and letting them know we are available. Big partners for us are the unions [like] the Casting Society of America's Committee on Diversity, the Screen Writers Guild, and SAG-AFTRA," Jennifer Mizrahi, CEO and president of disability advocacy group RespectAbility, told Vox in 2017.
"I can tell you in a very general way that if you are seeing LGBTQ inclusion on television, there is a very, very strong likelihood that GLAAD played a part in it at some point," added Zeke Stokes, vice president of programs at GLAAD.
Nonprofits like these are crucial to helping writers tell stories that reflect the full spectrum of human experiences — and, in turn, helping audiences discover new ideas they might not otherwise encounter. The team at Define American seems hopeful that there's room for all kinds of stories, covering the tough issues as well as lighter, aspirational stories set in worlds that are, perhaps, kinder than the real one.
"We need really consistent reminders of where we've been, but having something aspirational . . . we need things that give us hope as well," Lindsay-Stewart said. "We're helping more people feel seen while also bringing new folks into this conversation who have never been part of it before."
With so many organizations helping to bring so many voices to the table, it's looking more hopeful than ever that we'll be seeing more nuanced and diverse stories — and that's as exciting creatively as it is culturally.