Did BTS's Jimin Inspire Turning Red's Tae Young?
Is BTS's Jimin in Pixar's "Turning Red"? Fans Think So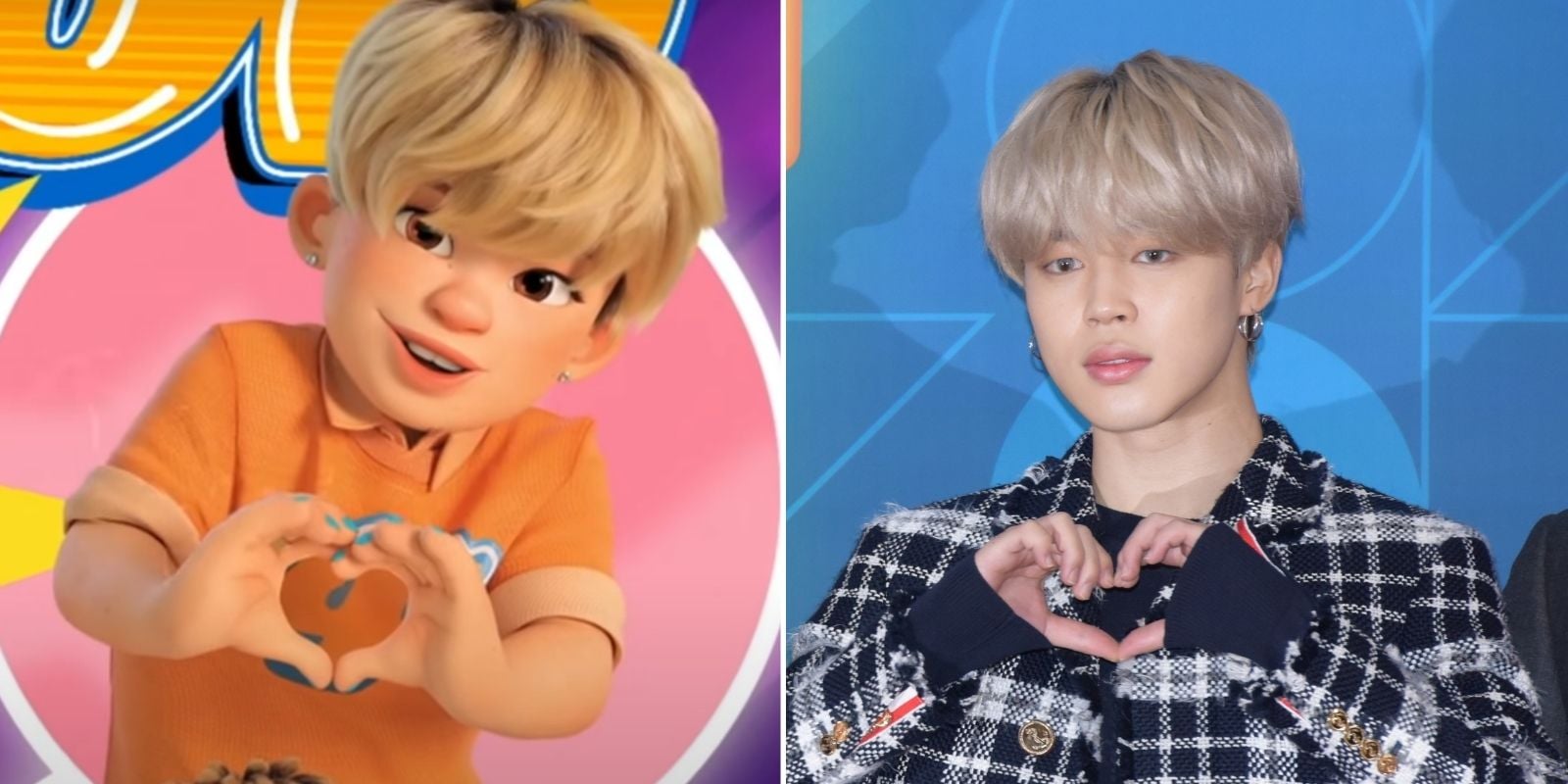 Image Source: Youtube User Disney Music VEVO / Getty / The Chosunilbo JNS / Imazins
"Turning Red" is Pixar's latest animated feature, and fans of the megastudio's storytelling and animation style are eager for its upcoming release on March 11. The film follows 13-year-old Meilin "Mei" Lee as she deals with the struggles and awkwardness of being a preteen. If the hurdles of being a teenager aren't enough, Mei discovers a new kind of "growing pain" when she wakes up one day as a giant red panda, which manifests when she's excited or distressed — aka, basically all the time.
A huge part of Mei's teenage existence revolves around her favorite boy band, 4*Town. Disney released an original song featuring the fictional boy band on Feb. 25, and since then, fans of the beloved K-pop group BTS have noticed that one of the members of 4*Town, Tae Young, closely resembles BTS member Jimin. But is Tae Young from "Turning Red"'s 4*Town actually inspired by Jimin?
Tae Young's Resemblance to BTS's Jimin, Explained
In a featurette introducing viewers to 4*Town, Billie Eilish and Finneas O'Connell (who happened to write 4*Town's music) reveal that 4*Town was inspired by real-life boy bands (though they didn't name any specific ones). Member Tae Young is seen with a shaggy blond haircut, ear piercings, and what looks like an adorable, slightly crooked front tooth — all while making a heart sign with his hands. His entire look is reminiscent to "Idol"-era Jimin circa 2018, which the BTS ARMY quickly pointed out on social media.
One user posted a collage with side-by-side comparisons of the character with Jimin, which is definitely convincing. Another user pointed out that Tae Young's name is only slightly different from Taehyung, which is the real name of V, another BTS member. Fans are pretty convinced the character is based on Jimin.
i hope somebody in the press will ask the turning red director if taeyoung is indeed based on jimin

— M⁷ (@chimmy_filter) March 8, 2022
WHY IS JIMIN IN TURNING RED

— luz (@lvzelena) March 8, 2022
Pixar's History of Basing Characters on Real Celebrities
Jimin would not be the first real-life person to inspire a Pixar character. In the 2015 film "Inside Out," main character Riley creates an imaginary boyfriend, who closely resembles then-One Direction member Harry Styles. Turns out, "Inside Out" director Pete Docter and coproducer Jonas Rivera admitted the imaginary boyfriend was inspired by the singer. "[My daughter is] very much a One Direction fan. We were looking at the hairstyle and the tight-fitting jeans that are a little bit saggy around the middle," Docter told Digital Spy in 2015.
As of right now, there is no official confirmation that Tae Young's character is inspired by Jimin, but judging by their strong resemblance and Pixar's past, it's definitely possible!
Watch the lyric video for "Nobody Like U" below, and stream "Turning Red" when it hits Disney+ on March 11.