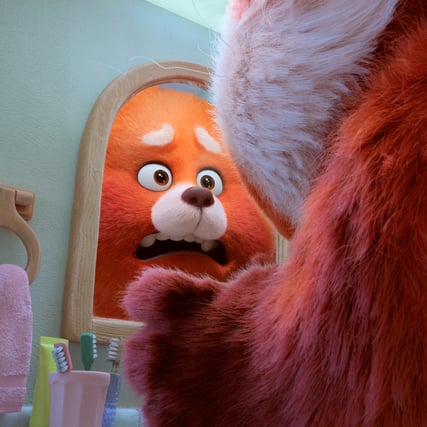 In a turn of events, Turning Red will skip a traditional theatrical release and instead debut on the Disney+ streaming service. The latest Disney Pixar flick, which takes on the struggles and stressors of growing up through the middle school years, is also its first film slated for 2022. (And it's the third straight Pixar original to go this streaming-only route, with Soul debuting on the service on Christmas 2020 and Luca debuting online on June 18.)
In the movie, which is still set to release on the same scheduled date in March, 13-year-old Meilin Lee (Rosalie Chiang) "suddenly 'poofs' into a giant red panda when she gets too excited (which is practically ALWAYS)." In the first teaser trailer, we saw Mei burst into a puff of pink smoke as she goes from girl to panda shortly after her mother, Ming (Sandra Oh), shows up outside her middle school. But in the new full trailer, fans can get a bit more backstory into this little family "quirk" of hers.
See the just-released trailer for Turning Red above, first photos from the film ahead, and mark your family's social calendar for its Disney+ unveiling on March 11, 2022!
Logo For Disney Pixar's Turning Red
Disney Pixar's Turning Red Teaser Trailer
Disney Pixar's Turning Red Trailer