Disney's Live-Action Mulan Includes a Heartwarming Nod to the Animated Original
Hua Mulan, meet Fa Mulan! Disney's live-action remake of Mulan dropped on Sept. 4, and fans will be happy to know that there are some clever nods to the 1998 animated film. Perhaps one of the most exciting comes at the very end, when Mulan (Liu Yifei) is being introduced to the Emperor (Jet Li) to receive thanks after saving him from the villainous Böri Khan (Jason Scott Lee). A woman in a lustrous green, red, and golden gown formally presents the warrior at the palace, saying, "Your Imperial Highness, Hua Mulan." That woman, credited as "Esteemed Guest," is none other than Ming-Na Wen — the actress behind the voice of Disney's original Mulan!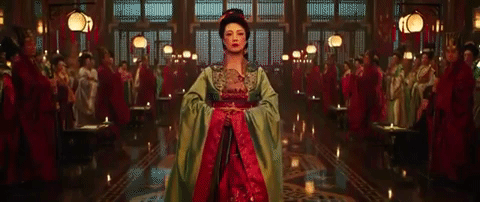 There's even a special appearance from Wen's 19-year-old daughter, Michaela Zee. "After Ming-Na does her introduction, Mulan says something slightly unexpected a few shots later and it cuts to the reaction of someone who gives a 'oh my' reaction. That is Ming-Na Wen's daughter," producer Jason Reed told Insider. Reed also revealed that the brief cameo was a challenge to pull off, since Wen was working on the final season of Agents of S.H.I.E.L.D. while they were filming the movie. Thankfully, they figured out scheduling, and Wen made her way to New Zealand to shoot the scene.
In an Instagram post on Sept. 7, Wen expressed her gratitude to everyone involved with the movie and included a sweet message for her fans. "I am overwhelmed by your love and emotions," she wrote. "You are all in my heart!" There might have been some differences between the live-action version and the animated film, but it's nice to see a passing of the sword from one Mulan to another.