Jonas Brothers' Sixth Album: Title, Release Date, Tracklist
Haley Lu Richardson Reacts to Being in the Jonas Brothers' "Wings" Video: "I'm So Thankful"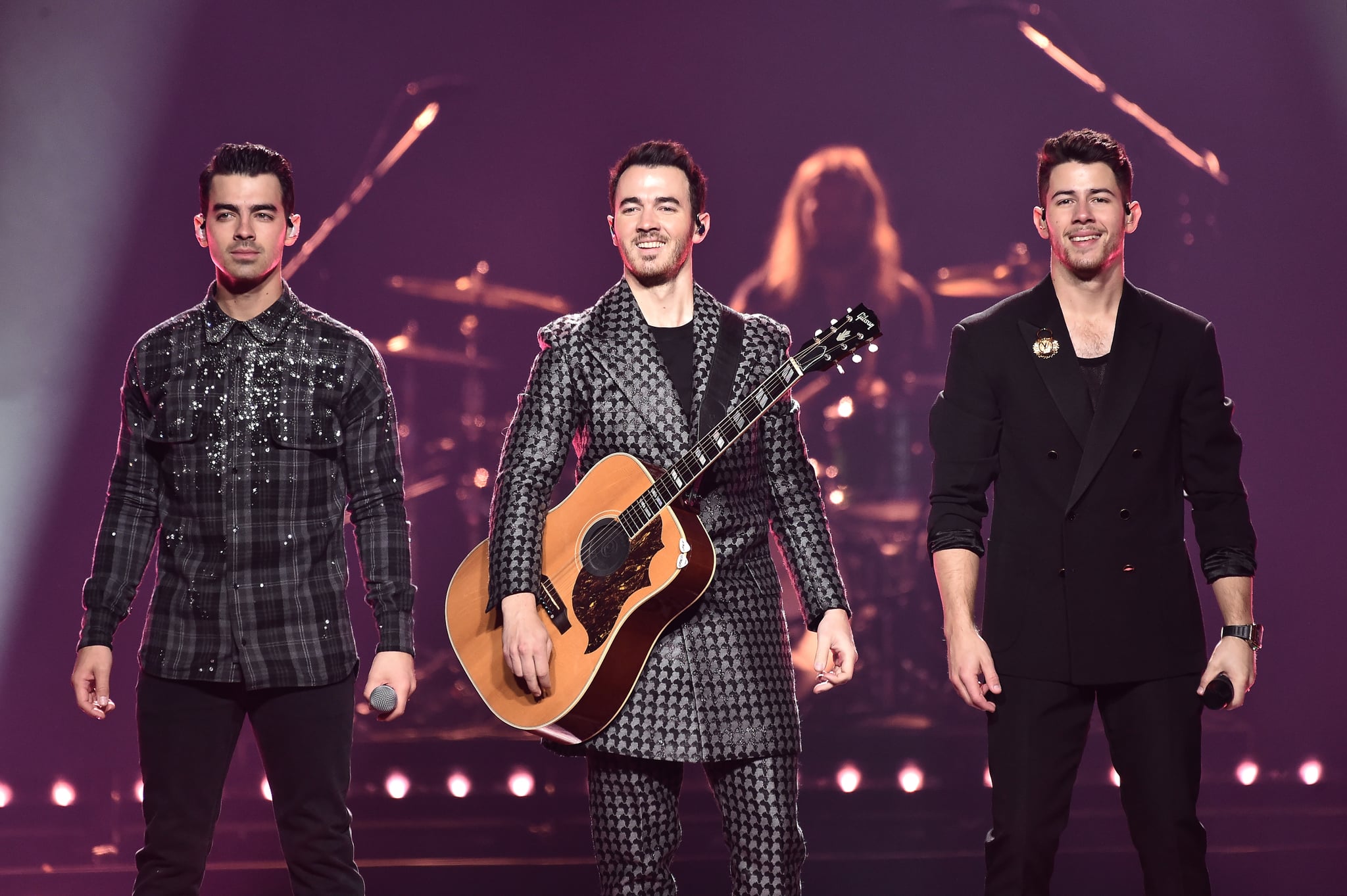 Get ready, because a new Jonas Brothers album is on the way! After reuniting and releasing their "Happiness Begins" album in 2019, the brothers have been teasing a new project since 2020. Now, we finally have a name, a release date, and a brand-new single complete with an accompanying music video. The brothers received a star on the Hollywood Walk of Fame on Jan. 30, and in their acceptance speech, Nick revealed some key details. "We are excited to announce today that our new album, 'The Album,' will be coming out May 5," he said, adding that "we can't wait to see you on tour later this year."
On Feb. 24, the trio released the first song off the album titled "Wings." In the song, the boys sing, "You are the one, the sun, the light of day / You are the wings I need to fly away / When you give me love / I feel it / I feel it / It feels like I ran through the ceiling." In addition to the catchy ballad, the video also features none other than "The White Lotus" star Haley Lu Richardson dancing around a hotel with her girlfriends.
For Richardson, being a part of the video was a childhood dream come true. "I AM IN THE JONAS BROTHERS MUSIC VIDEO FOR THEIR NEW SONG WINGS!!!!!
I REPEAT I AM IN THE JONAS BROTHERS MUSIC VIDEO FOR THEIR NEW SONG WINGS!!!!!!!!!!!" she captioned her Instagram post promoting the song. "This was the most surreal day of my entire existence. im so thankful. and I got to do it with some of my best friends."
In a December 2022 appearance on "The Late Late Show With James Corden," Richardson revealed her love of the Jonas Brothers when Corden surprised her with a phone call from Nick. "I just wanted to tell you that you're a huge part of my childhood and therefore life, forever," she told him at the time. "All of my Converse, as I said earlier, in grade school and middle school, have your name on them. And I'm so proud of you, and going to your guys' concerts now recently as adults, I feel so proud of the three of you, and I'm so happy for your lives and your creative endeavors and your families. And I love you."
Meanwhile, the brothers have been heavily teasing new music for some time now. Following the release of their 2020 single "What a Man Gotta Do," Kevin, Joe, and Nick hit the Grammys stage to perform a brand-new track titled "Five More Minutes." As if that wasn't exciting enough, the brothers eventually revealed that the new tracks are part of a "forthcoming album." They also released a collaboration with Marshmello in 2021 titled "Leave Me Before You Love Me."
During a stop on "Live With Kelly and Ryan" in July 2022, Kevin said they've been working on the new album for "a couple of years now." He teased, "We're the most proud of this music that we've ever been about anything we've ever done." When asked about a possible release date, Kevin said, "It's hard to say. We're finishing it up . . . I actually don't know."
In a May 2022 interview with Kelly Clarkson, Nick also expressed similar sentiments, saying the material is his "favorite stuff we've ever done." He added, "It's basically an evolution of the sound in a way I think is really natural for us and feels like a great next step." In a September 2022 interview with POPSUGAR, Joe echoed their sentiments, saying the band's new music marks a "whole new era."
Ahead, check out what we know about the new Jonas Brothers record.
Jonas Brothers Sixth Album Title
Their new record will be named "The Album."
Jonas Brothers Sixth Album Release Date
"The Album" will be released on May 5, according to the band's Instagram.
Jonas Brothers "The Album" Tracklist
"Miracle"
"Montana Sky"
"Wings"


"Sail Away"
"Americana"
"Celebrate!
"Waffle House"
"Vacation Eyes"
"Summer in the Hamptons"
"Summer Baby"
"Little Bird"
"Walls"