Kelly Clarkson Covered "I Wanna Dance With Somebody," and Yes, She Hit the High Notes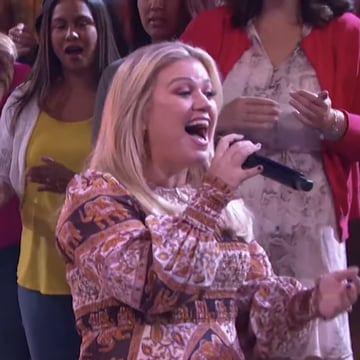 Kelly Clarkson truly has no regard for our edges, because she keeps coming for them with her amazing "Kellyoke" covers.
After rightfully wowing her audience with a stellar cover of Cher's iconic hit, "If I Could Turn Back Time," Clarkson opened her Oct. 24 show with none other than "I Wanna Dance With Somebody." Yes, the timeless Whitney Houston song that everyone ambitiously attempts to cover during karaoke at least once in their lifetime.
Unlike your best friend who swears they're a soprano after a brief stint in high school show choir, Clarkson has the range and does her cover right. Those runs! Those high notes! You truly love to see a legend paying homage to another legend and doing it well. We're ready to take a chance on a love that burns hot enough to last right this second.
Watch Clarkson's rendition of Houston's classic bop above (and take a second to jam to the original ahead), and then be sure to listen to her collaboration with another musical legend for Cyndi Lauper's "True Colors."
Whitney Houston's "I Wanna Dance With Somebody" Music Video
Kelly Clarkson's "I Wanna Dance With Somebody" Cover