Nashville's Lennon Stella on Growing Up and Her "Graceful Evolution" Into a Solo Career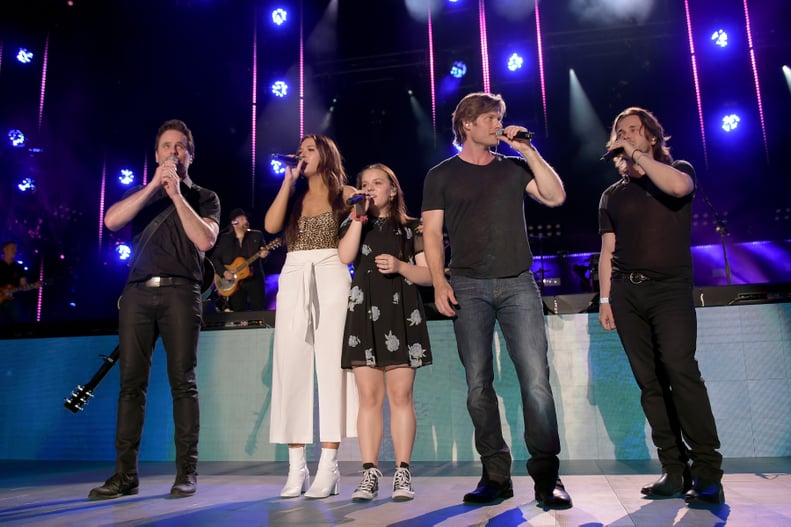 Image Source: Getty / Jason Kempin
POPSUGAR: It's been a crazy year with Nashville ending and you pursuing a solo career. After being on the show for so many seasons and growing up in the spotlight, did you feel like you needed to reintroduce yourself to fans in a way?
Lennon Stella: Yeah, in a way, for sure. Because the music I was making on the show is so different than the music I'm making now. And the music from the show was a character. It wasn't me, so definitely. I tried to gracefully bring everyone along and have them continue being fans of my new solo stuff. But, yeah, it was definitely something I took into consideration because it is — I didn't want to have it be this shocking change. But that was always me, and I feel like I didn't ever really want it to be much of a transition anyway, just kind of more like a graceful evolution.
PS: How would you say that being on Nashville shaped your career as a solo artist?
LS: I think being on the show really allowed me to just experiment and really create and just discover what music I wanted to make. And I think that the show — it was the biggest reason why I was able to do that because I was on the show for so long and I was able to just figure out what I don't like and what I do like. I don't think I would've done that if I wasn't on a TV show because I would've gotten so antsy.
PS: Who would you say are some of your biggest influences?
LS: Stevie Nicks and Fleetwood Mac is my all-time favorite. Lyrically, Andy Shauf. I love his lyrics. I love The Japanese House, Julie Bella, Bazzi. Yeah, that kind of vibe when it's more the sound of the overall thing. But I think as far as songwriting, I really like Bob Dylan.
PS: You've had a few new singles out lately, but I know you're also releasing an EP. How would you describe your new music?
LS: I guess it's kind of like pop, but they have a heaviness to them for sure. I think lyrically they have just a bit of weight. Like a bit of sadness to them. There's two new songs that'll come when the EP comes, and they're a little more upbeat, but they all have a weight to them. Every song, even if it's a fun dance-y song, there's a sadness to it, which I'm just drawn to.
PS: You're very open with your fans, and I feel like you're great at interacting with them on social media. What has that been like to kind of see their positive response to your new music?
LS: I honestly sit and read my DMs nonstop. Comments and DMs are obviously so nice, but having it be specifically about something that I've been working on for so long and having it resonate with them like it does with me is just so crazy and so cool to me. Like "Breakaway," for instance. Those ones specifically are just really a hard time that I was going through, and I wrote them for myself really. And I put it out, and I didn't expect people to relate as much as they did. So many people have said that "it's like you just took the words out my mouth," and I'm just like, that's so crazy because it's like we all feel the same things. It's really cool having them out in the world, and just the overall reaction has been awesome.
PS: I feel like a lot of your comments are always like, "I feel like we're best friends."
LS: Yeah. Which is the coolest thing. Every single person that DMs me feels like we're friends, which is so cool and I will forever keep that. I mean, I hope that stays that way forever. If feels like we're all just swimming together, and I think it's a cool thing and it feels rare. With social media, it's just hard to keep that where it feels super connected, so it's really important to me for sure.
PS: Do you have any big career goals you really want to achieve in the next year?
LS: Definitely in this next year an album and get that really locked in. As of now, there's so many songs that we just kind of have that I've just been writing for so long and so many that I love. But I think just kind of writing more and getting it all out of my system and then just focusing and narrowing it down to an album's worth of stuff and packaging it all together. That's the next thing in my brain is an album and then touring the album.