Disney's Elephant Documentary, Narrated by Meghan Markle, Is the Relaxing Watch We Need
Disney's new nature documentary Elephant is now available on Disney+, which means three things: you can watch majestic elephants migrate from Africa's Okavango Delta to the Zambezi River; you can cry over the sight of baby elephants while learning about the creatures' familial bond; and you can listen to Meghan Markle narrate the whole thing. Yes, Markle — who has officially stepped down from royal duties alongside husband Harry — is the storyteller, and her voice is remarkably relaxing.
Markle details the thousand-mile journey of an elephant family — led by the matriarch, Gaia — who trek across the Kalahari Desert to find water. The Mark Linfield-directed film, which helps benefit conservation charity Elephants Without Borders, specifically centers on Gaia, as well as her sister, Shani, and Shani's young son, Jomo. Shani is set to succeed Gaia as the leader when the time comes, but she first learns important lessons about being in charge. All the while, Jomo just wants to play and be a careless calf.
Of course, the elephants encounter obstacles and many perils throughout the expedition. A calf nearly drowns in mud, signs of reaching their destination seem bleak at times, and a pack of hungry lions threaten Jomo's life (I was *on edge* during that part). But they also have fun, especially Jomo, who tries to befriend other animals.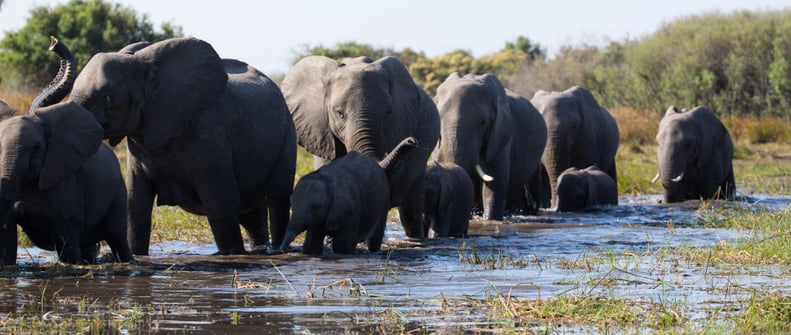 There are even emotional moments, notably when the herd comes across the bones of a deceased elephant. Shani gently caresses the remains with her trunk and shows them to Jomo so that he can feel connected to his ancestry. It's true: an elephant never forgets. Markle does a wonderful job capturing the different emotions of each scene and drawing in viewers. She especially seems enthusiastic about Shani's protection over Jomo (perhaps she can relate, seeing as she and Harry have their own son, 11-month-old Archie).
The documentary is also visually stunning. It features sublime footage of the surrounding scenery, which, to my enjoyment, put my mind at ease. Some of the time-lapses don't feel necessary, but if they're just a reason to show how gorgeous the landscape is 24/7, I'm not mad at it. One of the most captivating shots is the underwater angle of the elephants swimming across a river. I was immersed in their excited victory paddles as they inched closer and closer to the promised land. It's hard not to root for them, and if you find yourself saying to the screen, "You're almost there, guys!" just know that you're not alone.
There's a certain wisdom and intelligence about the elephants that shows how awe-inspiring they truly are. And, at this moment in time, we could all use a reminder that other living things in the world are constantly facing their own battles and learning how to overcome them together.