Meghan Markle's Narration in Disney Film Elephant Reaction
Petition For Meghan Markle, My New Favorite Narrator, to Do These Very Specific Voiceovers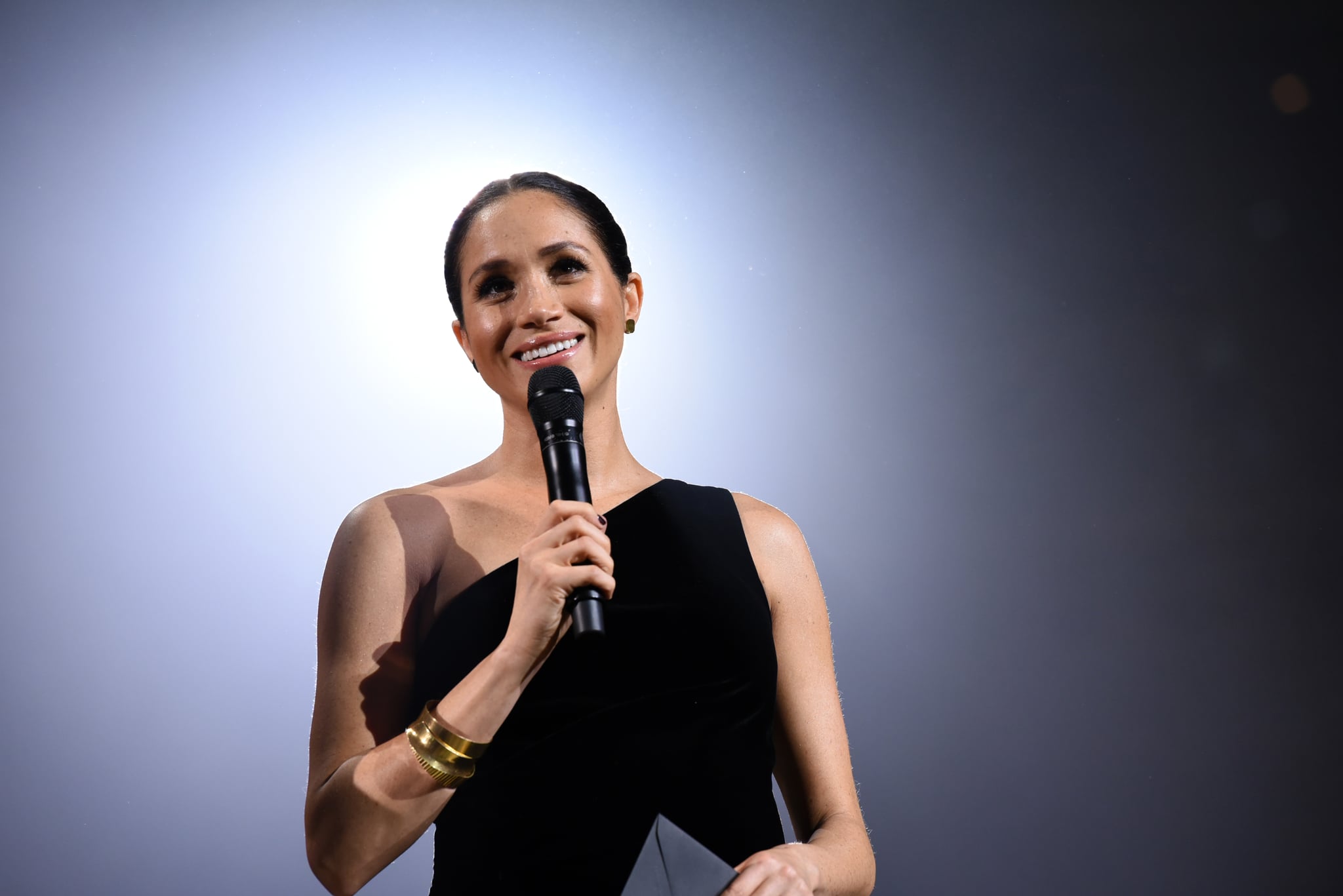 Image Source: Getty / Joe Maher
Disney's new nature documentary Elephant has quite a bit of allure. There's beautiful footage of elephants (obviously), gorgeous landscape scenes, and, oh yes, Meghan Markle's narration. Now, I thoroughly enjoyed learning about one of Earth's most beautiful creatures, but I'd be lying if I said I wasn't also totally entranced by how soothing Markle's voice is.
The film — which Markle joined to help support Botswana-based conservation organization Elephants Without Borders — follows the annual journey of an elephant herd traveling across Africa's Kalahari Desert in search of water. It mostly focuses on three elephants: Gaia (the herd's matriarch), Shani (Gaia's sister), and Jomo (Shani's son). Markle's charm effortlessly shines through as she details the good, the bad, and the ugly sides of the expedition. When Gaia shows her leadership skills, Markle sounds genuinely proud; when Shani protects the herd from rivals, she sounds earnest; and when Jomo is being adorable, she sounds delighted. Markle also sounds especially moved while talking about Shani's safeguarding of Jomo. She likely relates to the maternal instinct since she and husband Harry share 11-month-old son Archie.
Hearing Markle's calming voice got us wondering: what else could she narrate or do a voiceover for? A lot of things, actually, whether it's for relaxation or pure irony. So, without further ado, here's a list of everything we'd love Markle to lend her voice to.
Daily affirmations
A video montage of Prince just Harry dancing
A prose-like reading of Beyoncé lyrics (specifically "Flawless," just so she can say, "Bow down, b*tches" in her sweet voice)
A second-by-second retelling of the moment she actually met Beyoncé
Literally just a recording of her saying, "I'm TeN yEaRs OlDeR tHaN mArk."
A meditation app
Harry Potter audiobooks
A low-quality Facebook clip of her greeting fans like, "Hey, all you cool cats and kittens."
Home video narrations of Archie learning how to walk
Scenes from Stranger Things, specifically whenever Joyce Byers screams, "WIIIILLL!"
Audio bedtime stories for kids
A dubbed version of David saying, "Oh my God" on Schitt's Creek
Cute puppy reaction videos
A virtual yoga class featuring her mom, Doria (who's actually a yoga instructor)
Her own rendition of PTAF's 2012 hit, "Boss Ass B*tch"
A voiceover of Tyra Banks telling Tiffany, "We were all rooting for you!"
A TikTok of her and Harry impersonating Kourtney Kardashian and Scott Disick
Daily news briefings
A Genius-like breakdown of Megan Thee Stallion songs
One of those YouTube cooking shows that we watch for entertainment purposes only and not to actually, ya know, cook
An imitation of Craig Daniels's southern accent in Knives Out
An omniscient-narrator-esque detailing of Harry's attempt to steal a samosa at her 2018 cookbook launch
A recitation of every Law and Order intro, including the dramatic "Dun dun!"