Billboard and Telemundo's Mujeres Latinas en la Música Event Is the First of Its Kind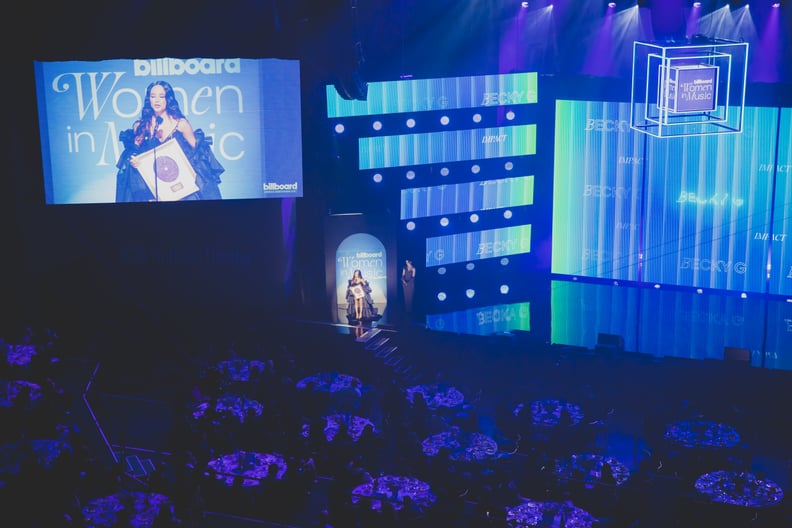 Brandon Todd for Billboard
Brandon Todd for Billboard
Despite the significant challenges they've faced in a male-dominated industry, Latina music artists are thriving. Karol G recently made history with her fourth album, "Mañana Será Bonito," which debuted at No. 1 on the Billboard charts No.1. And Shakira has had an epic year of back-to-back recording-breaking hits, including her viral diss track "Shakira: BZRP Music Sessions #53."
In celebration of Latinas' success in music, Billboard and Telemundo have partnered for Billboard's first-ever Mujeres en La Música event, which honors Latin women in Spanish music. The inaugural event will take place on May 6 at the Watsco Center in Miami but airs on May 7 on Telemundo.
Reggaeton legend Ivy Queen, who received this year's Icon Award at Billboard's 2023 Women in Music event, will be cohosting the event alongside television personality Jacqueline Bracamontes.
Leila Cobo, Billboard's chief content officer for Latin/Español, says the inaugural event serves as an expansion of Billboard's Women in Music franchise. There was a notable rise in Latina music artists attending and being honored at that event, she explains, and as a result, Billboard felt it was finally time to dedicate an event to the women who have helped shape and evolve Latin music.
"It just felt very natural to do a Latin women in music event because we already did Women in Music, but also because for Latin women, there really is nothing like that."
"At the beginning, it was really hard to get anyone to include Latin women there. And then this year we had three Latin women. We had Ivy as this year's Icon Award, which I think was a great breakthrough. Then we had Becky G and we had Rosalía," Cobo tells POPSUGAR. "Before that, we had been talking with Telemundo about other properties we could create that would be compelling, that would be interesting. It just felt very natural to do a Latin women in music event because we already did Women in Music, but also because for Latin women, there really is nothing like that."
The event will honor several changemakers: Mexican pop star icon Thalia; Grammy-nominated Mexican singer/songwriter Ana Gabriel; Venezuelan actress and singer Evaluna; Afro-Colombian singer and rapper Goyo; and Argentinian urban pop superstar Emilia Mernes. Ana Gabriel will be recognized as the Living Legend, and the event will honor her career of nearly five decades.
"We are proud to recognize this group of powerful artists who have redefined the role of Latin women across genres and around the world," Ronald Day, president of Entertainment and Content Strategy for Telemundo, said in a press release. "Music is more than a beat for the Latino community, it is a reflection of our identity. With this event, we aim to continue offering our audience the opportunity to celebrate our culture and come together through the music that unites us all."
Global superstar Shakira will be honored that evening as Billboard's Woman of the Year for her tremendous contributions and record-breaking success as a Latina music artist.
"It was important to get for Woman of the Year, somebody that was super relevant for everybody, and I can't think of anyone better than Shakira," Cobo says. "Shakira is a global superstar. She's recognized all over the world [and] she's the most listened to female Latin artist."
In the past year alone, Shakira has broken numerous records. "Monotonía" featuring Ozuna was the biggest Spanish-language debut of 2022. And in January of this year, her "Shakira: BZRP Music Sessions #53" debuted at No. 9 on Billboard's Hot 100 chart. This not only made her the first woman to reach the top 10 on the chart with a song in Spanish, but the track was also the most-streamed Latin track in 24 hours in Spotify history, as well as the most-viewed Latin track on YouTube in 24 hours with over 63 million views. It literally broke 14 Guinness World Records.
"'BZRP Music Sessions,' it's a brilliant song. I think she benefited from her whole personal situation," Cobo says, referring to Shakira's highly public split from partner Gerard Piqué. "It's very powerful and very well done. People know it by heart. It really resonated, and the fact that she was able to do it says a lot about her. She's able to pull that off and sound convincing."
With Latin music taking off globally and Latina music artists finally getting the recognition they deserve, Billboard's Mujeres en la Música event couldn't have come at a better time.
"This year is really key because we have Latin women who really have been part of that huge awareness of Latin music. Namely, I would say Shakira and Karol G. Both of them have put out global hits. If you think who are the three big names in Latin music right now, I would argue it's Bad Bunny, Shakira, and Karol G," Cobo says. "This music and this culture is part of the cultural fabric of this country. So, you can't keep putting it in a corner . . . when you find that the second-most consumed music in the world is in Spanish — you have to pay attention."