24 Music Videos That Are So Distinctly Summer, You'll Have Turn a Fan on While Watching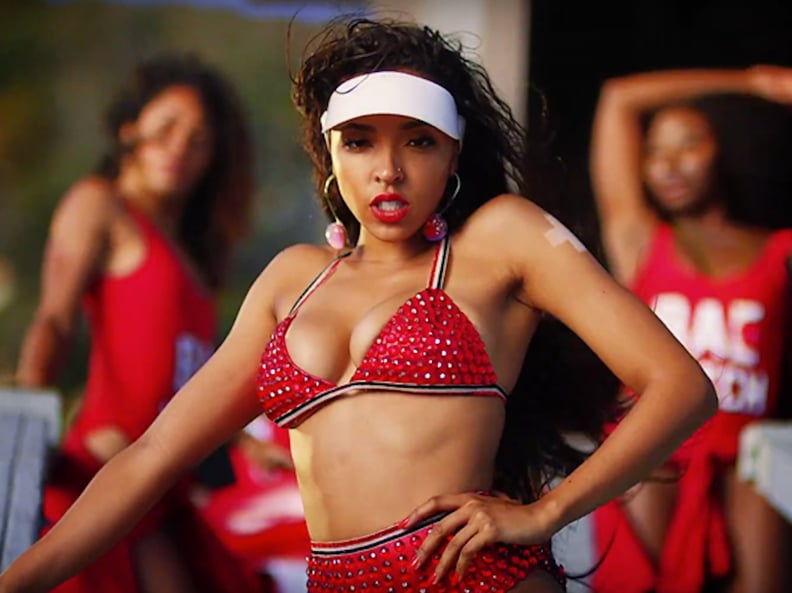 Ah, Summer: backyard barbecues, sweaty afternoons in the park, and lazy days spent by the pool sipping Rosé and thumbing through magazines. Of course, none of these activities are complete without music blaring from the speakers — and many artists have made sure to pay homage to these perfect sunny-day activities in their music videos. We've rounded up the ones that will never fail to get us excited for summertime.
01
"Summertime" by DJ Jazzy Jeff & The Fresh Prince
02
"Sorry Not Sorry" by Demi Lovato
We still wish we were invited to Demi's backyard bash.
03
"New Rules" by Dua Lipa
This video makes you want to grab your BFFs and hit the pool.
04
"Big Pimpin'" by JAY-Z feat. UGK
OK, so you can't charter a yacht — but you can live vicariously through this classic.
05
"Wild Thoughts" by DJ Khaled feat. Rihanna and Bryson Tiller
Is there anything better than Rihanna dancing in a hot room? Short answer: no.
06
"Sometimes" by Britney Spears
That all-white look? Labor Day is SHOOK.
08
"Summer Girls" by LFO
The tune that introduced us to girls who wear Abercrombie & Fitch, not to mention "Billy Shakespeare."
09
"Steal My Sunshine" by Len
This song and video is all over the place, but that's what makes it so amazing.
11
"Miami" by Will Smith
Is Will Smith the king of Summer videos?
12
"Beautiful" by Snoop Dogg feat. Pharrell Williams
BRB, booking a ticket somewhere tropical!
13
"Rock the Boat" by Aaliyah
Aaliyah's final video before her tragic passing is definitely one of her most memorable.
14
"Crazy in Love" by Beyoncé feat. JAY-Z
I dare you not to shake your ass to this.
15
"What I Got" by Sublime
Sublime's laid-back, California sound is so perfect for the season.
16
"Someday" by Sugar Ray
If you didn't have a crush on Sugar Ray-era Mark McGrath, you're lying to yourself.
17
"Smooth" by Santana feat. Rob Thomas
You can't even hear the first few notes of this hit without pouring a margarita.
18
"I Like It" by Cardi B feat. Bad Bunny and J Balvin
If you're not playing this song at your BBQ, don't even bother inviting me.
19
"I'm a Slave 4 U" by Britney Spears
This video has so much heat, you'll start sweating just watching it.
20
"If It's Lovin' That You Want" by Rihanna
An oldie but fire goodie.
21
"Boyfriend" by Best Coast
Best Coast is, well, the best for Summer jams.
22
"California Gurls" by Katy Perry feat. Snoop Dogg
Everyone remembers where they were when Katy Perry put those cupcakes on her boobs.
23
"Eh, Eh (Nothing Else I Can Say)" by Lady Gaga
This Lady Gaga deep cut will take you back.
24
"Malibu" by Miley Cyrus
Miley Cyrus is stripped down (literally and figuratively) for this beachy video.