From ABC to NBC, Check Out All the Trailers For Fall 2019's New Broadcast Shows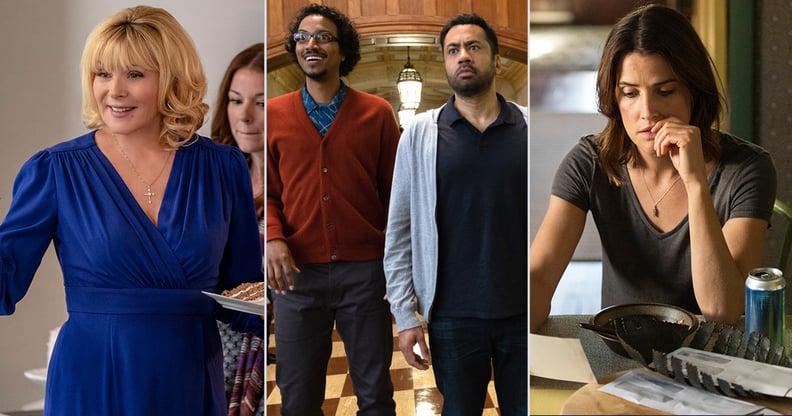 The end of Summer is terrible for many reasons — namely having to say goodbye to sunny weather and rooftop happy hours — but if there's one thing that calls for rejoicing at the end of the warm season, it's the return of Fall TV. As lovely as those few months of sunshine and pool floaties are, anyone who calls themselves a TV-lover can't deny being more than ready to devote their Fall nights to the numerous sitcoms, dramas, comedies, and all those shows that fall in between that networks have to offer.
While we can't wait for all our favorites to return for their new seasons, we're excited to dive into the shows that are just starting out. And if you're anything like us, the only thing you love more than hearing about new shows is getting sneak peeks at them! With that in mind, we've rounded up all the trailers for the upcoming new shows on the big networks that have been released so far so you can figure out what you should have on your radar this Fall. Check them out ahead, and keep an eye out as we update the list with new ones!
All Rise
Created by This Is Us director and producer Ken Olin, this courtroom drama revolves around a cast of judges, prosecutors, and public defenders as they work to get justice for the people of Los Angeles despite a deeply flawed system. Cast members include Luke Cage's Simone Missick, Daredevil's Wilson Bethel, and The Flash's Jessica Camacho, among many others.

Batwoman
Starring Orange Is the New Black's Ruby Rose, this new entry in The CW's Arrowverse follows Kate Kane, cousin of Bruce Wayne (also known as Batman), who must take over her cousin's responsibilities after he goes missing. Though Kate's father tries to protect her from Gotham City's crime wave through his private security firm, Crows Private Security, Kate refuses to hide any longer after her girlfriend, security officer Sophie Moore, is kidnapped.
BH90210
The Beverly Hills gang is back for a totally meta revival and we're already hooked. Rather than bringing back their classic characters, the cast will be starring in a mockumentary-style dramedy running for six episodes. The premise is that the actors reunite for a reboot show, but drama ensues in the series that's "inspired by their real lives and relationships with each other," according to Fox.
Bless the Hearts
Created by former SNL staff writer Emily Spivey, this adult animated comedy follows a down-on-their-luck family living in North Carolina and struggling to get by with the help of friends and good humor. The show features Phil Lord and Chris Miller as executive producers and Kristen Wiig, Maya Rudolph, Jillian Bell, and Ike Barinholtz as the primary voice actors, so it's definitely going to be interesting.
Bluff City Law
House of Cards and 24's Caitlin McGee stars in this legal drama as Sydney Strait, a brilliant lawyer who used to work for her famous Memphis-based father's law firm until their strained relationship forced them to part ways. However, after the unexpected death of her philanthropist mother, Sydney and her father, Elijah, (played by L.A. Law, NYPD Blue, and The West Wing's Jimmy Smits) decide to give working together another try.

Bob Hearts Abishola
Created by The Big Bang Theory's Chuck Lorre, this sitcom stars Mike & Molly's Billy Gardell as Bob, a compression sock factory owner in Detroit who suffers a heart attack and wakes up in a hospital to find himself in the care of a beautiful Nigerian nurse named Abishola (played by Transparent's Folake Olowofoyeku). Bob then sets his sights on getting the cardiac nurse to fall in love with him, though he quickly finds that he's going to have a hard time getting past her steely exterior.

Broke
This sitcom — created by Will & Grace executive producer Alex Herschlag — stars NCIS's Pauley Perrette as Jackie, a working single mother who reluctantly takes in her estranged brother and his wife after their wealthy father cuts him off. Jane the Virgin's Jaime Camil will costar as Jackie's trust-fund baby brother with Chelsea Lately alum Natasha Leggero as his wife.

Carol's Second Act
Everybody Loves Raymond's Patricia Heaton stars in this sitcom as the titular Carol, who decides after years of teaching and raising two children that she wants to embark on an unexpected midlife career change: becoming a doctor. Kyle MacLachlan from Sex and the City and Desperate Housewives costars in the series as the senior attending physician who takes an immediate liking to Carol as she begins her journey.

Deputy
In this modern cop drama, a fifth-generation lawman somehow ends up taking on the role of Los Angeles County sheriff after the previous sheriff dies, though he is much better acquainted with hunting down bad guys than wrestling with city politics. Stephen Dorff (who played Roland West in True Detective's third season) stars as Deputy Bill Hollister alongside Jane the Virgin's Yara Martinez and Cougar Town's Brian Van Holt.
Dollface
The Hulu series follows Jules (Kat Dennings) as she attempts to reconcile with her former girlfriends (Brenda Song as Madison Maxwell and Shay Mitchell as Stella Cole) after her longtime boyfriend dumps her. Jules "must deal with her own imagination to literally — and metaphorically — re-enter the world of women and rekindle the female friendships she left behind."
Emergence
Fargo's Allison Tolman stars in this mystery-thriller drama as Jo Evans, a newly divorced police chief on Long Island's Peconic Bay who decides to take in a little girl, Piper, whom she finds at the scene of a mysterious plane crash. Though she finds it odd that Piper has no memory of what happened (or even who she is), the mystery surrounding the girl only continues to develop as Jo investigates the events leading up to the accident.

Evil
Created by Robert and Michelle King (the same husband-and-wife team who created The Good Wife), this paranormal thriller revolves around a skeptical psychologist (played by Westworld's Katja Herbers) who teams up with a priest-in-training and carpenter to investigate potentially supernatural occurrences. Together, they work through the church's many unexplained mysteries to look for evidence of everything from miracles to demonic possessions.

FBI: Most Wanted
Executive-produced by Law & Order mastermind Dick Wolf, this drama series centers on the team tasked with tracking and capturing the criminals on the FBI's Most Wanted list. Nip/Tuck actress Julian McMahon stars as FBI Agent Jess Lacroix, with Twilight's Kellan Lutz playing Agent Crosby and Law & Order's Alana De La Garza playing Assistant Agent in Charge Isobel Castille.

Filthy Rich
Based on the New Zealand satirical dramedy of the same name, this series revolves around a filthy-rich Southern family who made their money with a Christian TV network and who discover — after the untimely death of its patriarch — three illegitimate children in the estate will that no one ever knew about. Sex and the City's Kim Cattrall stars in the series as family matriarch Margaret Monreaux, while TV veteran Gerald McRaney plays her philandering husband Eugene Monreaux.
Katy Keene
Riverdale is getting a second spinoff (the first being Netflix's Chilling Adventures of Sabrina) with Katy Keene, which stars Pretty Little Liars' Lucy Hale as the titular Archie-verse character. The series will follow aspiring fashion designer Katy as she works as a personal shopper and tries to make it in New York City alongside Josie McCoy (reprised by Ashleigh Murray).

Mixed-ish
This second spinoff of Black-ish (the first being Grown-ish) follows the childhood years of Rainbow "Bow" Johnson (voiced by Tracee Ellis Ross) and chronicles her experience growing up in a mixed-race family in the 1980s. Ride Along actress Tika Sumpter plays Bow's mom, Alicia, and legendary TV and film actor Gary Cole plays Bow's dad, Harrison.

Modern Love
The anthology series — inspired by The New York Times column that details modern love stories — will follow the romantic journeys of different characters.
Nancy Drew
The eponymous young female detective is getting a modern take on The CW, played by newcomer Kennedy McMann. Like Riverdale, the series will be much darker than its source material, following 18-year-old Nancy Drew as she finds her college plans put on hold after she and four friends are witnesses to the murder of a classmate.
NeXt
If you've been missing Black Mirror, then you're going to want to check out this John Slattery-led dystopian series, which revolves around the eponymous NeXt AI (affectionately called Iliza) that may just be interested in taking over the world. Mad Men's Slattery plays Paul LeBlanc, the tech CEO who inadvertently created the Alexa-gone-wrong, and Brazilian-American actress and model Fernanda Andrade costars as Shea, a Homeland cybersecurity agent who works alongside Paul.

Not Just Me
Based on the Australian TV drama Sisters, this series stars Pitch Perfect's Brittany Snow as Julia Bechley, a woman who reunites with two of her half siblings after it is revealed that their shared fertility doctor father had used his own sperm to conceive at least 100 children throughout his career. Arrowverse's Megalyn Echikunwoke plays Julia's former friend and now-sister Edie, while Young & Hungry's Emily Osment plays retired Olympic athlete Roxy, Julia's other newly discovered half sibling.

Outmatched
Starring American Pie's Jason Biggs and Psych's Maggie Lawson, this family sitcom revolves around a totally normal blue-collar couple living in Atlantic City, NJ, and raising their four kids — three of whom are actual geniuses. While Cay and Mike are a casino pit boss and a handyman, respectively, their brood includes a math whiz, a language prodigy, and a musical savant, and their youngest child with an average IQ is the only one they can really understand.

Perfect Harmony
Starring The West Wing's Bradley Whitford and Pitch Perfect's Anna Camp, this comedy tells the story of a former Princeton music professor whose fortuitous discovery of a church choir group may just give him an opportunity for his next endeavor. Whitford also serves as an executive producer, and other cast members include Drunk History's Tymberlee Hill and The Dictator's Rizwan Manji.

Prodigal Son
The Walking Dead's Tom Payne stars in this dark comedy about a criminal psychologist and forensic profiler named Malcolm Bright, who has a very good reason he's able to get into the mind of serial killers: his father, Dr. Martin Whitly, was a notorious serial killer called "The Surgeon." Michael Sheen from Masters of Sex plays Martin and Bellamy Young (who's better known as Melody "Mellie" Grant from Scandal) plays Jessica Whitly, Malcolm's manipulative mother.

Stumptown
In a show inspired by the graphic novels published by Oni Press, How I Met Your Mother actress Cobie Smulders stars as Dex Parios, a savvy army veteran who becomes a private investigator in Portland, OR. Between her love life, her gambling debts, taking care of her brother, and butting heads with the police, Dex's unapologetic demeanor works well for her professional work, but not so much for her personal life.

Sunnyside
House actor Kal Penn and comedy writer Matt Murray cocreated this comedy series, which revolves around a disgraced former NYC councilman named Garrett Modi, who decides to use his skills to help immigrants in search of the American Dream find their way. Penn also stars in the series as Garrett, with The Good Place creator Mike Schur serving as an executive producer.
The Unicorn
In this sitcom, a recently widowed father named Wade (played by Justified's Walton Goggins) attempts to get back into the dating scene with the encouragement of his friends. However, much to everyone's surprise (including Wade's), his status as a sexy single father makes him the most sought-after bachelor in the middle-aged dating pool.

Tommy
Homicide creator Paul Attanasio created this cop drama, which revolves around Abigail "Tommy" Thomas (played by The Sopranos and Nurse Jackie star Edie Falco), a former high-ranking NYPD officer who becomes the first female chief of police for the Los Angeles Police Department. Other cast members include Orange Is the New Black's Michael Chernus and Rectify's Adelaide Clemens.