The True Story Behind Pamela Anderson, Tommy Lee's Sex Tape
The True Story Behind the Pamela Anderson and Tommy Lee's Sex Tape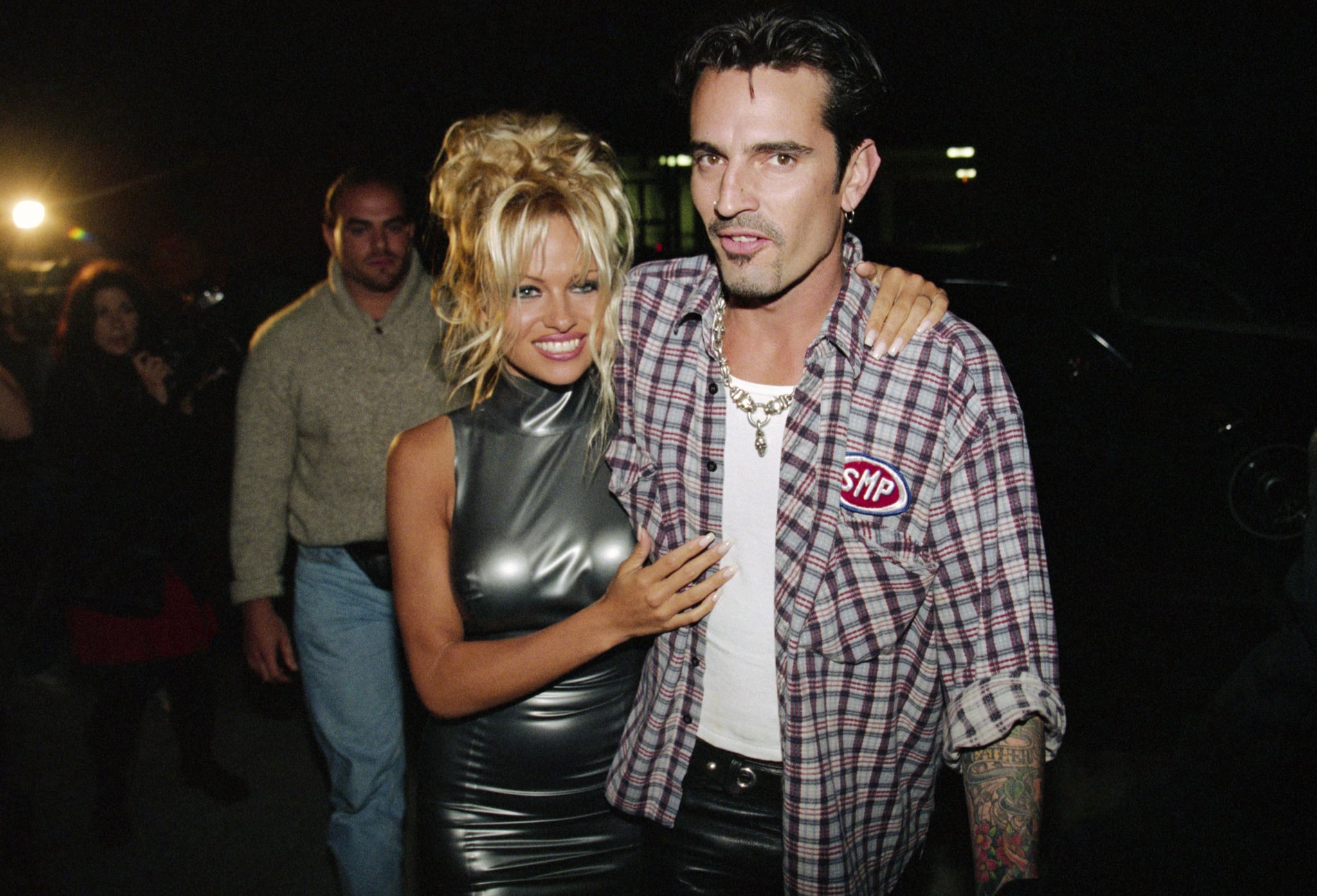 Image Source: Getty / Steve Starr / CORBIS / Corbis
Pamela Anderson and Tommy Lee are known for many aspects of their wild romance — the over-the-top appearances, the loudly shared lust between them, and, of course, the sex tape. The whole story is at the center of Hulu's show "Pam & Tommy" and Anderson's new Netflix documentary "Pamela, a Love Story," but there's more to it than what you see on TV.
The whole sex-tape scandal — one of the most infamous and earliest in the history of sex-tape scandals — really rocked the celebrity world back when it happened in the '90s. For all the details on what went down, keep reading.
What's the True Story Behind Pamela Anderson and Tommy Lee's Sex Tape?
Anderson and Lee met in 1995 and quite literally got married about a week later, according to the Los Angeles Times. Their whirlwind romance made waves in Hollywood, as the Mötley Crüe drummer and the "Baywatch" actor were not shy about showing their affection for one another.
While on their honeymoon on a boat in Lake Mead, the couple filmed nearly an hour of private footage, including eight minutes of sex. They then tucked the footage away in a safe in their Malibu, CA, home, where they assumed it would stay until they decided to take it out. Unfortunately, they were wrong, as the footage would later be released to the world without their approval.
How Did Pamela Anderson and Tommy Lee's Sex Tape Get Out?
Anderson and Lee were doing construction on their home in Malibu with a group of hired people. One of them, an electrician named Rand Gauthier, stole the safe containing the sex tape as a form of retaliation against the couple after getting fired. Gauthier also told Rolling Stone that Lee pulled a gun on him, which he said "screwed" with his head.
Gauthier stole the safe, believing all it contained was Lee's guns and Anderson's jewelry, so the presence of their sex tape was a surprise. He eventually made copies of the video to shop around for sale.
A few months later, in early 1996, Lee and Anderson realized the tape was missing and filed a police report, according to the Los Angeles Times. Soon after, they filed charges against Penthouse magazine, which had gotten ahold of the tape and ran images from it in print. The couple filed further injunctions against anyone who had a copy of the sex tape, but it was too late, and nothing stuck.
Rolling Stone reports that it took two years for the video to go viral, eventually raking in $77 million in just 12 months after the virality took hold. Though stolen, the tape was solidified as the first of its kind.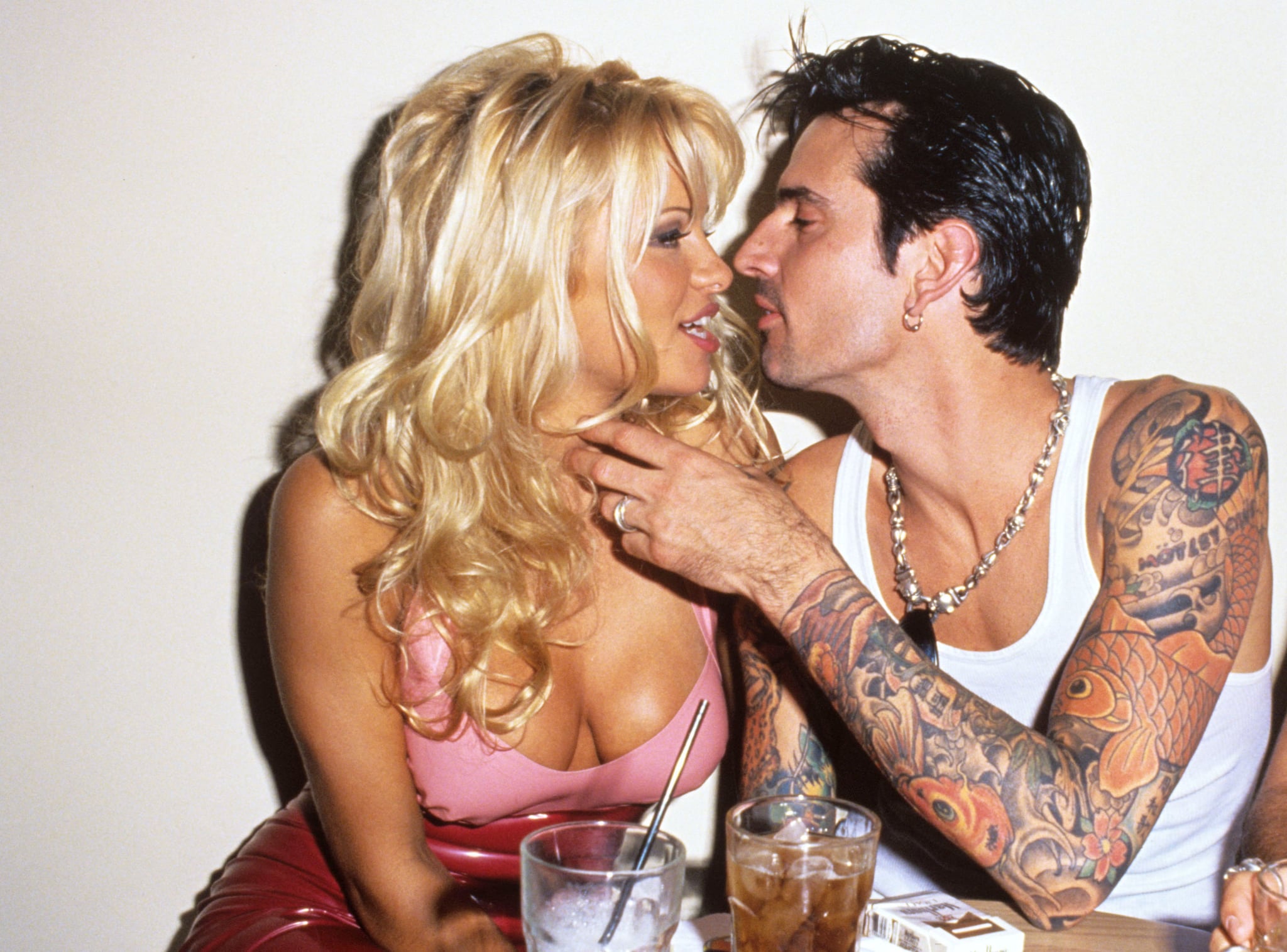 Image Source: Getty / S. Granitz / WireImage
Did Pamela Anderson and Tommy Lee Make Money Off Their Sex Tape?
After numerous failed attempts at suppressing the release of their sex tape in court, the couple decided to put the tape behind them, warily signing an agreement with Seth Warshavsky, a man who owned a streaming site called Club Love. It's unknown how much the deal was for, but the couple hoped signing it would limit the tape's distribution, so they were shocked when Warshavsky made a deal with Vivid Entertainment to distribute the tape to adult-video stores all around the country.
The tape is estimated to have generated over $77 million in profits — not a penny of which Anderson or Lee ever saw. In a 2015 "Watch What Happens Live" appearance, Anderson said, "I made not one dollar. It was stolen property. We made a deal to stop all the shenanigans. I was seven months pregnant with Dylan and thinking it was affecting the pregnancy with the stress and said, 'I'm not going to court anymore. I'm not being deposed anymore by these horny, weird lawyer men. I don't want to talk about my vagina anymore or my public sex — anything.'"
How Much Money Did Rand Gauthier Make Off Pamela Anderson and Tommy Lee's Sex Tape?
If there's any single silver lining in this situation, it's that Gauthier never made much money off of the tape. While he made some money initially selling VHS copies of the tape, the money dried up when bootleggers stole the tape and circulated it without his involvement. With no legal claim to the tape, he was unable to sue the bootleggers, and it was impossible to make any money off of it from then on.
Did Rand Gauthier Go to Jail For Stealing Pamela Anderson and Tommy Lee's Sex Tape?
Despite being the one to steal the tape from Anderson and Lee, Gauthier never actually went to jail. In fact, there was little punishment for the spread of the sex tape. Rolling Stone reports that the courts issued an injunction in 1997 against Milton Ingley, who had reportedly helped Gauthier shop the tape around, but it was too late for much to be done. The video had been shared everywhere, and the damage was done. Gauthier was never even punished for stealing the safe in the first place.