Yes, You Should Definitely Stay For the Credits When You See Crazy Rich Asians
The much-anticipated movie adaptation of Kevin Kwan's bestselling novel Crazy Rich Asians is here, and it definitely lives up to the hype. From the sweet love story to the important Asian representation, the movie is easily one of the best rom-coms of the Summer. While the film is filled with some dramatic moments, one of the most exciting scenes doesn't happen until the very end of the movie. Crazy Rich Asians has a quick midcredits scene that perfectly sets the film up for a potential sequel.
Warning: major spoilers for Crazy Rich Asians ahead.

As Rachel and Nick celebrate their engagement, a recently single Astrid is spotted standing at a nearby bar (she just recently left her husband after finding out he is having an affair). As Astrid stands alone at Rachel and Nick's engagement party, she ends up locking eyes with a handsome man, played by Shadowhunters star and Glee alum Harry Shum Jr.. While the moment seems like a random flirty encounter with a stranger, Shum's character, Charlie Wu, is actually a huge part of the book trilogy.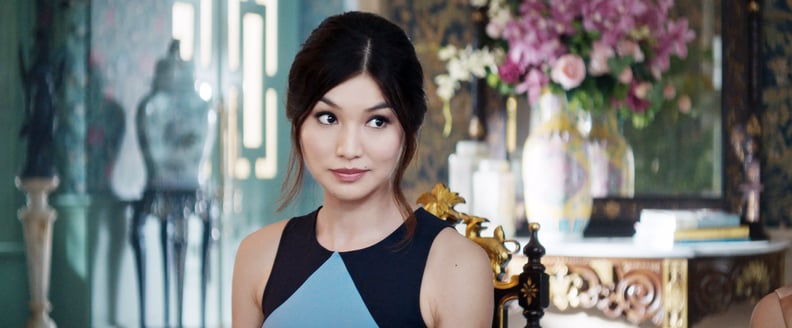 Long story short, Charlie is Astrid's past love and former fiancé in the books. While his character only has a tiny part in the first film, he would have a larger role if Crazy Rich Asians gets picked up for a sequel. In fact, producer Nina Jacobson revealed that there were originally more scenes between Charlie and Astrid in the film, but they decided to keep it short to leave the audience wanting more.
"We had originally shot more of them together, but what we found when we first started to show the movie to audiences was that, just in terms of screen time, the dissolution of her marriage and then the introduction of this wonderful new guy actually both got short shrift when you rushed it," she explained at a press conference for the film. "You felt like you weren't getting the strength that it took her to walk away from her marriage, but also the hope that you might feel about a new person. And that it wasn't just a rebound."
Fingers crossed that we'll get to see Astrid and Charlie's romance play out in future films!