Rebecca Movie Spoilers
Rebecca's Ending Ties Everything Up With a Neat Bow Even Mrs. Danvers Would Approve Of
Watch out! This post contains spoilers.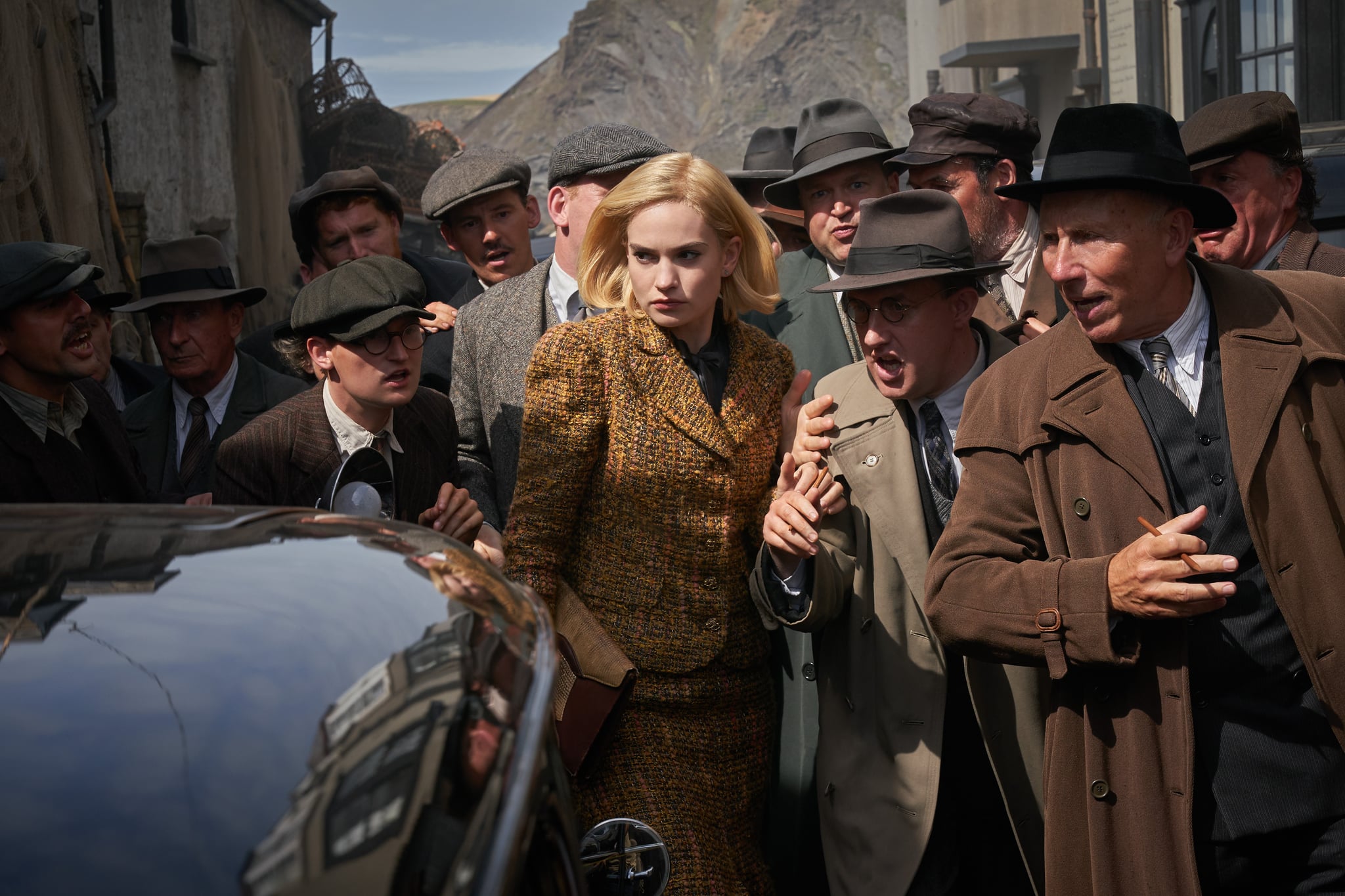 Image Source: Netflix
Netflix's adaptation of Rebecca, which premiered Oct. 21, expertly encapsulates the mystery and suspense felt in the Daphne du Maurier novel it's based on. The film, which follows a nameless woman as she becomes the second Mrs. de Winter and finds herself overshadowed by a dead woman, does its best to keep you on edge. It's hard not to get swept up in the fears of the nameless heroine as she falls for the charming Maxim de Winter and has to deal with vicious psychological torment of the head housekeeper, Mrs. Danvers. In order to understand how the mystery of Rebecca unravels at the end, we've broken down the film's premise, how Rebecca dies, and what happens to Mrs. Danvers and the de Winters.
Rebecca's Premise
Rebecca starts out as a flashback with its famous opening line: "Last night I dreamt I went to Manderley again." Initially a lady's companion to the rather pushy Mrs. Van Hopper, the nameless protagonist has multiple run-ins with the charming widower Maxim de Winter. Soon the two begin a fling while in Monaco, until Mrs. Van Hopper decides it's time for her and the nameless lady's companion to return to America. Not ready to let her relationship with Maxim end so abruptly, the nameless woman tells him that they're leaving and Maxim immediately proposes marriage. After a quick wedding and honeymoon, the couple return to Maxim's family manor, Manderley, and the nameless protagonist becomes the second Mrs. de Winter.
At Manderley, the second Mrs. de Winter realizes she may be over her head as the head housekeeper, Mrs. Danvers, tries to make her life a living hell. Mrs. Danvers leads the second Mrs. de Winter to believe that Maxim is still in love with his first wife, Rebecca, and under the guise of helping, she tries to sabotage their relationship. Eventually, the second Mrs. de Winter reaches a breaking point and just as she's about to take her life, at the urging of Mrs. Danvers, Rebecca's body is found. Maxim is accused of killing her, as he previously misidentified another body as Rebecca, and it's up to the second Mrs. de Winter to find the truth.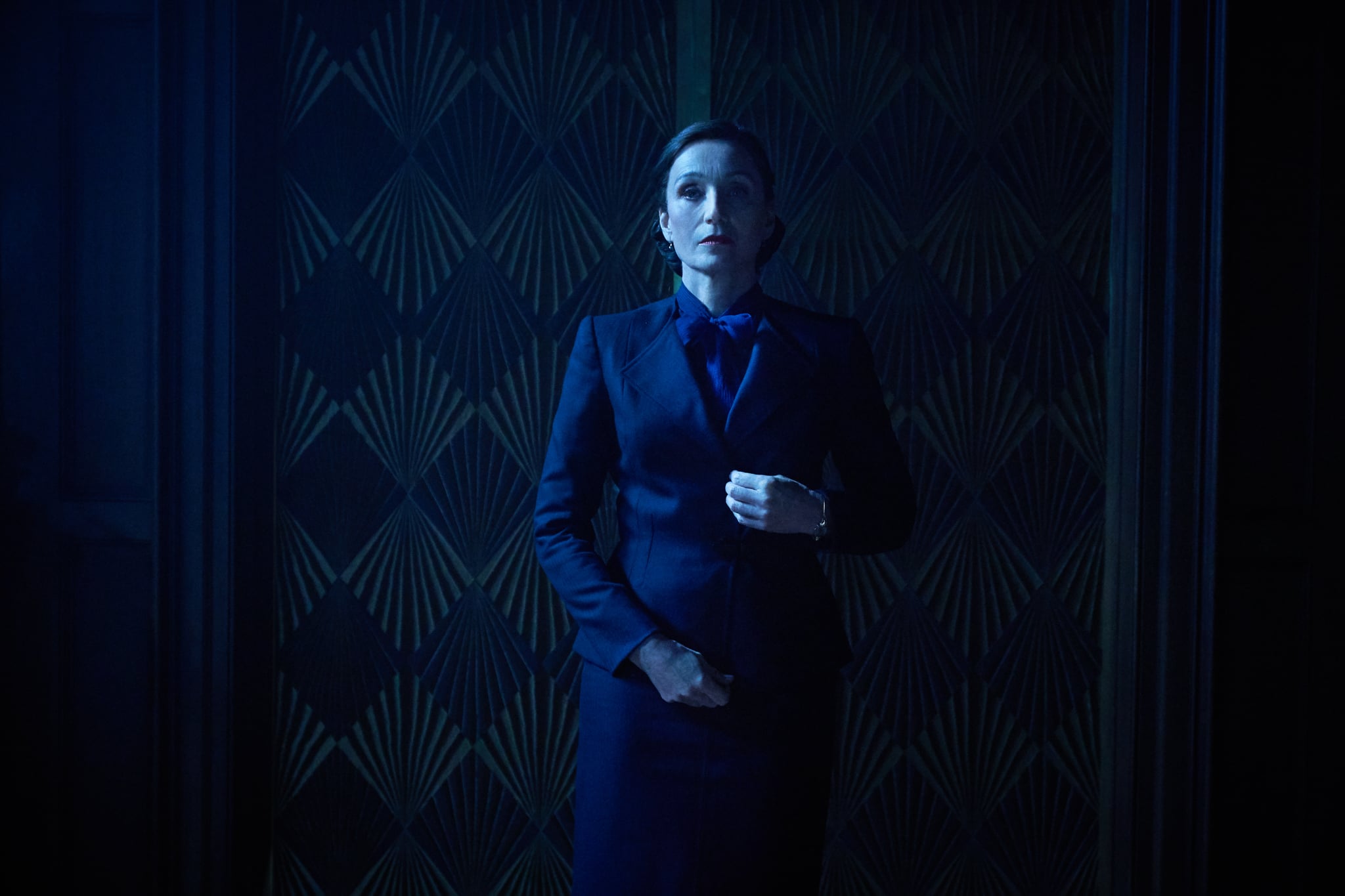 Image Source: Netflix
How Does Rebecca Die?
Maxim never talks about Rebecca and, during their courtship, the second Mrs. de Winter isn't aware of how Rebecca died and doesn't broach the subject with her future husband. Soon after arriving at Manderley, during a walk along the beach, the second Mrs. de Winter discovers a cabin and learns that Rebecca died from drowning. However, this isn't the full story. After the disastrous events of the costume ball, Rebecca's body is recovered along with her sunken ship and there are rumors that her death was a result of foul play.
The second Mrs. de Winter then finds Maxim alone in the cabin and he reveals to her that he actually hated Rebecca and her cruelty, and that he shot and killed her after she egged him on. He's then arrested and the second Mrs. de Winter seeks out the doctor Rebecca saw before her death to see if there is more to the story. While the police are under the impression Rebecca was pregnant and Maxim killed her because she was unfaithful, in actuality, she was dying of cancer and only had a few weeks to live. She had Maxim kill her so that she would no longer suffer, but wouldn't let him know that due to her cruelty.
What Happens to Mrs. Danvers?
Mrs. Danvers came to Manderley with Rebecca and is absolutely obsessed with her. Even after Rebecca's death, she keeps things the way Rebecca would've wanted them. When the second Mrs. de Winter encroaches on Rebecca's memory, she makes it her mission to make the woman's life a living hell. The discovery of Rebecca's body causes Mrs. Danvers to do what she can to take Maxim down, as Rebecca is the only person she's ever truly loved. She doesn't understand why Rebecca would've kept the nature of her doctor's visit a secret and it slowly begins to destroy her. The final straw for Mrs. Danvers is the news that Maxim is set free. She sets Manderley ablaze with the staff still inside and heads to Rebecca's cabin. The second Mrs. de Winter catches up to her and tries to reason with her, but Mrs. Danvers has had enough and jumps off the cliff to be with Rebecca in death.
What Happens to Maxim de Winter and the Second Mrs. de Winter?
Although Manderley burns to the ground, Maxim and the second Mrs. de Winter technically get a happy ending. The second Mrs. de Winter helps clear Maxim's name with the discovery of Rebecca's medical file, choosing to tell the doctor that Rebecca decided to drown herself rather than admitting Maxim's true role in her death. Upon seeing Manderley burning to the ground, they do what they can to save the members of the staff that are still milling about the grounds. The film ends where it begins, with the second Mrs. de Winter waking from a nightmare saying, "Last night I dreamt I went to Manderley again." The couple decides to travel the world in search of a new home, now that they are free of Rebecca and able to truly be together.