This TikToker Does Impressions of Famous Singers, and We Could Watch Her All Damn Day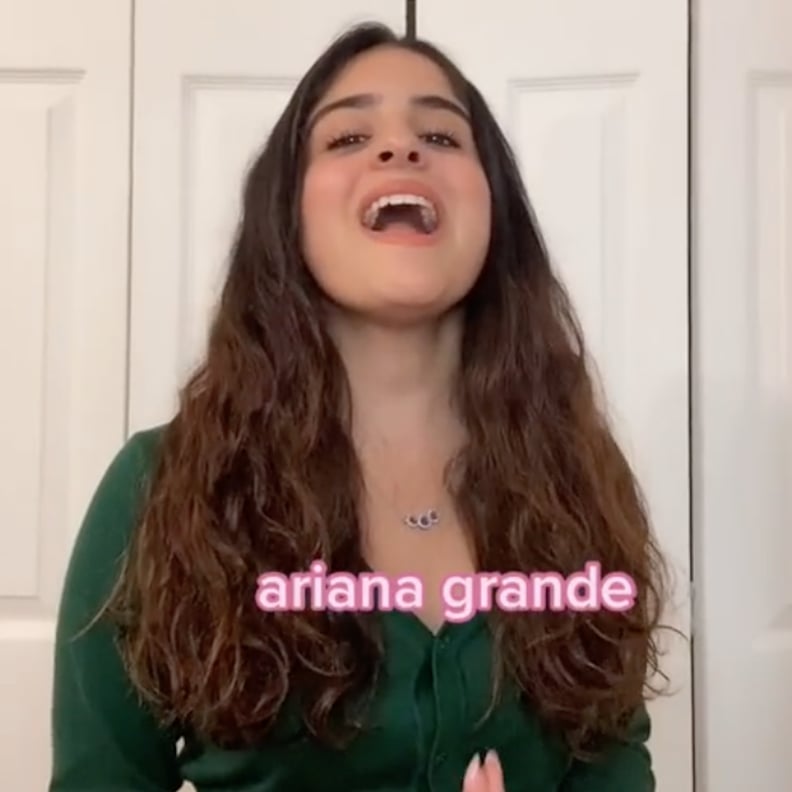 Head to Rynia Kando's TikTok page, press play on any given video, close your eyes, and you just might think you're listening to Ariana Grande . . . or Halsey . . . or Billie Eilish. A 21-year-old Chicago native, Kando has a knack for impersonating a slew of famous singers, and her videos are beyond addicting and impressive to watch. For those not yet familiar with the budding star, Kando has been singing for as long as she can remember and used to belt out Elvis Presley's "Can't Help Falling in Love" around her house as a child. Her love for impressions began blossoming in kindergarten when she started mimicking the musical rodents from Alvin and the Chipmunks, but it wasn't until 2019 that she began widely sharing her talent with the world via social media.
Some of Kando's musical impressions are tied to popular releases (see: her "Celebrities Sing 'Levitating'" video), while others are quite random and just plain hilarious (like her "How Celebrities Stub Their Toes" series, for example). The college student's finely tuned impersonation repertoire includes artists like Britney Spears, Mariah Carey, Tate McRae, Celine Dion, Shakira, and, of course, the aforementioned trio of Halsey, Grande, and Eilish, which are some of her strongest. While trying to explain exactly how she morphs her vocals to sound just like these singers, Kando told POPSUGAR, "I picture in my mind what the person sounds like and what mannerisms they do, and I then try to recreate that as accurately as possible with my voice . . . It really comes down to remembering how the celebrity pronounces words and what kind of vowels or sounds they choose to exaggerate."
"Music is like therapy to me."
Kando has amassed more than 300,000 cumulative followers on TikTok and Instagram since she began posting on the platforms and even made an appearance on The Tonight Show for its "Show Me Something Good" segment back in November 2020. Kando's ultimate goal is to make it big as a singer, "creating music that people can connect to," and she's already doing just that, having released her debut single, "Still Try," in March. "Music is like therapy to me, so I would love to provide others with something they can use for their own good," she said.
While interviewing Kando via email, she made sure to pass along an important message for content creators, both those on TikTok and otherwise. "If you're embarrassed to post that one video of you doing your hobby, don't be," she said. "I started doing social media by only posting content that was 'normal' or just like everyone else . . . You never know how many people will appreciate your talent." So, are you ready to appreciate her talent? Read ahead to watch Kando's incredible vocals change from nasally to raspy to whistle tone-y at the drop of a hat. Now, can someone please get this gal a record deal?!