From Doja Cat's "Vegas" to Lizzo's "About Damn Time," Here Are This Year's Sexiest Music Videos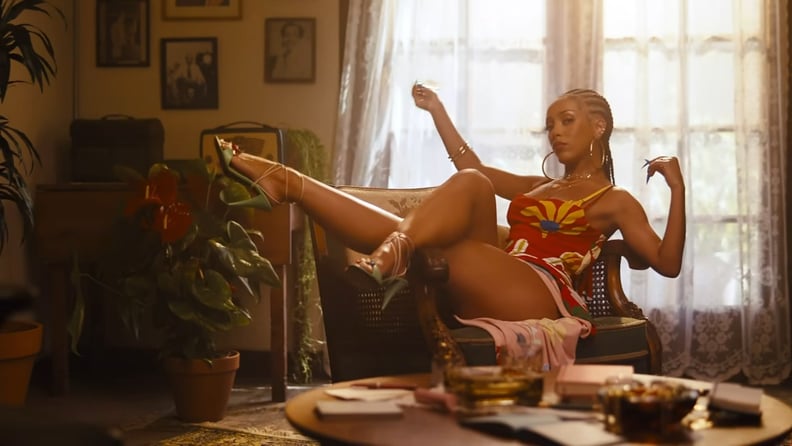 YouTube | Doja Cat
YouTube | Doja Cat
While every music video has something to offer, sexy music videos often make the biggest impact. From Nicki Minaj's "Anaconda" (2014) and Cardi B and Megan Thee Stallion's "WAP" (2020) to Lil Nas X's "Montero" and Shania Twain's 1999 throwback "Man! I Feel Like a Woman," sometimes a little sexiness takes a music video to the next level. And, of course, 2022 brought plenty of new sexy videos into the world.
Whether you're looking for a simple music video that leans into sensuality and the chemistry between its leads, a sexy big-budget masterpiece with horror-movie elements, or something more experimental that makes you rethink what sexiness is altogether, this year truly provided a sexy music video for everyone.
Lizzo, Megan Thee Stallion, Doja Cat, and RM of BTS are just a few of the big names that made it to our year-end list of sexiest music videos. Read on to rewatch all of 2022's sexiest clips.
01
Lizzo's "About Damn Time"
Lizzo's "About Damn Time" delivered the songstress her second Billboard Hot 100 No. 1 hit, and her sexy-as-hell music video played into that success (the viral TikTok trends didn't hurt either). The video sees a casually dressed Lizzo arrive at a "Stressed and Sexy" support group where the attendees have been asked to prepare a poem about something that makes them feel sexy when stressed. For Lizzo, it's apparently music, because she runs out into the hall and starts singing and dancing to "About Damn Time," then transforms into a blue sequined bodysuit-clad diva with her newfound confidence. But make no mistake — by the end of the video, you realize it's all in her head, and Lizzo feels just as sexy and confident in her sweats!
02
Sam Smith and Kim Petras's "Unholy"
"Mommy don't know Daddy's getting hot at the body shop doing something unholy." With lyrics like that, fans knew Sam Smith and Kim Petras would deliver a steaming hot video for their already-viral TikTok hit, and they didn't disappoint. The video follows the wife of a seemingly picture-perfect couple who discovers her husband frequenting a burlesque club to do, well, "unholy" things. But the viewer soon learns that the story playing out is actually a sexy play, and the "wife" from the beginning of the video is the director.
03
Nicki Minaj's "Super Freaky Girl"
While "Super Freaky Girl" may have been snubbed for the 2023 Grammys, it became instantly iconic for Nicki Minaj's fans, who were desperate for more new music from the rapper. While it may not be any sexier than some of Minaj's past music videos in terms of visuals (think "Anaconda"), the song is unabashedly all about sex, and so is the video, so it rightfully earns its place as one of 2022's sexiest music videos.
04
Rema and Selena Gomez's "Calm Down"
Rema teamed up with Selena Gomez for a remix of his hit song that went No. 1 on Billboard's US Afrobeats chart. As for the music video, Rema and Gomez exhibit flirty chemistry as they vibe, sing, and dance together. The video's sexiness is as simple and laid back as the song's love story about Rema falling for a girl at a party who stood out because she kept things "mellow."
05
Doja Cat's "Vegas"
Doja Cat commands the room in her "Vegas" music video, in which she plays a lounge singer whose sensual performance in a gorgeous, form-fitting maxi dress sets the tone for the establishment's many guests who are looking to have a good, sexy evening of dancing.
06
Megan Thee Stallion and Dua Lipa's "Sweetest Pie"
If you're into horror-film aesthetics like Megan Thee Stallion is, you won't be surprised "Sweetest Pie" ended up on this list. The video sees Megan and featured artist Dua Lipa play mystical witches, who receive male visitors who are simultaneously enthralled and freaked out by their powers, which include (but are not limited to) transforming into desserts and a six-legged spider, as well as making a room full of golden statues twerk. By the end of the video, Megan and Lipa are being burned at the stake for their so-called crimes against men, but they free themselves. "The symbolism of the video was how when men come for me I eat they ass up every time," Megan tweeted on March 11 when people accused her of embedding demonic symbolism in the video. "And even when y'all go on y'all's witch hunts attacking women for whatever reasons y'all make up we still rise from the ashes stronger than ever." And that's sexy.
07
GloRilla and Cardi B's "Tomorrow 2"
GloRilla and Cardi B teamed up for a sexy romp around their shared hometown of New York City in their "Tomorrow 2" video, proving music videos don't need big, bloated budgets to make an impact. One of the more overtly sexy scenes comes when GloRilla and her friends take over an uptown train cart, twerking and pole-dancing throughout the ride. Still, the women are just as sexy when they hit a rooftop, where they confidently deliver their bars surrounded by friends.
08
Chlöe and Latto's "For the Night"
Chlöe takes center stage in her "For the Night" music video with Latto, delivering dance sequences that are as high energy as they are sensual. While Chlöe spends the first half of the video preoccupied with her love interest snubbing her ahead of a big performance, the video's sexiest moment comes when — with a bit of help from Latto — she forgets all about that jerk and brings down the house during her performance in front of a packed festival crowd.
09
Balming Tiger and RM of BTS's "Sexy Nukim"
What is perhaps the sexiest part of Balming Tiger's "Sexy Nukim" music video is how refreshingly experimental it is for fans of the Seoul-based musical collective's featured artist, RM of BTS. In September, members of Balming Tiger told DIY that the song is about twisting different ideas of sexiness. "We think that every new creation appears when you twist something familiar," they shared. "I think our art is also the aesthetics of twisting, just as the two words we thought were familiar meet and give a strange feeling. The song makes the concept of 'sexy' appear as it appears or has a different meaning. It could be external sexiness, it could be internal confidence, the lyrics say what 'sexiness' is." In the psychedelic video, the members of the group visit a doctor who runs tests on them to, presumably, take away all the qualities that make them sexy.
10
Dove Cameron's "Boyfriend"
Dove Cameron put herself on the map as a post-Disney Channel artist with her single "Boyfriend." Shedding her children's show persona, the actress sings to her crush, insisting she would make a much better partner than her crush's current boyfriend. The video sees Dove and said crush embracing their chemistry (aka making out) in various settings, whether it's the center of a bumping club or through the roof of a car speeding down the freeway.