The Bold Type Just Might Be the Best Show on TV For Women Right Now
At first glance, Freeform's The Bold Type might come across as a series of cliches. The feel-good Summer dramedy produced by former Cosmopolitan editor in chief Joanna Coles follows 20-somethings Jane Sloan (Katie Stevens), Kat Edison (Aisha Dee), and Sutton Brady (Meghann Fahy) as they attempt to navigate their blossoming careers at Scarlet (a Cosmo-esque magazine) while also dealing with the pitfalls of dating in NYC. We've heard that song and dance before, right? Yes. But we've also never seen it done like this.
While The Bold Type does go down a path that's been well-trodden by other stilettoed feet, the show remains fresh, smart, and completely charming. With each episode, it admirably bucks the tired tropes we've seen in stories like this before with ease: the dragon-like HBIC, backstabbing female coworkers, worn-out love triangles. In their place is a relatable story about three women who are doing their damn best, despite making one monumental mistake after another. Season one, which concluded with its Summer finale on Sept. 5, has its own fair share of mistakes, but it's Jane, Sutton, and Kat's "we're in this together" mentality that buoys some of the weaker plotlines. Actually, it's the friendship between them that made me fall so hard for The Bold Type in the first place.
"Do you really think realist Miranda would put up with self-obsessed Carrie for that long? And . . . who in their right mind could ever willingly keep a relationship with Hannah Horvath going?
There are few times in life as tumultuous as your early 20s; you're trying to find success in both your love life and your career as you inevitably make a few mind-numbingly bad decisions. It's an essential part of growing up, and it's a painful struggle we've seen portrayed in everything from Girls to Sex and the City. None of the female friendships in those shows, however, have ever struck me as particularly realistic. I loved, and still love, a lot of those characters, but I couldn't help wondering why any of those women were even friends with each other to begin with. Do you really think realist Miranda would put up with self-obsessed Carrie for that long? And while we're on the topic of narcissism, who in their right mind could ever willingly keep a relationship with Hannah Horvath going? Fortunately, this is not the case when it comes to The Bold Type's trio.
No matter how many ups and downs Jane (a writer), Kat (a social media editor), and Sutton (a fashion assistant) face, I never once find myself doubting how genuine the bond between them really is. Some of the dialogue on the show can get clunky while tackling each episode's Big Issue (which ranges from immigration reform to Donald Trump), but the conversations between the main characters are so spot-on, so familiar, that it truly feels as if I'm gossiping to my own friends on the phone about a bad Tinder date rather than watching fictional characters discuss their latest dating misstep.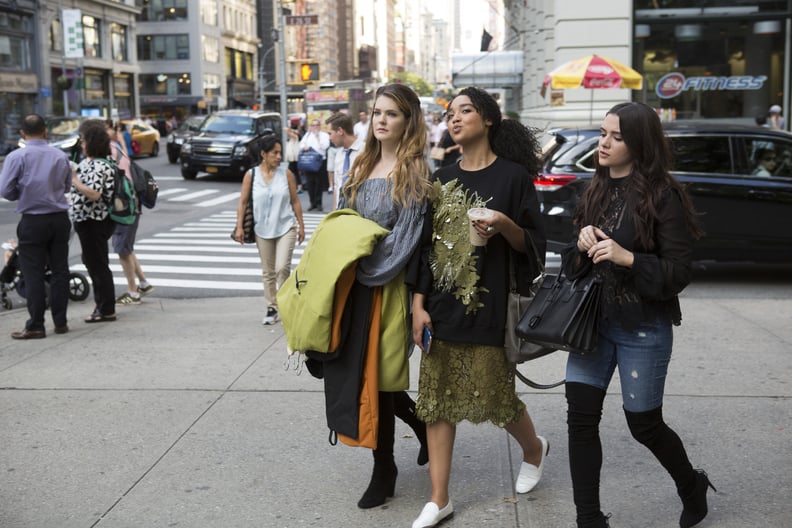 A lot of the time, female-led TV shows are hailed as feminist achievements as long as they don't feature women who aren't actively ripping each other to shreds, even if they don't take the time to really flesh out the characters. And while, yes, Sutton, Kat, and Jane aren't stabbing each other in the back, they aren't sugarcoating anything either.
In the eighth episode, "The End of the Beginning," Kat finds out from the magazine's editor-in-chief that layoffs are imminent but is sworn to secrecy. She's forced to watch her two best friends lose their minds with worry over the rumors as she pretends to be just as in the dark as they are. When they find out she's been keeping the secret all along one night, though, a blow-out fight in their tiny apartment ensues.
That might have been the end of their friendship or kicked off a multiple-episode-long arc about the resulting feud in any other show, but the three BFFs make up the next morning like regular, IRL adults who share an authentic affection for each other. The moment, though not even a major plot point, struck me with its subtlety.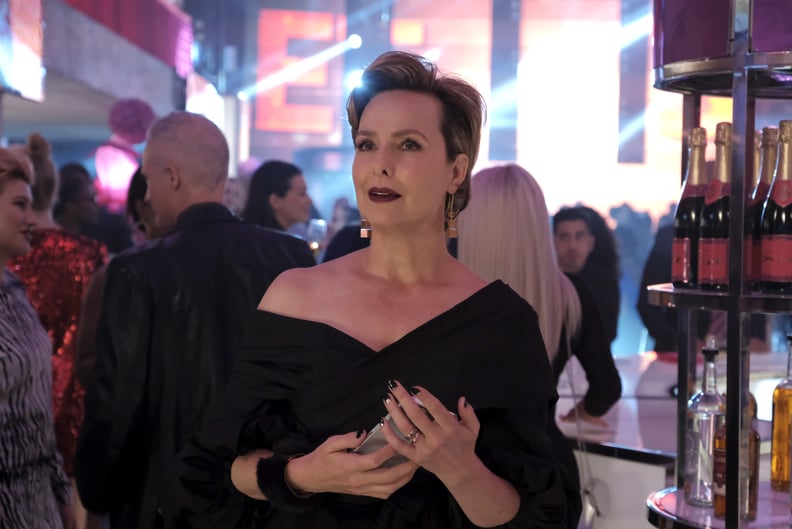 Like Jane the Virgin, Younger, and Insecure, The Bold Type is a fantastic step forward for female storytelling on television. It might not be a "prestige" series, but that doesn't make the work it's doing or the conversations it's starting any less important. For instance, in season one alone, Sutton finds the courage to ask for a raise, Kat learns to be unashamed of her sexuality, and Jane faces a major health issue head on.
"The Bold Type is a fantastic step forward for female storytelling on television."
The deft way the show tackles these themes has never been more evident than in the finale, "Carry the Weight." Jane decides to write her last story at Scarlet about Mia (Ana Kayne), a performance artist and rape survivor modeled after Columbia student Emma Sulkowicz.
Jane's boss and Scarlet's editor in chief, Jacqueline — the wonderful Melora Hardin, who flips the Miranda Priestly stereotype on its head with her compassionate take on the character — pushes Jane to go deeper with the story, pressuring her to get it right. In the episode's emotional conclusion, we find out that Jacqueline is a rape survivor herself when she joins Jane, Kat, and Sutton at Mia's performance in Central Park and offers to hold the weights. It's not the first time I've cried while watching The Bold Type, and hopefully it's not the last (the show has been renewed for two more seasons). In fact, I welled up again a few scenes later as Jacqueline recounts the night she was raped to Jane. The Bold Type has no shortage of soaring pop songs to help do the emotional lifting in some of the show's heavier scenes, but this moment is quiet in its power. Few shows have ever handled talking about an issue like this so deftly.
Given the current political climate, pop culture consumers have come to labeling progressive movies and TV shows as necessary "now, more than ever." The Bold Type, with all its fluff and deliciously dramatic romantic entanglements fitting in just fine alongside its meatier storylines, is just as worthy of that distinction. At the end of the pilot, Jacqueline delivers a powerful speech about how "Scarlet will always be that older sister, and we will always be there for the girls who need her." She goes on to tell Scarlet's employees to have adventures, to make mistakes, to have sex with the wrong people (and the right people), and to "unleash holy hell."
Those words, which are echoed by Sutton, Kat, and Jane in the finale, are the perfect summation of the show in general. At a time when so many young women (and young people in general) are scared, conflicted, and wondering what step to take next in life, The Bold Type is here to inspire them to be, well, bold.
Season two of The Bold Type premieres on June 12.