Every Key Moment From the Star Wars Films in 1 Easy Place
With Rogue One now out in theaters, there's a total of eight feature films in the Star Wars franchise. That's a whole lot of epic space opera and sci-fi fun to devour, and it can be hard to keep all that information straight. Forgot what happens to Anakin Skywalker in the prequels? Need to brush up on some Han Solo knowledge before his spinoff movie hits theaters? Here's a timeline of some major events in each Star Wars film thus far. And of course, beware of spoilers ahead!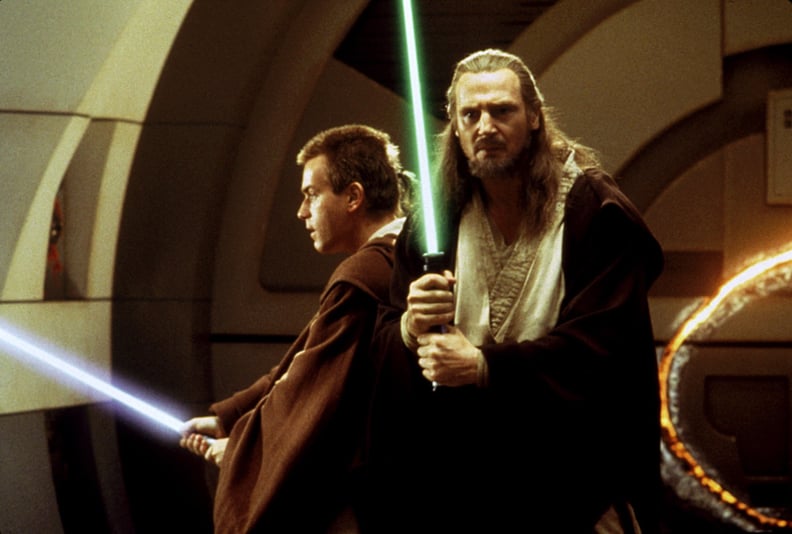 Episode I – The Phantom Menace
Qui-Gon Jinn and Obi-Wan Kenobi rescue Queen Amidala: A blockade of Trade Federation battleships surround Queen Amidala's planet, Naboo. Supreme Chancellor Valorum of the Galactic Republic sends Jedi Master Qui-Gon Jinn and Obi-Wan Kenobi, his apprentice, to negotiate the ships' removal. Sith Lord Darth Sidious, the Trade Federation's secret adviser, orders an invasion of Naboo. Qui-Gon and Obi-Wan save Queen Amidala, and they end up on the planet Tatooine.
Anakin Skywalker podraces for his freedom: On Tatooine, Qui-Gon meets a young slave named Anakin Skywalker. He senses the Force in Anakin and believes him to be the "Chosen One" of Jedi prophecy, destined to bring balance to the Force. Anakin gains his freedom through winning a podrace and subsequently leaves Tatooine with Qui-Gon and his group.
Qui-Gon dies: Darth Maul, Darth Sidious' apprentice, fight against Qui-Gon and Obi-Wan during a battle between the Naboo resistance and the Trade Federation. Unfortunately, Darth Maul kills Qui-Gon. Obi-Wan avenges him and promises that he'll fulfill Obi-Wan's last request — to train Anakin despite the Jedi Council's refusal.
Senator Palpatine is elected Supreme Chancellor: Prior to the battle, Senator Palpatine urges Queen Amidala to call for a Vote of No Confidence to oust Supreme Chancellor Valorum from office. She heeds his advice, and after the battle, he becomes the new Supreme Chancellor.
Obi-Wan becomes a Jedi Knight: After the Naboo victory, the Jedi Council bestows on Obi-Wan the title of Jedi Knight. Anakin becomes his apprentice.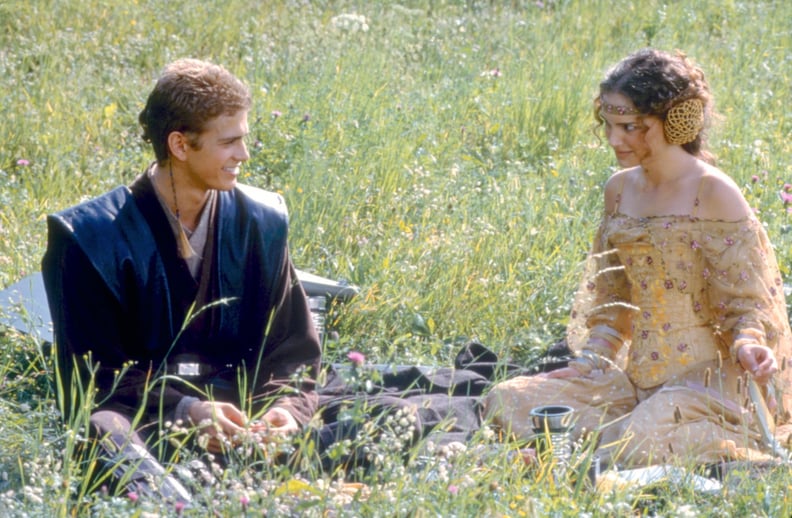 Episode II – Attack of the Clones
Anakin and Padmé (aka Queen Amidala) fall in love: On a visit to Coruscant, Senator Padmé Amidala avoids an assassination attempt. Obi-Wan Kenobi and Anakin Skywalker are tasked with protecting her. Anakin escorts Padmé to Naboo, where they spend a lot of time hanging out in fields and falling in love.
Obi-Wan discovers an army of clones: On the planet Kamino, Obi-Wan finds a Republic-produced army of clones based on bounty hunter Jango Fett. Obi-Wan also concludes that Jango is the assassin who attempted to kill Padmé. He follows Jango and his son, Boba, to Geonosis.
Anakin's mother dies: Anakin has visions of his mother, Shmi, in danger. He and Padmé head to Tatooine, where he discovers that Tusken Raiders kidnapped his mother. He finds her tortured at a Tusken camp. She dies in his arms, and he kills everyone in the camp out of rage, illustrating a dangerous brush with the dark side.
The Clone Wars begin: On Geonosis, Obi-Wan discovers that Count Dooku is leading a Separatist movement and has developed a droid army with Viceroy Nute Gunray of the Trade Federation. Supreme Chancellor Palpatine gains emergency powers and sends the clone army into battle. The two armies fight, Anakin loses his right arm, the Jedi and Clones barely come out on top, and it's revealed that Dooku's evil master, Darth Sidious, is in control of the war and has nefarious plans in store.
Anakin and Padmé get married: Despite their respective duties as a Jedi and a senator making their relationship seem impossible, Anakin and Padmé get married in secret.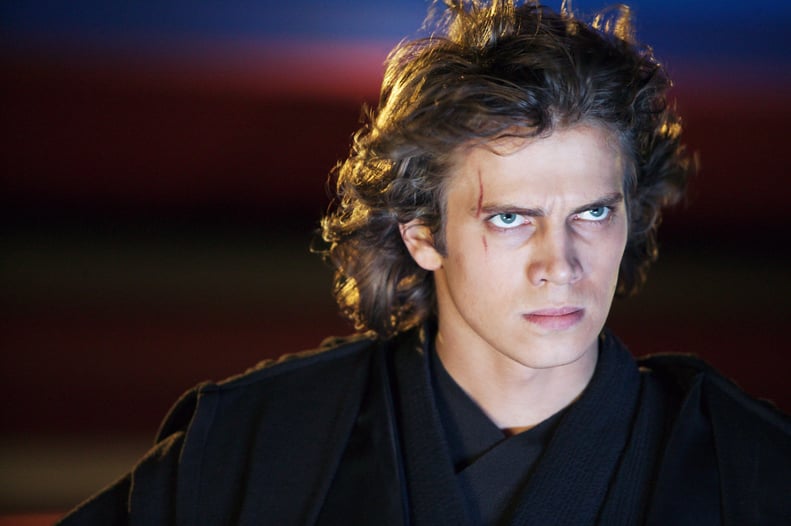 Episode III – Revenge of the Sith
Anakin rescues Chancellor Palpatine: Obi-Wan Kenobi and Anakin Skywalker lead a mission to rescue Supreme Chancellor Palpatine from General Grievous and Sith Lord Count Dooku. At Palpatine's encouragement, Anakin kills Dooku. Palpatine then continues attempting to lure Anakin to the dark side.
The birth of Darth Vader: Anakin discovers that Palpatine is actually Darth Sidious. Mace Windu confronts him after Anakin reports his findings. Convinced that the Sith Lord has the key to saving his pregnant wife Padmé from his visions of her dying in childbirth, Anakin assists Palpatine. Anakin is officially on the dark side, and Palpatine dubs him Darth Vader.
Obi-Wan vs. Darth Vader: Under Palpatine's orders, Darth Vader slaughters everyone in the Jedi Temple, as well as the Separatist leaders on Mustafar. After Padmé fails to bring him back to the light side, Anakin Force chokes her into unconsciousness in his rage. In the hopes of stopping his power trip, Obi-Wan battles Anakin and leaves him badly disfigured and burned.
The rebirth of Darth Vader: Sidious rescues Vader using a stasis-pod. At a medical facility, he is given prosthetic and robotic replacement body parts. He also gets outfitted in his iconic black armor and face mask. Palatine tells him that he accidentally killed Padmé, effectively breaking him down entirely. Later, they oversee the construction of the Death Star.
Padmé gives birth: Though Padmé dies in the process, she gives birth to twins. For their safety, they are separated — Senator Bail Organa takes Leia to Alderaan, and Obi-Wan leaves Luke with Owen and Beru Lars on Tatooine.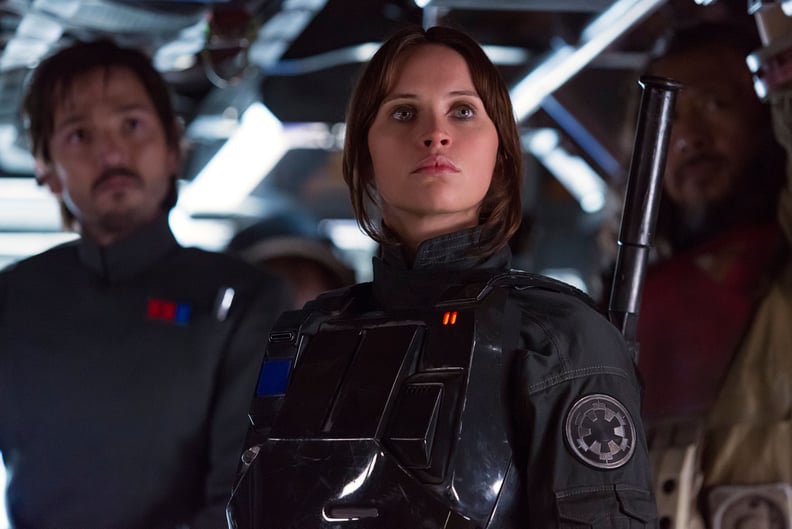 Rogue One
Jyn Erso escapes the Galactic Empire: A young Jyn Erso, her research scientist father, Galen, and her mother, Lyra, are in hiding from the Galactic Empire. Orson Krennic, an Imperial weapons developer, forcibly takes Galen away to continue working on the Death Star and kills Lyra. Jyn escapes, and Saw Gerrera, a Rebel extremist, finds her.
Bodhi Rook delivers a message: Fifteen years after his capture, Galen entrusts Bodhi Rook, an Imperial cargo shuttle pilot who's defected to the Rebels, with an important holographic message for Saw Gerrera — and for Jyn. In it, Galen details that he has built a covert weakness into the Death Star and reveals the location of the weapon's plans.
The Death Star destroys Jedha: In an attempt to convince Grand Moff Tarkin of the Death Star's power and his competence in managing the project, Krennic uses it to attack Jedha's capital, where Saw Gerrera is based. Jyn and fellow Rebels Bodhi, Cassian Andor, K-2SO, Chirrut Îmwe, and Baze Malbus are present on Jedha but manage to escape — with Jyn's knowledge of her father's message.
The Rebels invade Scarif: The Rebels find Galen while he admits to Krennic that he leaked information about the Death Star. Rebel pilots intervene with an air raid, and Galen is mortally wounded, prompting Jyn to propose a plan to steal the blueprints. After the Rebel leaders fail to move forward with it, Jyn, accompanied by several willing Rebels, takes it upon herself to steal the plans from the high-security data bank on Scarif.
The transmission of the Death Star plans: The Rebels attempt to steal the plans, and many die in battle against the Imperials. Jyn and Cassian successfully obtain the plans and, after a final confrontation with Krennic, transmit them to a Rebel command ship. However, Tarkin uses the Death Star to destroy Scarif and everything on it. But the silver lining? The stolen information lands in the hands of Princess Leia.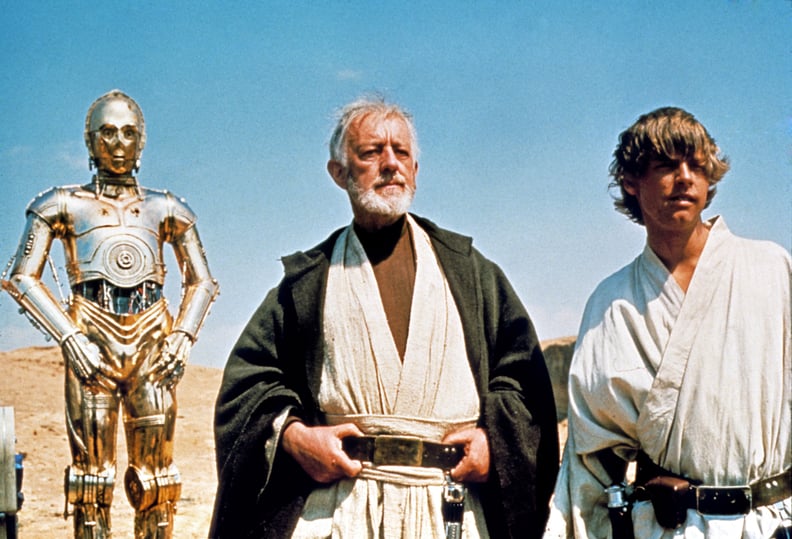 Episode IV – A New Hope
Luke Skywalker sees Princess Leia's holographic message: Droids R2-D2 and C-3PO travel to Tatooine to deliver a message to Obi-Wan Kenobi. Instead, they wind up with Owen and Beru Lars and their nephew, Luke Skywalker. Luke accidentally views part of Leia's message, then searches for Obi-Wan.
Luke meets Obi-Wan: Luke finds Obi-Wan, who tells him stories of Jedi Knights, the Force, and his father, Anakin. Obi-Wan presents him with Anakin's lightsaber. They view Leia's complete message, which instructs Obi-Wan to take the Death Star plans hidden in R2-D2 to her father on Alderaan.
Han Solo and Chewbacca transport Luke and Obi-Wan to Alderaan: Obi-Wan invites Luke to join him on his journey to Alderaan so that he may learn the ways of the Force. They hire smuggler Han Solo and Wookiee Chewbacca to transport them. However, upon arrival, Alderaan is destroyed and the group is captured. They escape and rescue Princess Leia.
Obi-Wan dies: While aiding the rest of his group in their escape, Obi-Wan runs into Darth Vader. They duel with lightsabers, but Obi-Wan sacrifices himself for the safety of the group. His spirit then guides Luke.
Luke destroys the Death Star: After analyzing the Death Star plans, the Rebels identify its weakness. Luke helps the Rebels by piloting an X-wing fighter during a battle against the Empire. Using the Force, he successfully exploits the Death Star's weakness by shooting at an exhaust port that blows up the entire weapon.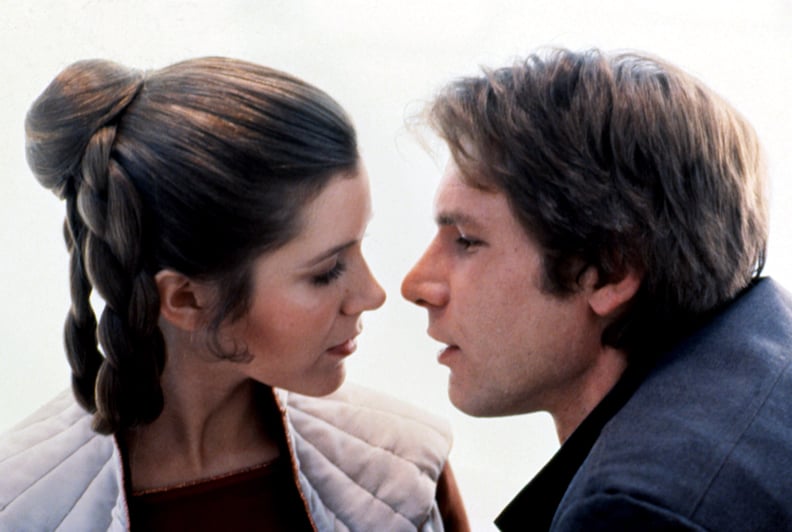 Episode V – The Empire Strikes Back
The Empire hunts down the Rebels: The Rebel Alliance sets up a new base on the icy planet Hoth. Darth Vader searches the galaxy for them — specifically Luke — and sends thousands of probe droids to find their location. Once found, a snowy battle ensues.
Luke trains with Yoda: The spirit of Obi-Wan Kenobi visits Luke and tells him to train with Yoda, a Jedi Grand Master in Dagobah. His training regime is rigorous, and he fails often. He also learns about the dangers of the dark side. When Luke prematurely leaves after seeing a vision of his friends in danger, Yoda deems him too reckless but acknowledges that there is another source of hope.
Han and Leia do some hardcore flirting: Han and Leia's bickering leads to passionate kissing, which leads to an iconic declaration of love: Leia says, "I love you," Han simply replies, "I know."
Darth Vader captures Han and Leia: Darth Vader hires several bounty hunters to find the Millennium Falcon. Boba Fett manages to follow the ship and the Rebels to Cloud City, where Han's friend Lando Calrissian has set a trap for them. Darth Vader tortures Han and Leia and freezes Han in carbonite. Boba Fett intends to take the frozen Han to Jabba the Hutt.
Darth Vader reveals he is Luke's father: When Luke arrives at Cloud City, he meets Darth Vader, and the two engage in a lightsaber duel. Eventually, Vader cuts off Luke's right hand and, in an epic cinematic moment, admits that he didn't quite kill Luke's father like Obi-Wan had claimed — "No, I am your father."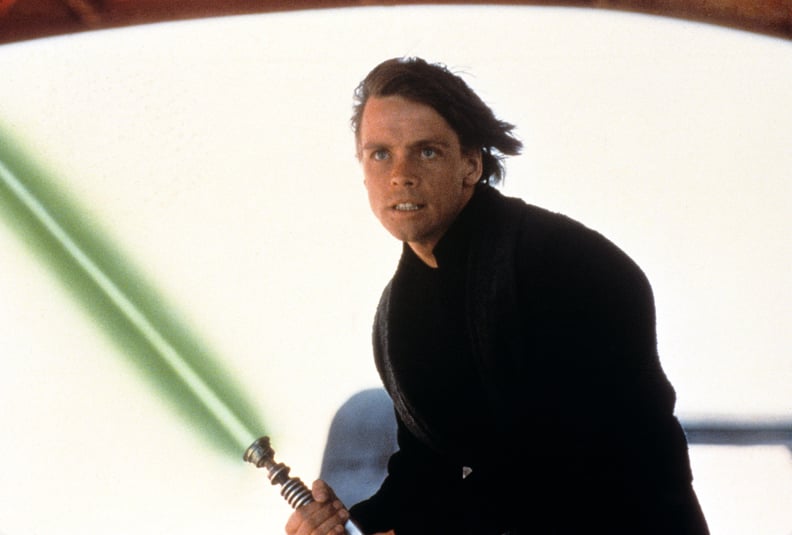 Episode VI – Return of the Jedi
The Rebels save Han Solo from Jabba the Hutt: Following Luke's plan, Leia infiltrates Jabba's palace and releases Han from his carbonite block. However, Jabba enslaves her, and later captures Luke and intends to throw Lando Calrissian, Chewbacca, and Han into a Sarlacc pit. A chaotic fight ensues, and Leia kills Jabba.
Yoda dies: Luke returns to Dagobah to finish his Jedi training but instead finds an ill and dying Yoda. He assures Luke that he simply needs to confront Darth Vader. Luke also discovers that Darth Vader truly is his father and that Leia is his twin sister, the other source of hope Yoda previously mentioned.
The Rebels arrive on Endor: Upon discovering that Emperor Palpatine is overseeing the construction of another Death Star, the Rebels travel to the Ewok-populated Endor to destroy a shield generator located there. Though initially aggressive, the Ewoks agree to help them fight the Empire.
Luke surrenders himself to Darth Vader: Luke meets with Darth Vader and tries to pull him back to the light side, while Vader tries to convert him to the dark. Both their attempts are futile.
Darth Vader gets redemption: Luke and Vader fight with lightsabers, resulting in Luke cutting off Vader's prosthetic right hand. Palpatine suggests Luke kill him and take his place, but Luke refuses. Palpatine then strikes Luke with Force lightning and Vader intervenes, kills Palpatine, and saves Luke. Mortally wounded in the process, Vader asks Luke to make off his mask, and the redeemed Anakin Skywalker dies peacefully.
The Death Star explodes, again: With Palpatine's death and the Rebel Alliance's destruction of the second Death Star, the Empire is finally defeated and the Rebels celebrate their victory.
Episode VII – The Force Awakens
BB-8 has important data: Thirty years after the events of Return of the Jedi, Luke Skywalker has vanished. On Jakku, Lor San Tekka gives Resistance pilot Poe Dameron a map to help find Luke. While Kylo Ren and the First Order destroy the village, Poe is taken prisoner. However, his droid BB-8 escapes with the map and encounters Rey, a scavenger.
Finn leaves the First Order: Stormtrooper FN-2817 (aka Finn), who was meant to fight in the Jakku battle, experiences moral conflict. He and Poe flee on a stolen TIE fighter. After crashing in a Jakku desert, Finn meets Rey and BB-8, and they set forth to get the droid back to a Resistance base.
Kylo Ren kills Han Solo: Kylo Ren, revealed to be the son of Han Solo and General Leia Organa, turned to the dark side at a young age and remains there under the influence of Supreme Leader Snoke. Han confronts his son and urges him to come back to the light. Kylo Ren claims to feel stuck but makes his definitive choice as he mercilessly kills his father.
The Resistance destroys Starkiller Base: Starkiller Base, the First Order's deadly planet-turned-weapon, destroys the Republic capital. Before it can successfully fire at the Resistance base D'Qar, a fleet of Resistance pilots takes it down.
Rey discovers she's Force sensitive: After being drawn to Luke's lightsaber and seeing disturbing visions, Rey exhibits special abilities — including using a Jedi mind trick. She wields Luke's lightsaber and uses the Force to overcome Kylo Ren in a final battle.
Rey finds Luke Skywalker: BB-8's map turns out to be a piece of a larger map held inside a dormant R2-D2. When the droid awakens, the Resistance completes the map, and Rey journeys to the specified location. On the desolate planet, she discovers Luke, who had exiled himself after Kylo Ren's destruction of his new Jedi Order. Rey presents him with his lightsaber.