Who Is Cassian Andor From Star Wars?
"Andor" Has Already Revealed Some Shocking Info About Cassian's Past
Watch out! This post contains spoilers.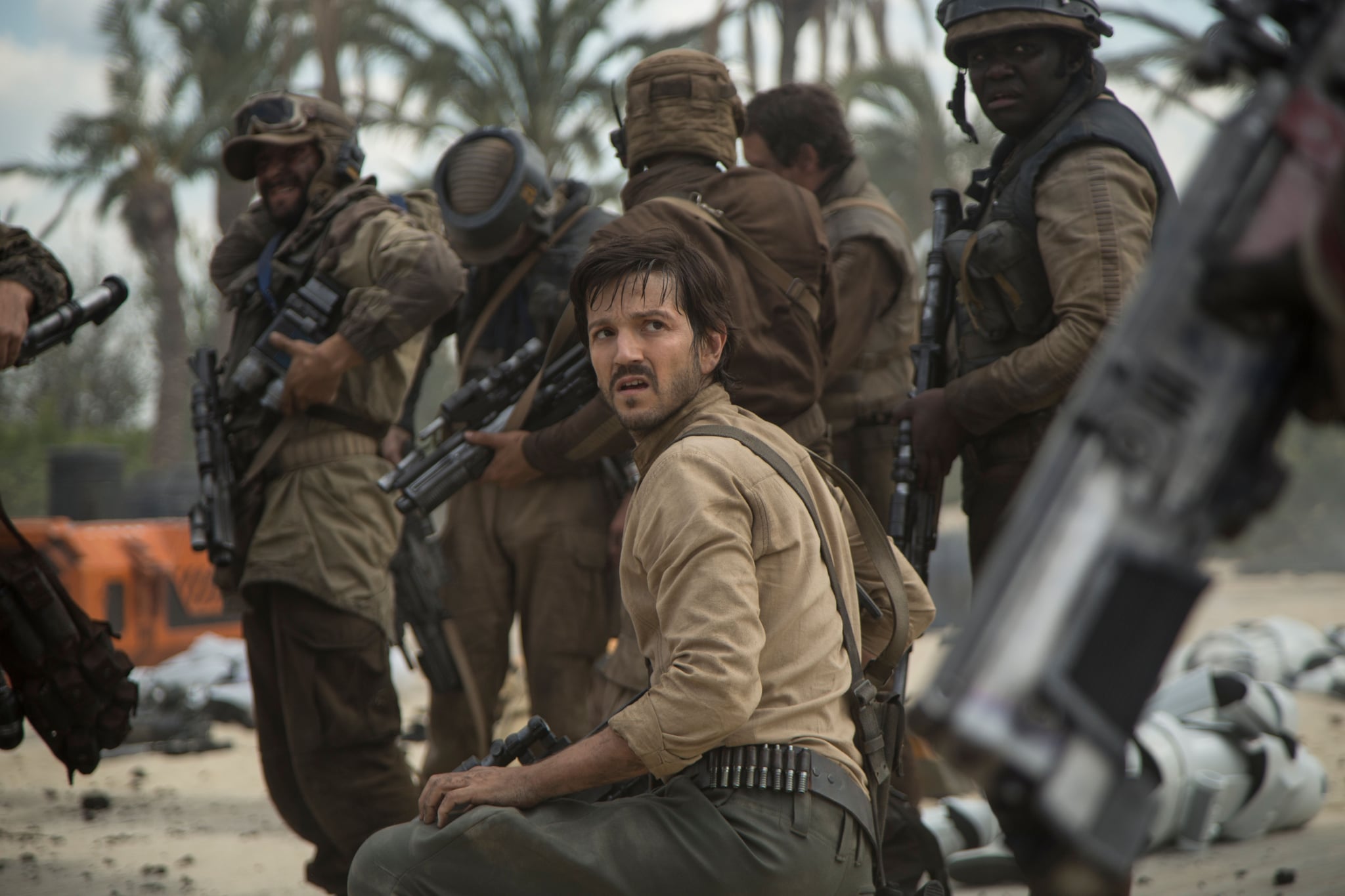 It's been a minute since 2016's "Rogue One: A Star Wars Story," but Disney+ is revisiting the film with "Andor," its new series about Rebel spy Cassian Andor. Yes, Diego Luna is back in the fan-favorite role, portraying the character in what Disney bills as a spy thriller set five years before the events of "Rogue One." Season one of the new show premiered Sept. 21 with three episodes, following Cassian's journey into the Rebel leader viewers met in "Rogue One." And in those episodes, fans learned a lot about Cassian's backstory. Here's a primer on Cassian Andor — everything we already knew, plus all the major info we've learned in "Andor" so far.
Who Is Cassian Andor?
The Star Wars website describes Cassian this way: "An accomplished Alliance Intelligence officer with combat field experience, Captain Cassian Andor commands respect from his Rebel troops with his ability to keep a cool head under fire and complete his missions with minimal resources." According to the Star Wars Encyclopedia, he was born on the planet Fest and joined an insurrectionist cell during the Clone Wars and fought as a child soldier. His father was killed at a protest, and his mother also died when he was young. Not much else is known about his life before he joined the Rebellion.
In the first three episodes of "Andor," however, viewers learn this isn't the full truth. Cassian being from Fest is a cover story made up by him and Maarva (Fiona Shaw). Cassian is actually from the planet Kenari, where the people don't speak Basic (what the Star Wars universe calls English). He lived there with his sister and a group of other children. One day, they came across a mysterious Republic ship that crash-landed there, with dead officers. Cassian ventured into the ship to explore it, where he was found by Maarva. Maarva is convinced the Republic will kill them in retaliation, so she takes Cassian with her to save him. All this goes down near the end of the Clone Wars. At the beginning of the series, Cassian is looking for a girl from Kenari and says it's his sister.
During the show, Luthen Rael (Stellan Skarsgård) does mention that Cassian's father was hung by Imperials. Presumably, that was his adopted father.
What Happened to Kenari?
In another scene, the investigators from Pre-Mor who are looking for Andor say that the Empire records showed Kenari was destroyed in a "mining disaster." In Star Wars canon, "mining disaster" is often used as code that something horrible happened there. Viewers will have to wait and see what the show reveals about the doomed planet.
Cassian Andor in "Rogue One"
"Rogue One," released in 2016, is a prequel to 1977's "A New Hope," the very first Star Wars movie. In "Rogue One," Cassian is an intelligence officer who's worked with the Rebels since he was 6 years old. In the film, he's tasked with watching over the renegade Jyn Erso (Felicity Jones) and assassinating her father, Galen, the engineer behind the Death Star. Cassian ultimately chooses not to kill Galen, though the scientist dies during a bombing anyway. The Rebel captain and Jyn end up taking an imperial ship — dubbed Rogue One — to raid the Death Star's databank. They obtain the schematics for the Death Star and send the data back to the Rebels. Despite the win, the movie's ending is fairly bleak: a blast from Grand Moff Tarkin kills the pair and many of the Rebel forces supporting them. Ultimately, however, the schematics end up with Princess Leia, providing, well, a new hope for the Rebels.
Cassian Andor in "Andor"
Back in May, Luna said at the Star Wars Celebration that the version of Cassian fans will meet in "Andor" is a "very selfish man." The show will take Cassian on a journey from a regular person, worried about himself, into a Rebel leader who helps unite and inspire the rebellion. The first season of "Andor" will cover one year, with the second season covering the remaining four years until the beginning of "Rogue One." What will happen during that time period, we don't fully yet know.
One thing we know about "Andor"? Cassian will make it through both seasons. "The beauty of this show is there's no way they'll kill me," Luna joked back in May.
— Additional reporting by Victoria Edel