9 Overdramatic and True Looks From Taylor Swift's "Lover" to Wear on Halloween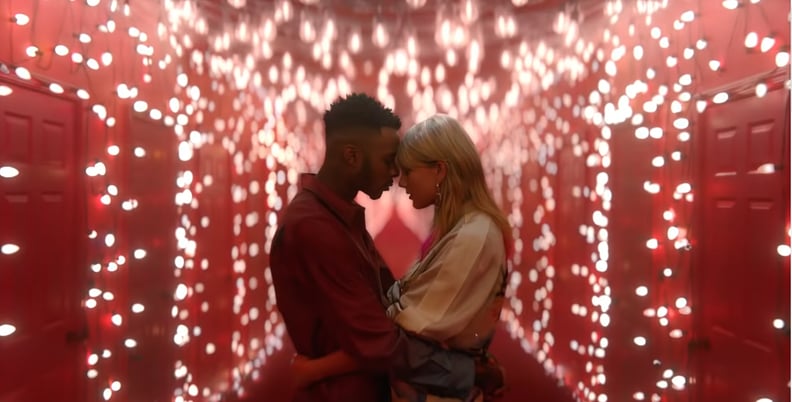 YouTube | Taylor Swift
While Taylor Swift's charming "Lover" music video is dreamily and decidedly Christmas-themed, it doesn't mean that you can't find a Halloween costume from it. While "Lover" is as colorful as the concepts for "Me!" and "You Need to Calm Down," it features a more vintage and romantic vibe. It opens with a girl peering into a snow globe with a house of seven rooms that Swift and her lover (aka her backup dancer Christian Owens) share. If you're throwing together a look from the video, you'll find that each room inspires a different candy-colored costume idea!
While Swift wears fancy designers such as Prada and Gucci, her retro looks of high-waisted shorts and flowy dresses are easy to re-create on a budget. Just remember that Swift's big on dip-dye hair here, so pick up a bottle of temporary hair dye for the look you love. Without further ado, here are nine outfits from the "Lover" music video that you can put together for an overdramatic and true Halloween costume!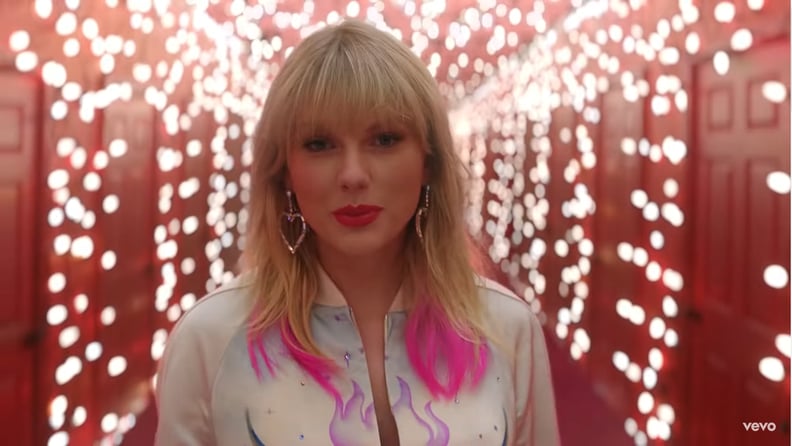 Bomber Jacket Taylor
As the camera zooms into the little girl's snow globe, we see Taylor in a reddish vestibule in a house decked out with Christmas lights. It makes sense, as the lyrics begin with "We can leave the lights up till January." Here, she keeps it casual with pink dip-dye hair and a whimsical bomber jacket.
What to wear: A bomber jacket, a bralette, heart hoop earrings, and sequined shorts. You can decorate the bomber jacket with fabric markers to draw on a winged heart and clouds, unless you get the actual piece from her Stella McCartney collab. For the hair, grab a bottle of temporary pink hair color to dye your tips.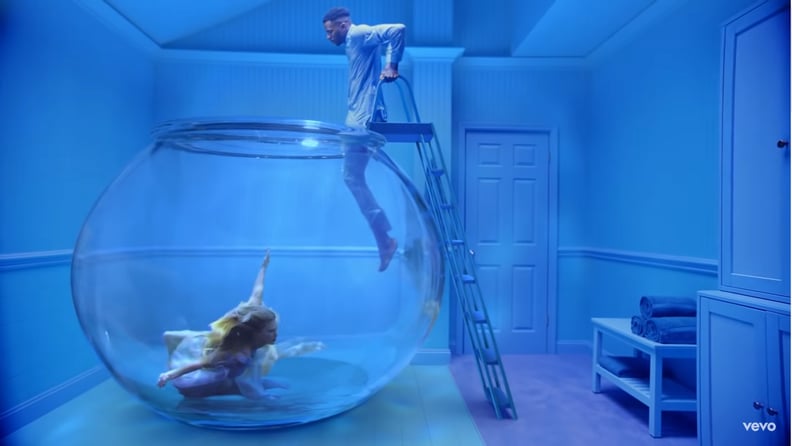 Fishbowl Taylor
In the blue bathroom, we see a not-so-subtle metaphor for Taylor's life, which has become a fishbowl for the media. Her lover (cough, Joe Alwyn IRL) willingly enters the fishbowl with her because he loves her.
What to wear: A flowing yellow or white cold-shoulder dress. It's also subtle, but remember that Taylor has yellow dip-dye hair here as well!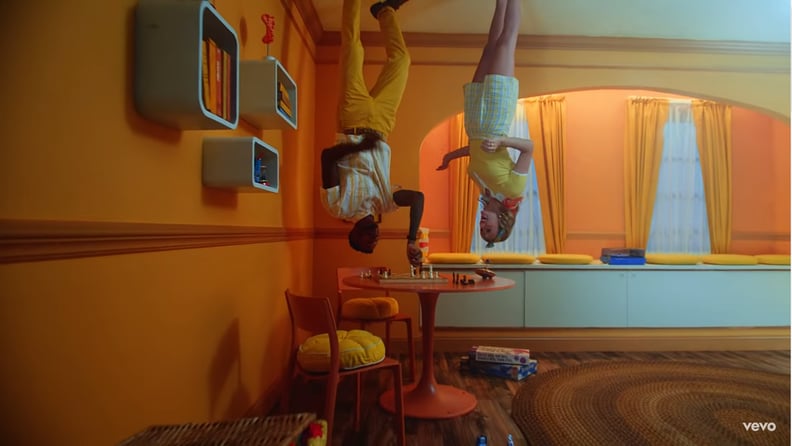 Retro Orange Game Room Taylor
In the cute orange game room (filled with Easter eggs galore), Taylor and her lover make their own rules, which apparently means defying gravity by standing on the ceiling. This cute retro look is probably one of the easiest to pull together last minute.
What to wear: A wrap headband, a yellow polo, and plaid yellow shorts. Remember the orange dip-dye as well!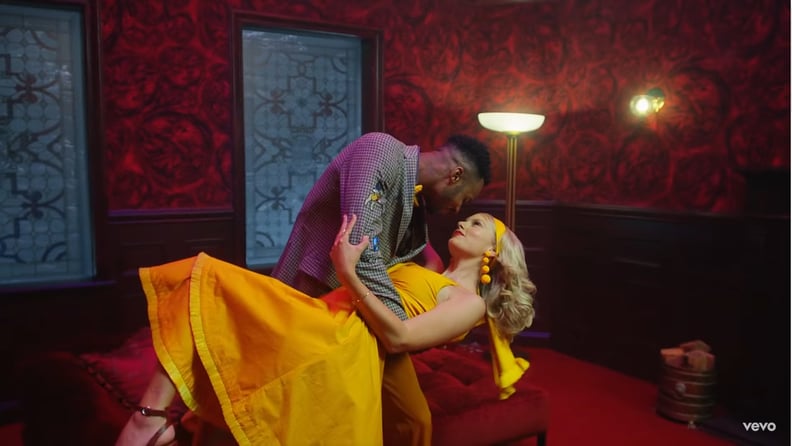 Red Room Taylor
In the red room (an obvious reference to the narrative of jealous and turbulent love in Red), Taylor dances with her lover and plays the guitar in a truly stunning mustard dress.
What to wear: A yellow cocktail dress, a headband, and ball drop earrings.
Green Living Room Taylor
In the green living room (slash music play area), we see Taylor jam out with drums and her guitar in a look that can only be described as grunge chic.
What to wear: A pair of plaid shorts, a chunky belt, and an oversize green shirt. Don't forget the green spray for the hair!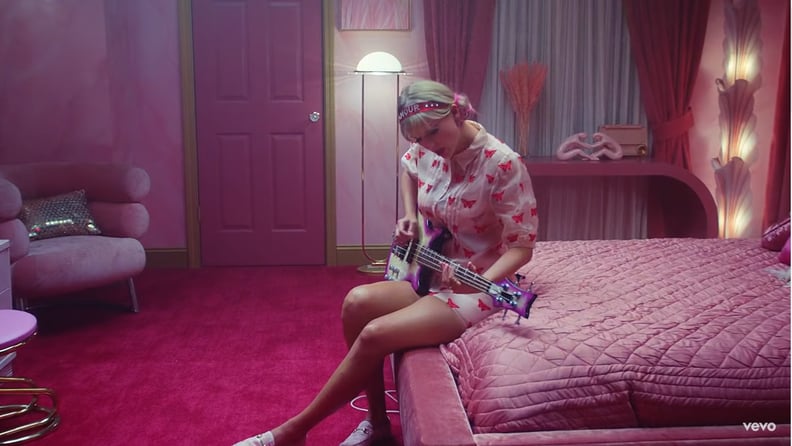 Pink Room Taylor
The pink room is probably the most intimate of all of the rooms — it's the bedroom, after all. We see Taylor crafting songs and lying in bed with her lover in it. Her outfit is more relaxed here than most of the put-together vintage looks in the other rooms.
What to wear: A pair of butterfly-print pajamas and a pink plastic headband. For the headband, get stick-on glitter letters or a bedazzler to spell out "Amour" for a special touch. Taylor has pink dip-dye hair here as well.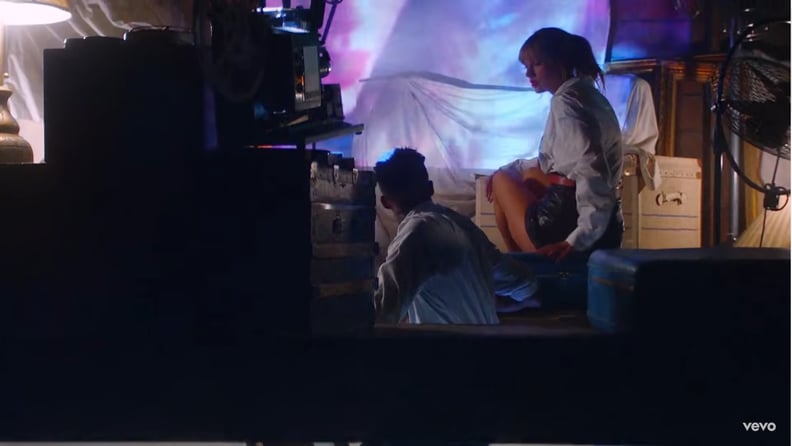 Attic Taylor
In the cozy attic, Taylor and her lover cuddle up and watch clips of their relationship on a sheet screen.
What to wear: A pair of shorts, red belt, and white dress shirt with a red heart on it.
Blue Dining Room Taylor
Taylor spends time in the blue dining room alone playing the violin and a tiny piano but saves a seat for her lover, who later joins her for dinner. We wouldn't quite describe this look as austere, but it is more formal than the other outfits.
What to wear: A sleeveless tweed blue dress and a heart hair clip. A violin or tiny piano also adds a nice touch if you want a prop.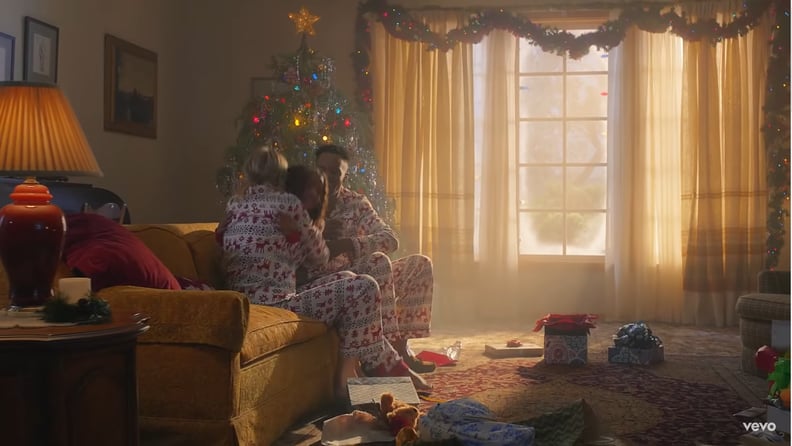 Christmas Mom Taylor
Look, we'd be remiss not to include this moment in the roundup. Here, the camera has zoomed out of the house in the snow globe and reveals the little girl's actual house. It turns out that Taylor and her lover are actually her parents. We saw this coming, but you can't deny that this Hallmark Christmas moment inspires a cute family or group costume.
What to wear: A pair (or three sets) of Christmas pajamas!