The Baby-Sitters Club Cast Hope the Reboot Empowers Viewers: "Always Believe in Yourself"
When Netflix announced The Baby-Sitters Club would premiere on July 3, we couldn't have been more thrilled. Although the 10-episode series has been updated from the '90s to the present in order to tackle modern-day issues, you can still expect the adventures from Kristy Thomas (Sophie Grace), Mary Anne Spier (Malia Baker), Stacey McGill (Shay Rudolph), Claudia Kishi (Momona Tamada), and Dawn Schafer (Xochitl Gomez) that you've grown to know and love.
The first season revolves around the creation of the titular club along with the trials and tribulations the girls face within their relationships with each other, boys, and their families. One of the best things about the books and the original 1995 film adaptation is just how strong the group's dynamic is, and it seems like the newest The Baby-Sitters Club stars have taken this to heart. The group of five spoke with POPSUGAR ahead of the premiere about their love of the books, how the group came together outside of filming, and what they hope people take away from the series.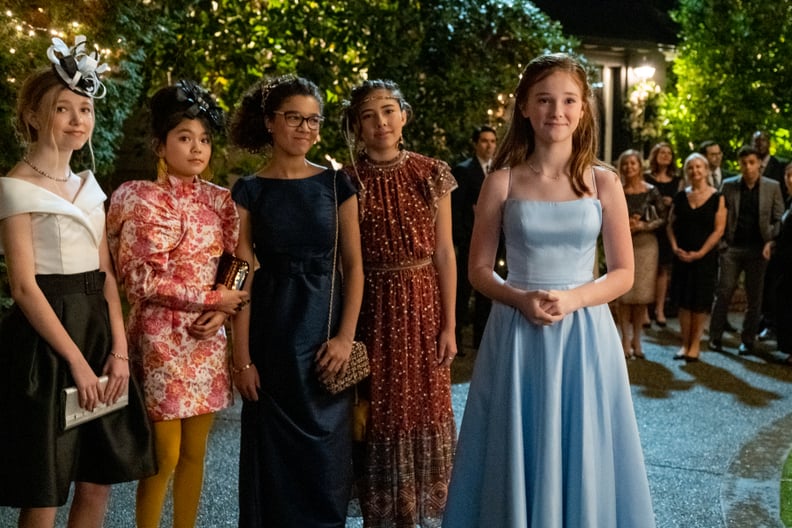 POPSUGAR: Before being cast on the series, did any of you ever read the Baby-Sitters Club books?
Shay Rudolph: All of my friends in the fourth grade were obsessed with them. They all read the giant novels, and I always begged to borrow a copy. I read as many as I could before we started shooting.
Sophie Grace: My older sisters and I, we have a big age gap, so it was really hard for us to find something to relate to each other. My older sister loves the books. She had every copy that my grandma gave her, so it gave us something to bond over.
Malia Baker: Yeah, I definitely read the books growing up. I remember my mom always referring to herself as being a Dawn. And I, of course, being the curious 10-year-old, was wondering who the heck Dawn was, so that's when I discovered The Baby-Sitters Club books. I found a big box [of them] in our garage, and I got to read all of them.
PS: Were the books what initially drew you to the project, or was it simply just identifying with the characters in the script?
Sophie: I loved the books when I was younger, and I totally grew up with them. So when I got the audition, I was over the moon. Then I read the script, and I always identified so closely with Kristy, so it was really, really cool to have the opportunity to play her and turn it into something that kids younger than me and more generations can watch, too. I was pumped for this.
Momona Tamada: I totally agree with Sophie. I grew up reading the books, and when I found out that I was going to be auditioning for this redo, I was so excited. It's going to sound really, really cheesy, but I think all of us had this feeling and this excitement because we saw ourselves in the script.
"It's going to sound really, really cheesy, but I think all of us had this feeling and this excitement because we saw ourselves in the script." — Momona Tamada
Xochitl Gomez: Well, that's pretty funny because I'm a lot like Dawn in a way. We both care about many of the same things, we both have empathy for others, and, like Dawn, I'd say I'm a chill person and have a strong will. The main difference I feel is that she's way more into politics than I am and she has a way bigger vocabulary than I do. And I'd probably also say I'm a bit sillier than she is, but that's it.
Malia: Mary Anne and I can be very similar at times. Mary Anne is a theater kid. I also have a love for theater as well. She's shy. She's a very warm and accepting person, and I'd like to think of myself as an accepting person. She's funny without knowing that she is, and I've also been told that I'm funny. Deep down, I am a shy person. So, of course, I'm able to overcome that while I'm acting or doing my job, but we definitely have that in common.
Shay: So for me, it was more so reading the script because I didn't really have a ginormous connection to the books growing up. But once I read the script, I just had this sparkly feeling and felt that it was a really special project. I felt like I really needed to be a part of it, and Stacey felt like a character that was written for me.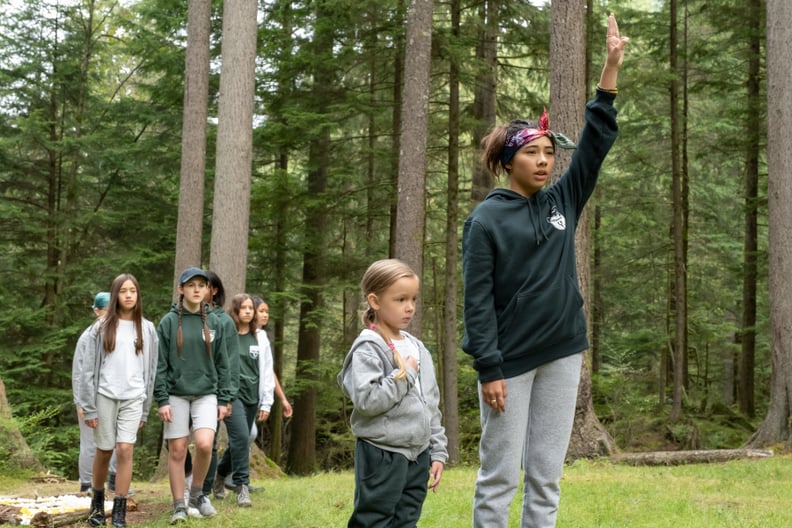 PS: Once you were all cast and met the rest of the club, did you do anything to bond?
Sophie: We texted over the summer because we all live far away from each other. So after we met one another, we made a group chat, and we texted nonstop and FaceTimed all the time — even while we were filming. If we weren't filming, we were hanging out.
Momona: If I had my phone off for a day, I'd have thousands of texts from the group chat. I'm not even kidding. We'd be working together Monday through Friday and then we'd still hang out on the weekends. It was so much fun.
"We all formed the friendship like our characters would." — Malia Baker
Malia: Since the casting was almost so precise, so dead-on, and we're all so much like our characters, we all formed the friendship like our characters would. We were naturally just a really good fit as friends.
PS: Seeing as you're all so much like your characters, do you have any real-life babysitting experiences that you brought to The Baby-Sitters Club?
Momona: Yes, I actually babysat a really cute toddler with blue eyes and blond hair a few years ago. She spent a lot of time at my house and loved miso soup and onigiri, which are rice balls. She always insisted that she was my little sister and even told her parents and relatives that she was Japanese! I thought it was adorable.
Sophie: I'm a big babysitter. I think I've babysat for everyone in my neighborhood. The funniest thing that's ever happened to me when I was babysitting was one day I was watching kids swim in their pool and they pushed me in — fully clothed!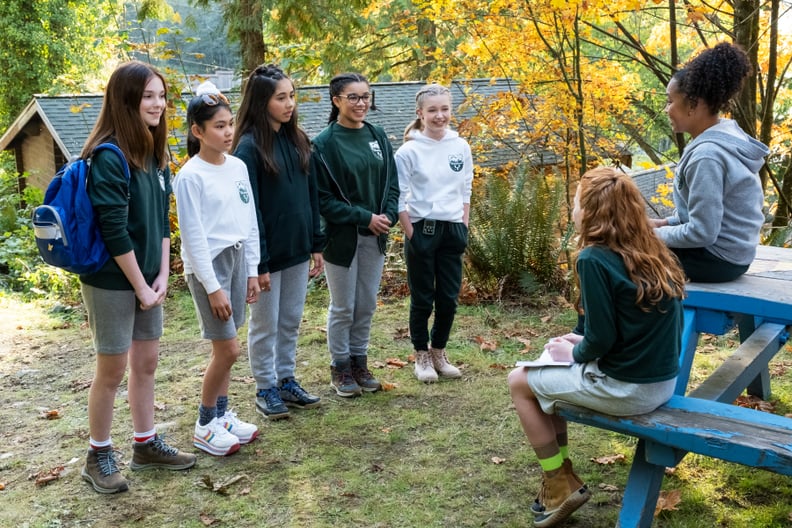 PS: What's something you want people to take away from this new iteration of The Baby-Sitters Club?
Xochitl: I'd probably say the word "girls," because people need to take notice that girls can do anything.
Shay: I hope that everyone can take away how important friendships and family values are. It's so helpful to have loving people around you that can help you go through your issues and be with you every step of the way.
"Always believe in yourself." — Sophie Grace
Momona: There are so many things! I would love for viewers to feel empowered and to embrace every part of themselves. I would also love for them to take away how important building friendships can be; we all need that support.
Malia: I think I'd want them to take away friendship and feminism because all these girls are such feminists and they will rise to the challenge with everything that they have.
Sophie: The two things I hope people take away at the end of the series is: First, that at the end of the day, it's your family and friends that matter most. Second, to always believe in yourself.