The Walking Dead's "Satisfying" Finale Will Be a Conclusion to the First 8 Seasons
Season eight of The Walking Dead has had some exciting moments, but overall, it's been a bit of a slow trudge to the finish line. Despite the arrival of mysterious new characters and the shocking death of a fan favorite, multiple storylines have bogged down what started off as a strong return to the sweaty, bloody, dangerous world our favorite zombie slayers inhabit. Fortunately, things seem to be looking up.
With the season eight finale in reach, there's no better time to reflect on what the show's cast and production team have said about what's to be an explosive, "satisfying" conclusion. From the air date to what's in store for Rick, Daryl, Michonne, and the rest of the gang, we've rounded up everything we know about the finale so far.
It's Going to Be "Satisfying"
It's no secret that recent episodes have been jam-packed with different plots. Sometimes up to five different stories have played out over the course of one episode, which can result in some serious Walking Dead whiplash. Well, according to star Norman Reedus, that trend isn't going to stop anytime soon. Luckily, it sounds like it's going to be worth it, judging from his recent interview with Entertainment Weekly.
"There are about four elements of the finale that are great on their own," he said. "There are four things that happen that could be the finale, and they all go off at once at the same time. They head in different directions, and they're all individually as good as the next, and they're all very, very satisfying. I like that about it. I like that it's not just one person's story. There are probably four, maybe five, different directions that the show could've ended on and it went in all of them. It's very satisfying."
It Could Be the Biggest Walking Dead Finale in Some Time
It's still too early to call just how wild things are going to get in the season-ender, but showrunner Scott M. Gimple — who is stepping back next season into a franchise oversight role as Angela Kang takes over as the new showrunner — hinted to EW earlier this year that fans should expect some thrills. "It's very big," Gimple teased. "Probably currently a little too big. It was pretty amazing the scope of some of the things that we got to do. And yet the emotional intensity was insane. And it very much sets up the start of the next story."
Fans of the Graphic Novels Should Expect a Few Big Changes
Creator Robert Kirkman's comics might have inspired the show as a whole, but recently, the TV adaptation has decided to diverge from the events of the source material in a few major ways (Carl's death being the biggest). Whether you're down with that creative decision or not, Gimple assured EW that the writers have plans to keep carving out totally new stories.
"I think emotionally we're aspiring to evoke the same feeling that [creator Robert Kirkman] achieved in the book," he said. "But from the butterfly effect and different characters around that weren't and vice versa, and even just the thrust of the story, how things play out are quite different in a lot of ways. There are some big changes that change the very outcome of certain aspects of the story — still trying to be true to the emotions of the story, but changing some big parts of it. It plays out very differently."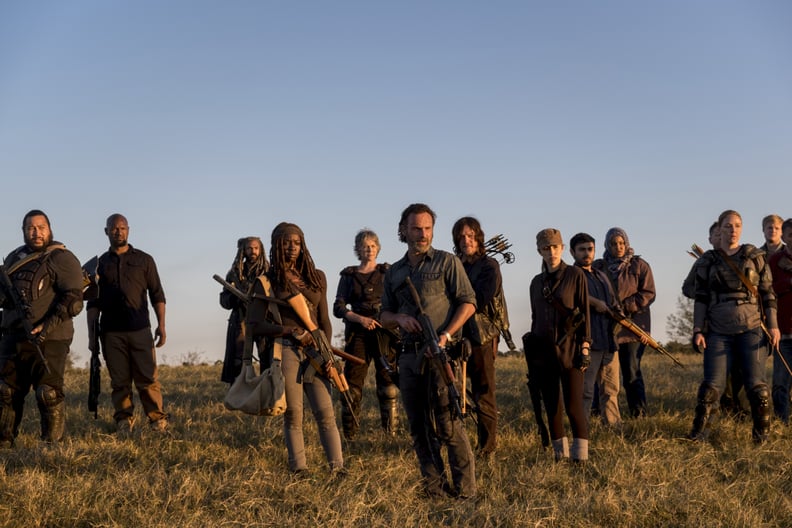 We'll Get a Taste of Season 9
Gimple further explained that the finale will spend some time laying the groundwork for what we'll see when the AMC drama returns next season. "It certainly is not all setup. But the seeds to the next turn of the story are planted. And some of them are not. Some are subtly planted in as much that we know in many ways the next turn of the story," he said.
This Finale Could Be the Last of Its Kind
With the lengthy All Out War storyline blessedly coming to a close, Gimple said the finale will be a conclusion of sorts to the first eight seasons. "It was an intense vibe. It was a very hard season. And kind of everybody is in this episode . . . People were pretty to the limit this year emotionally," he said of being on set while filming. "Also, this episode isn't just like these 15 episodes coming to a conclusion, but Angela and myself and the writers had always talked about this in many ways being sort of the conclusion of the first eight seasons. This show will be very much a new show next year and with a bigger, new narrative. It was something I was really excited about getting into even before season eight. And so there was just a certain weight in the air of the kind of conclusion that we were getting closer to. It was a weird graduation for everybody."
An Epic Battle Will Go Down . . . Well, Kinda
If you're hoping for plenty of action in the season eight finale, Gimple says you won't be disappointed. Then again, the action in question — i.e. a huge battle — might not be what you're expecting. "There are some really unusual aspects to that too, that the action isn't just a large battle, but there are things going sort of around the battle," Gimple told EW. "I don't even know if I would classify it as a battle. And yet, at the same time, the scope is massive. And I guess with so many people, so many characters reaching the conclusion of the story that we've been laying out for them over the past few years in some regards, there's just a lot going on, and a lot of perspectives that we're shifting between and some very, very big emotional and philosophical movement between just some unbelievably insane things happening."
The Finale Date
The Walking Dead is set to wrap up season eight on April 15, so mark your calendars.