Everything You Need to Know About Fear the Walking Dead
While fans have a long way to go until season six of The Walking Dead, there's no need to despair. AMC has ordered not one but two seasons of the upcoming spinoff, titled Fear the Walking Dead, which starts this Sunday. The producers and cast of the series, which has been called a "companion" to The Walking Dead, revealed have revealed a ton of details in interviews and more recently, at the show's Comic-Con panel. Take a look below for info and the first scene!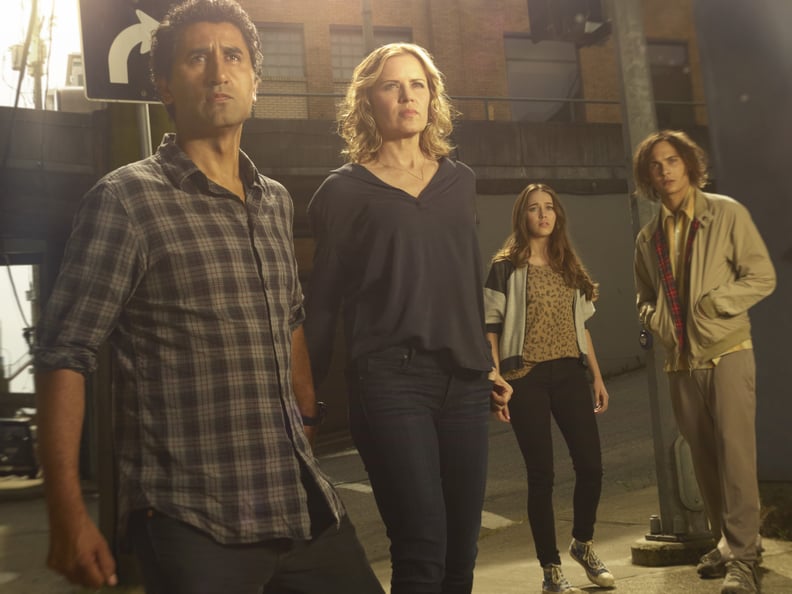 Watch the first scene:
WORLDWIDE EXCLUSIVE: #FearBeginsHere this Sunday at 9/8c.

Posted by Fear the Walking Dead on Thursday, August 20, 2015
Where and when does it take place?
The show will mostly be set in East Los Angeles, and it will loosely cover the period of time that Rick is in his coma on The Walking Dead's first season. "It's more of a parallel story than a prequel," showrunner Dave Erickson revealed to The Hollywood Reporter. "Imagine the opening where Rick gets shot and goes in his coma — that day was probably very close to our day one."
What is it about?
Cliff Curtis (Gang Related) and Kim Dickens (House of Cards) will play Travis and Madison, newly married teachers who are trying to blend their families together. Frank Dillane (the actor who played young Voldemort) will play Madison's son, and Alycia Debnam Carey (Into the Storm) will play her daughter. "As the story opens, all they want is to bring their family together under one roof and make everyone whole," Erickson said to THR. "We obviously play some of the tropes — and there are definitely walkers — but it's people trying to wrap their brain around what the hell is going on and not fully understanding the zombie apocalypse by act one." Orange Is the New Black's Elizabeth Rodriguez has also joined the cast as Travis's ex-wife.
Will characters from The Walking Dead cross over?
There's no plan for a crossover, Erickson said at the Comic-Con panel. He echoed that it would be very difficult logistically, but he didn't rule out that it's a possibility for the future. "We are living under the same mythological umbrella," he told THR earlier. "We are telling, ultimately, two parts of the larger story in this world that Robert [Kirkman] has created. From a storytelling standpoint, I like the idea of conflating stories; I like the idea of things coming together. If that were ever to happen, it would not be for seasons to come, and there's no current plan to do so. But I do think there's something compelling and interesting about it, too."
When will it air?
The first season is set to premiere on Aug. 23 and will consist of six episodes. The second season will air in 2016.
Anything else?
Yes: its nickname is "Fear."