Black Panther Is a Cultural Movement, and This 1 Is Finally For Us
At last, I was able to watch a superhero flick without remaining still in my seat. I lived to see the day when a woman who looks like me kicks ass in every action scene thanks to Black Panther. My people, we have been invited to commence #WakandaWeek by shattering box office debuts — yes, we did that. A tear nearly fell from my eye because this is what I've been waiting for. I've been waiting to feel a sense of belonging, for a moment to finally exhale.
I enjoy being engulfed in the adrenaline rush that takes over me when I watch movies starring Thor, Batman, the Avengers, etc., and when my friend bought us tickets to see Black Panther in IMAX 3D, I told her that she gave me a reason to dress up. We weren't the only ones who turned a movie date into a red carpet affair that culminated with the premiere of Black Panther. Images are floating all over social media of black people from all over dressing up in African attire just to go and watch this movie. It made history as the eighth-highest opening day in box-office history by raking in $76 million on Friday and has the third largest opening day ever for a Marvel Studios film. So, yes, it's really a big deal for us.
We looked so proud, the energy felt proud. It was exhilarating.
Director Ryan Coogler really outdid himself. This is the first time we get to see a group of black actors plastered all over billboards as the lead characters in a Marvel Comic Universe film. If we do see a black character on a billboard of a superhero film, they're usually the token black actor playing a hilarious supporting role. This time, the black actors get to be taken seriously, and Andy Serkis' character Ulysses Klaue is the minority comedic relief. He's one of only two white actors who play main roles; the other is Martin Freeman.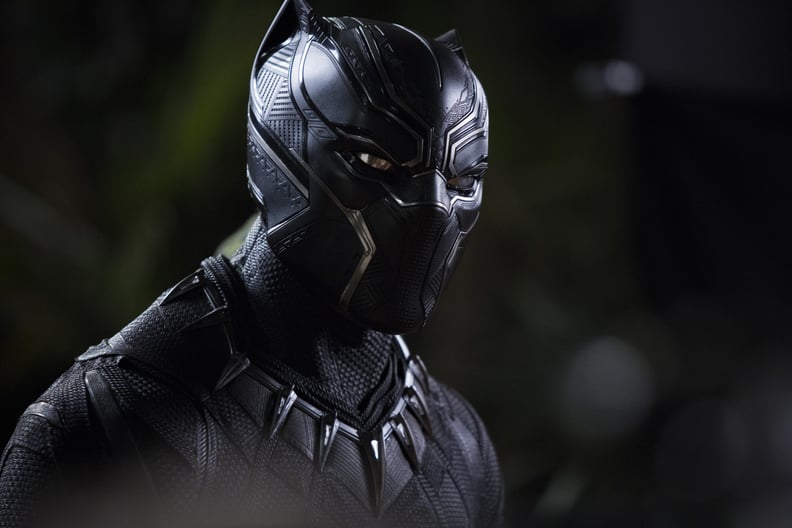 There have been major black superhero movies in the past; of course, everyone remembers Wesley Snipes who played a vampire hunter in the Blade trilogy. There's also Damon Wayans' Blankman and Robert Townsend's The Meteor Man, and Will Smith played the begrudging superhero John Hancock in Hancock. (Full disclosure: I've only seen two and a half Blade films, I fell asleep trying to get through Blade: Trinity.) But Black Panther is different.
Wakanda, as fictitious as it is, makes me wonder about where black people would be today if we all lived together in harmony in Africa. All of the technological advancements and achievements displayed in the film should remind us that we come from a continent with vast quantities of natural resources like diamonds, astounding art, and phenomenal architecture. Instead, we are still subjected to living oppressed lives that civil rights leaders like Marcus Garvey and Malcolm X tried to rescue African Americans from.
Black people have been misrepresented in the media for so long no matter what culture they hail from and finally, this is for us, by us. Let that sink in, and just let us be great, dammit! Black children need superheroes who look like them to look up to as well. We've been portrayed as drug dealers, "welfare queens," and high school dropouts for too long when we came from a nation of riches before being sold into slavery.
I remember being graced with N'yongo's beaming smile and presence when I went to a National Association of Black Journalists Convention movie screening for Queen of Katwe. She came out afterward and explained as tears ran down her cheeks that when she was a child growing up in Kenya, she didn't have anyone to look up to on TV who looked like her, and now she gets to be that person for colored girls.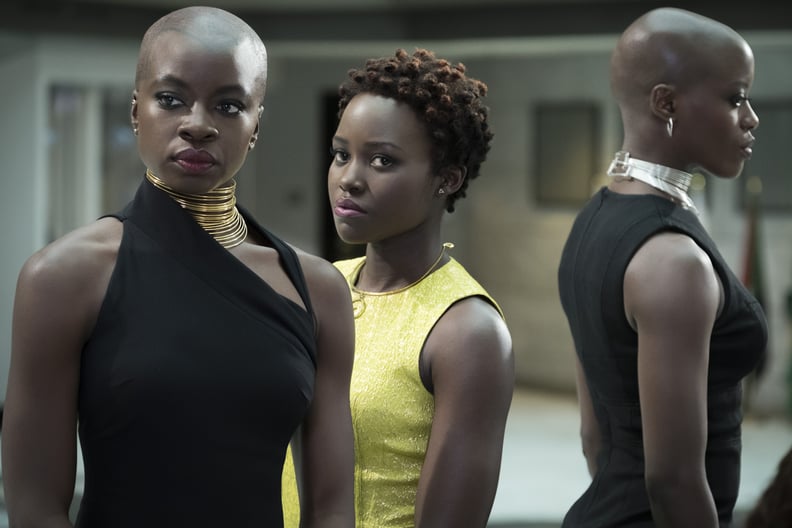 I love how as Nakia, N'yongo wears wow-worthy hairstyles in the film. I'd really like to try it one day when I visit Africa and find someone with blessed hands to lay their fingers on me. The people of Wakanda, men and women, have the freedom to embrace their culture and be proud of their heritage wearing their natural hairstyles however they want. That is the way it should be because we are Royal, we are kings and queens.
I still long for the day when black women can wear their natural hair texture as news anchors on television instead of having to conform to European beauty standards by chemically processing our hair to look like something we clearly are not. Don't get me wrong: I love a weave and changing up my look because I'm a woman, and it's fun. However, when it comes to my profession, I should feel comfortable in my own skin and my own hair. But that is not fully accepted in white media in America. In fact, this is one of the two reasons why I decided to no longer pursue a career in broadcast journalism while I was an undergraduate in college. (This appropriation is also a prime example of why women of color get salty when white women like Kim Kardashian proudly flaunt hairstyles that we are still forbidden to wear at schools and workplaces in America.)
Now people are posting their thoughts on the film on the internet and asking if any money made from this film will go toward doing something to uplift the black community and why it takes this movie for us to realize how wonderful we are. Well, I hope that this inspires other black actors to not settle for stereotypical menial roles so that the youth can see that they too can be represented in positive ways and sends a message to the Debbie Downers trying to rain on this Black Panther parade.
I say to them, as I pump my chest forward like Queen mother of Wakanda (Angela Bassett) during her son T'Challa's (Chadwick Boseman) coronation ceremony, quit trying to rain on our parade, and just ride this wave. We knew how dope we were before Black Panther hit theaters; we're just happy to finally see ourselves flashed across the movie screen at this level. It just so happened to turn into a cultural movement that everyone notices. This film is everything to me, and now I am going to accept my new future as I prepare to watch it over and over again like never-ending reruns.