Confused by Watchmen's Postcredits Scene? Here's What It All Means
As Watchmen enters its final act, many of us are still wondering what role Adrian Veidt will play in the main storyline, but episode eight's postcredits scene gets us closer to an answer. If you missed it, here's what happens.
After being declared guilty of trying to escape "paradise" by Dr. Manhattan's creations, Veidt's punishment is being smeared with tomatoes by multiple versions of Mr. Phillips and Mrs. Crookshanks while they ask him "Will you stay, Master?" His answer? "No." Then, we see him in a cell, reading a book as the Gamekeeper enters with a birthday cake. They discuss his book and the Gamekeeper's past (he was the Adam of Manhattan's paradise). Veidt, of course, dismisses Manhattan's "Heaven" and expresses his wish to go back to Earth. Once the Gamekeeper leaves, Veidt looks at the cake and notices a horseshoe was placed inside it. Laughing maniacally, he uses it to dig the ground of the cell.
Confused? Don't worry, keep reading to find out what all of it means!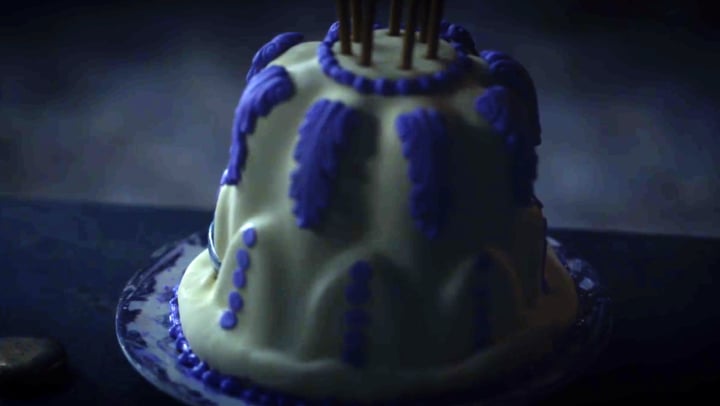 What Is the Meaning of Adrian Veidt's Birthday Cake in Watchmen?
We finally have a definitive answer to Veidt's timeline! Back in 2009, Adrian is disillusioned with the world. When Dr. Manhattan visits him, seeking answers to his own problems, he tells Veidt of Europa and his creations. Liking the idea of being idolized by uncomplicated creatures, Veidt asks Dr. Manhattan to send him to Europa.
By the time he's jailed by the Gamekeeper, seven years have passed. How do we know this? Every one of Veidt's scenes takes place on the anniversary of his arrival. To celebrate it, Mr. Phillips and Mrs. Crookshanks bake him a cake every time. Counting the candles reveals what year we are in; this week's cake has seven candles. Watchmen takes place in 2019 — meaning there are still three years missing from Veidt's story — but we might've figured out that part already. (Interestingly enough, fans have pointed out that a journey from Europa to Earth would take about three years).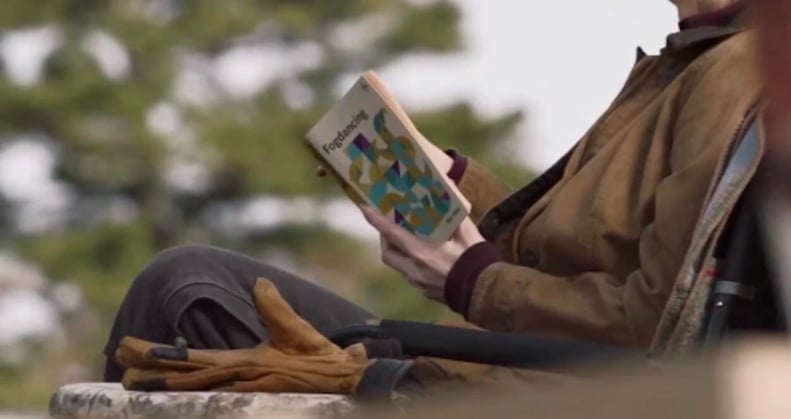 Why Is Adrian Veidt Reading Fogdancing in Watchmen?
Explaining Fogdancing requires us to dig deeper into Watchmen's world and its connections to the graphic novel. In 1985, the author of the book, Max Shea, is kidnapped by Veidt and used to create the alien squid that destroys New York. Once the plan is done, Shea is killed by Veidt, along with everyone involved. But before his death, Shea writes Fogdancing.
According to Peteypedia, the book is about the experiences of soldiers in Vietnam but told in a "fragmented, stream-of-consciousness prose" that makes readers feel "lonely, humbled and painfully mortal." Which fits Veidt's explanation to the Gamekeeper. The book is also deeply connected with masked heroes (The Comedian, Rorschach, Mothman, and even Dr. Manhattan had copies.)
It seems Veidt has been struggling to find his place in the world, and his trip to "paradise" has left him even more dissatisfied. Reading Fogdancing might be an outlet for his emotions.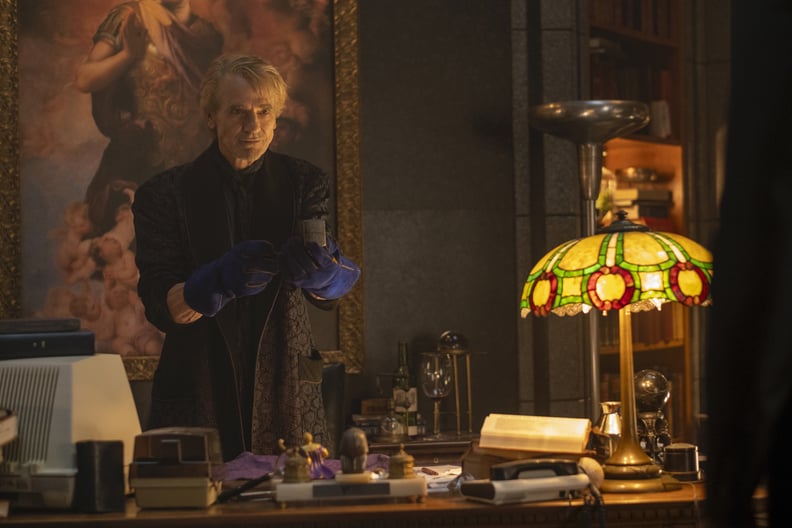 Why Is Adrian Veidt Digging With a Horseshoe in Watchmen?
Nothing in this show is random. In the very first episode, Mr. Phillips offers Veidt a horseshoe to cut his anniversary cake. At his master's exasperated reaction, he asks if a knife would be more appropriate. In episode four, the horseshoe makes another appearance, as Veidt takes one from Mr. Phillips's corpse and says he "doesn't need it yet."
This seems to imply Veidt has purposefully taught Mr. Phillips to hide a horseshoe inside his cakes, but it doesn't explain why he would do such a thing. Well, if the first episode was a hint of what was to come, perhaps the horseshoe is a knife after all.
It's possible Veidt is not digging at all. Instead, he's sharpening the horseshoe's tip against the ground to later use it as an escape tool (either to kill the Gamekeeper or perhaps cut the bars of his prison cell).