John McAfee's Life Was Filled With Scandals — Here's What Happened to Him
Netflix isn't afraid to explore the lives of controversial figures in ways that shake up their reputations in recent years, particularly in the documentary department. Like "Tiger King," the recently released documentary "Running With the Devil: The Wild World of John McAfee" tells a story so wild, viewers aren't sure what actually happened. Also similar to "Tiger King," those who appeared in the documentary claim they've been misrepresented, and the documentary itself has made headlines.
"Running With the Devil: The Wild World of John McAfee" tells the story of eccentric tech mogul John McAfee a year after his death, interviewing those who knew him and breaking down his tumultuous life and career. If you're confused about who John McAfee was, we've broken down his career, his death, and the revelations of the documentary.

Who Was John McAfee?
John McAfee was a pioneer in the technology world, mainly known for the Windows antivirus software his firm, McAfee Corp., created in 1987. The company went public five years later, but McAfee left the company in 1994 before it was sold to Intel Corp. in 2010.
Perhaps as famous as his invention were McAfee's wild scandals. His personal life and run-ins with the law made headlines and caused his company to distance itself from him as its founder. In fact, McAfee himself hasn't been associated with the company for 25 years, a spokesperson for the company told NBC.
McAfee embarked on strange business ventures after leaving the company, including 'herbal antibiotic' company QuorumEx, which saw its research facility raided on suspicion it was a methamphetamine lab, according to Esquire. He was briefly imprisoned before the charges were dropped.
McAfee was also in the news following the death of his neighbor Gregory Faull. Faull was annoyed by McAfee's lifestyle, which included weapons, crowds of underage girls, and several loud dogs. Two days after Faull complained to the mayor about McAfee's dogs, he was found dead, having been shot to death. McAfee went on the run as he was named a person of interest in Faull's murder case. He was eventually arrested in Guatemala and faked a heart attack to avoid deportation to Belize. He was instead deported to Miami.
After McAfee ran for president of the United States in 2016 and in 2020, he was arrested in 2020 in Spain, accused of failing to file tax returns for four years; concealing assets; fraud; and money laundering, according to Esquire.
How Did John McAfee Die?
McAfee died by suicide in a Spanish prison on June 23, 2021, the same day a Spanish court ruled he could be extradited to the US on tax evasion charges. His lawyer, Javier Villalba, stated that "nine months in prison brought him to despair," according to The Economic Times.
Conspiracy Theories Surrounding John McAfee's Death
One main focus of the documentary is the conspiracy theory that McAfee is not actually dead.
An official autopsy found that McAfee died by suicide in June 2021, but his widow, Janice McAfee, disputed the findings and demanded a thorough investigation into the circumstances surrounding his death, according to the Associated Press. A Spanish court reaffirmed the original autopsy's findings in February 2022, however — a ruling McAfee's family has appealed, according to Merco Press.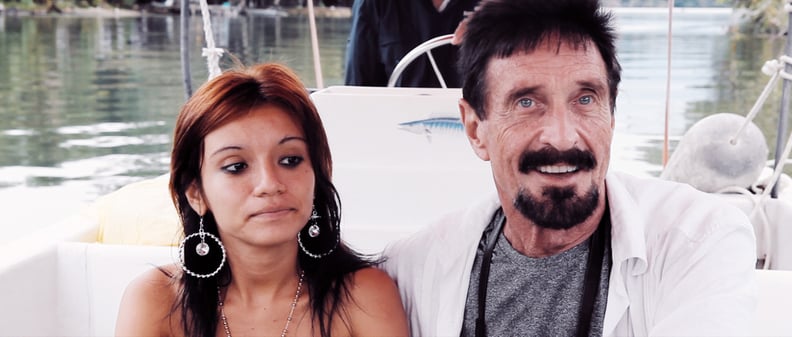 In the documentary, McAfee's ex-girlfriend Samantha Herrera appears to claim she received a call from McAfee saying he had faked his death and asking her to run away with him. Herrera has since spoken out in a September interview with Market Watch claiming her words were twisted. She claimed she specifically said on film that the call may have been from someone posing as McAfee but that it was left on the cutting-room floor.