Loved Us? Jordan Peele Is Going to Be Working on So Many Things This Year
Raise your hands if you're too terrified to look into the mirror after watching Us. Jordan Peele has done it again, following his incisive social thriller Get Out with the full-blown horror Us, which is already a box office smash (and the source of our existential nightmares). If you're looking for more content from the writer-director-actor extraordinaire, you won't necessarily have to dig through all of his MadTV and Key and Peele sketches. So, what is he doing? The question you should ask is: What isn't he doing?
Peele will lend his voice to Toy Story 4 as Bunny (yes, the irony is not lost upon us). He'll also appear in the currently filming horror flick Abruptio as Danny across Buffy the Vampire Slayer's James Marsters and Pitch Perfect's Hana Mae Lee.
On top of these parts, Peele has his own production company called Monkeypaw Productions that gives him the resources to create a lot of cool movies and shows. It's brought us Get Out, Us, and BlacKkKlansman as well as many other projects. On Feb. 13, it rolled out Peele and Charlie Sanders's Weird City, a wacky Black Mirror-esque series on YouTube Premium with an A-team cast that includes Mark Hamill, Laverne Cox, Rosario Dawson, Awkwafina, and more. Just two days later, we saw another Peele project from Monkeypaw on Amazon Prime — Lorena, a four-part docu-series about Lorena Bobbitt, a woman who cut off her husband's penis after experiencing years of abuse. He'll also be producing a remake of Candyman, an iconic horror movie that has informed his body of work.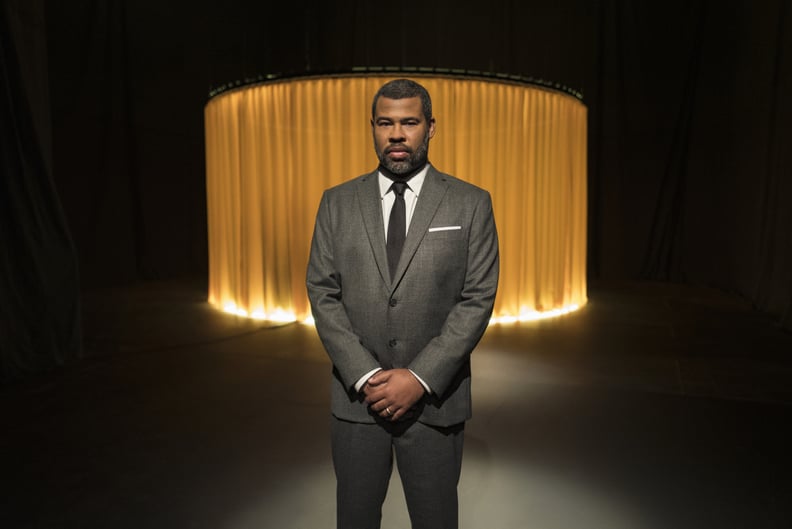 On April 1, the production company also launched one of Peeles' biggest projects, a widely anticipated CBS All Access reboot of The Twilight Zone, for which Peele serves as the executive producer, host, and narrator. According Peele, the iconic series initially felt too big to tackle, but eventually, he saw just how relevant Serling's show has become in our troubled times.
"One of the things that we kept coming back to was the timing felt right because it's one of the sentences you hear often like once a week for the past couple years: 'It feels like we're living in the f*cking 'Twilight Zone.' That was the signal," Peele explained at Paleyfest.
It looks like Peele is becoming as iconic as Shonda Rhimes or Ryan Murphy on the small screen because Monkeypaw is coming out with even more shows soon. Yes, more! Peele will be an executive producer along with David Weil and others on Amazon's The Hunt, a series about Nazi hunters featuring Logan Lerman and Al Pacino. Working with Misha Green and J.J. Abrams, he'll also lead HBO's Lovecraft Country, a drama horror set in Jim Crow America.
Presumably, Peele is still an executive producer on Tracy Morgan's comedy series The Last O.G., and the voice of the randy Ghost of Duke Ellington on Big Mouth as his agenda fills up. Both shows, respectively, have been picked up for a second and third season in 2019.
There's no doubt that Peele has immensely talented people working with him (hello, Lupita Nyong'o and J.J. Abrams!), but there's no denying his immense talent and creative vision. We're definitely excited to see what horrors these projects will unleash, even if it means perpetually sleeping with a nightlight on!