Carrie Fisher's Daughter Billie Lourd Will Return for Episode VIII
We were stoked when we heard Billie Lourd had joined the cast of Star Wars: The Force Awakens. Sure, she's the daughter of the late Carrie Fisher (aka Princess Leia), but she's also an impressive young actress. She's one of the biggest scene-stealers on Scream Queens, and she's poised for stardom. We were really happy that she would be sharing in her mother's Star Wars legacy, but the question is: who does she play?
The credits say her character is Lieutenant Connix, but you wouldn't glean that from the movie. In fact, if you want to see her, you'll have to be looking pretty closely. Leia is now a general, in command of a massive army. Within that army is Lieutenant Connix. By my estimation, she has approximately one line. Well into the film's third act, she appears onscreen and says, "General, are you seeing this?" It's kind of cool that she's addressing her own mother (the layers!), but we were really hoping for more than just a cameo.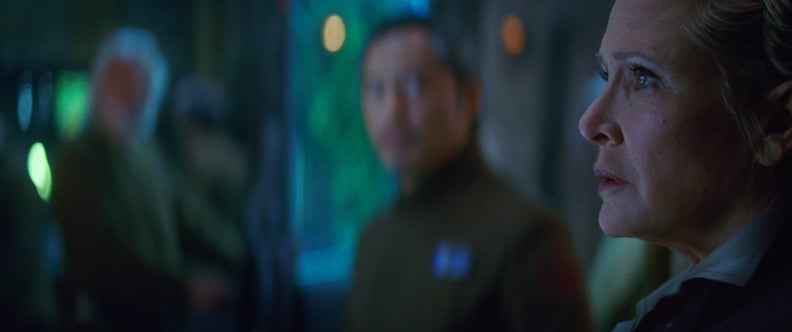 See this picture? Lieutenant Connix is not in it, but she's somewhere in this control room. That's not all, though. Lourd also confirmed that she would reprise the role during a recent chat as a part of AOL's Build Series. "Lieutenant Connix is back," Lourd said. "You might not know her name, but you should now . . . Connix is back and better than ever." Looks like we're in for a real treat when Star Wars: Episode VIII drops at the end of next year.