Here's the Lowdown on Harry Shum Jr.'s Crazy Rich Asians Character, Charlie Wu
Crazy Rich Asians is filled with a star-studded cast, and Harry Shum Jr. is no exception. Though his character, Charlie Wu, has a small role in the film, there is a good chance we'll be seeing even more of him if the movie gets picked up for a sequel. Spoiler: his character has a pretty big role in the books. So, just who exactly is Shum playing? Here's what you should know about Charlie.
Warning: spoilers for Crazy Rich Asians ahead.
Who Is Charlie Wu?
Charlie is Astrid's former love and ex-fiancé in the book trilogy. Though Astrid's parents disapproved of him when they were dating because he didn't come from old money, he eventually becomes a tech billionaire. Even though he goes on to marry a woman named Isabel, he still has deep feelings for Astrid in the first novel.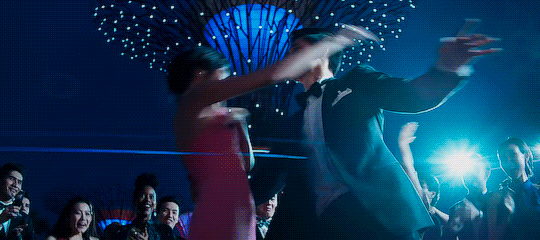 Is Charlie in the Crazy Rich Asians Movie?
Initially, Charlie was supposed to make an appearance at Colin and Araminta's wedding and share a dance with Astrid. Even though the scene appeared in the film's trailer (as seen in the GIF above), it was eventually cut from the theatrical release. While Charlie doesn't appear in the actual film, he does appear in a midcredits scene during Rachel and Nick's engagement party solo. The scene may be short, but it could signal the possibility of a sequel.
Which Books Is Charlie In?
While Charlie only makes a small appearance in the first book, Crazy Rich Asians, he has a greater role in the following two books, China Rich Girlfriend and Rich People Problems.