Who Is Valentina Allegra de Fontaine?
"Black Panther: Wakanda Forever" Features Julia Louis-Dreyfus as Valentina Allegra de Fontaine
Watch out! This post contains spoilers.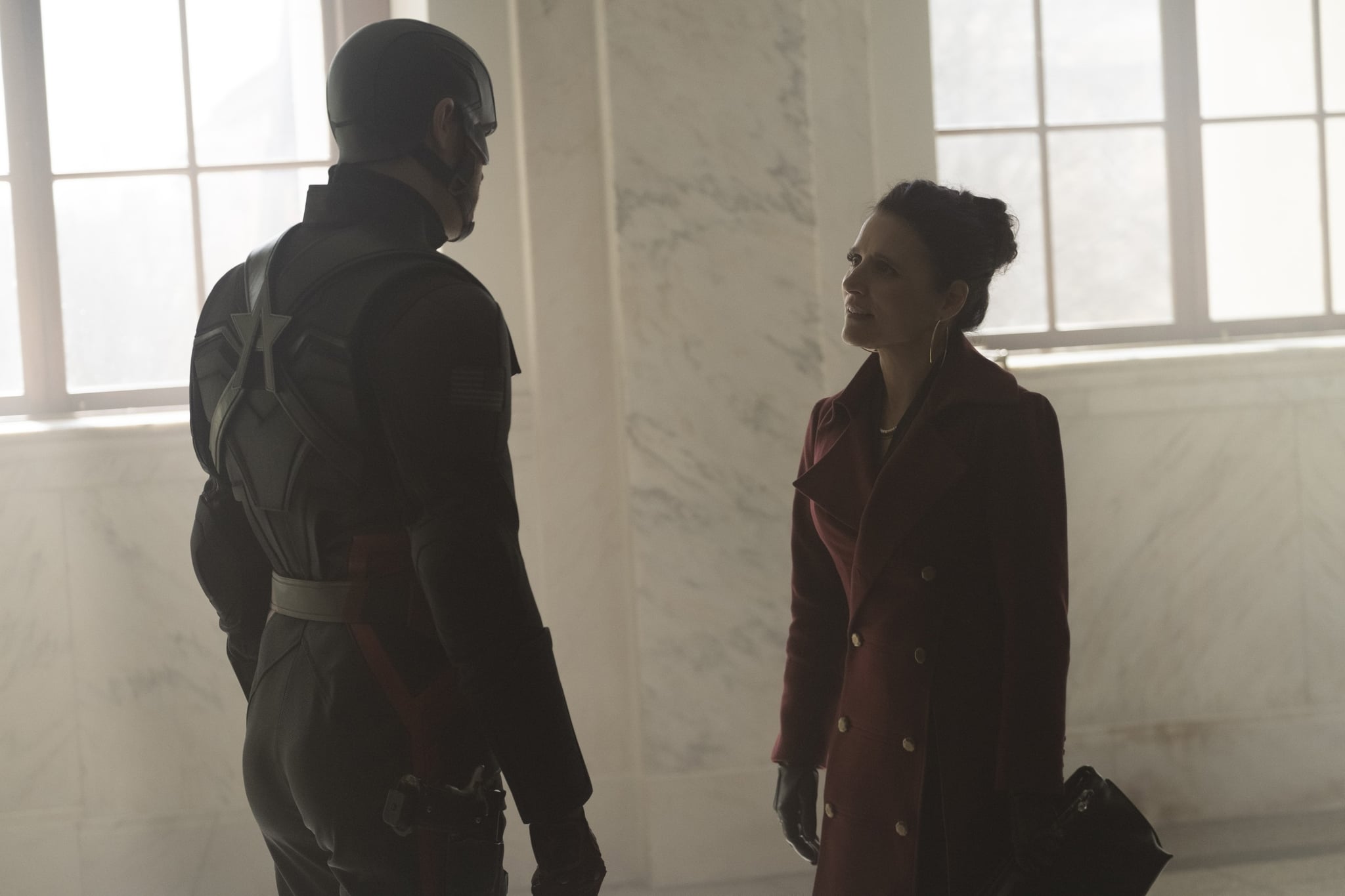 "Black Panther: Wakanda Forever" introduces quite a few new characters into the MCU, but there's one character who MCU fans had already briefly met whose appearance in the movie was a total surprise. In the sequel, Julia Louis-Dreyfus appears once again as Contessa Valentina Allegra de Fontaine, head of the CIA. She actually has a pretty big role in the movie, and viewers learn one major part of her backstory: she used to be married to Everett K. Ross (Martin Freeman). Through the course of the film, she tries to stop Ross from helping the Wakandans and ultimately arrests him for betraying the United States.
The movie marks Louis-Dreyfus's third appearance as the character in the MCU, and she will be back in a huge way in the upcoming "Thunderbolts" movie. Ahead, we're breaking down this character's role in the MCU and in Marvel comics.
Valentina Allegra de Fontaine in the MCU
Val makes her first appearance in the fifth episode of "The Falcon and the Winter Soldier" in 2021. After John Walker (Wyatt Russell) is stripped of the title of Captain America, she approaches him and tells him, "You did the right thing, taking the serum." She adds, "And I'll tell you something: it has made you very, very valuable to certain people." She gives him a blank card and leaves. At the end of the series, she gives Walker the name US Agent to use instead of Captain America and compliments his new, black suit.
Val's second appearance comes at the end of "Black Widow." Though that movie is a sequel, the postcredits scene is set in Marvel's present day (which at the time was 2024). Yelena Belova (Florence Pugh) visits her sister Natasha's grave, where she's surprised by Val. Val tells her she has a new assignment for her — meaning they're already in contact. Val tells her to go kill Clint Barton in New York, who she says was responsible for Natasha's death. That sparks the plot of the "Hawkeye" series.
"Wakanda Forever" is actually the most we've seen of Valentina, who works for the CIA. We learn about her past relationship with Everett, and she's intent on finding the United States its own Vibranium supply no matter the cost. She's unsuccessful in her quest, but surely undeterred.
We can next expect to see Valentina in 2024's "Thunderbolts" movie. That movie will be about a team up between some of the MCU's misfit heroes, antiheroes, and villains, including Yelena, John, and Bucky Barnes (Sebastian Stan). It seems that Valentina will play a major role in bringing the group together, as previewed in her other cameos. It's possible she'll pop up unexpectedly in other Marvel properties before then.
Valentina Allegra de Fontaine in Marvel Comics
The Thunderbolts team exists in the comics, but they're put together by Baron Zemo (Daniel Brühl in the MCU). They also have ties to General Thaddeus Ross aka Red Hulk; Harrison Ford will appear as the character in "Captain America: New World Order" and "Thunderbolts." In the comics, the Thunderbolts team are antiheroes, never fully villains or heroes.
Though Valentina isn't involved with the Thunderbolts in Marvel Comics, she still has a long history in its pages. In the comics, she has a relationship with Nick Fury after she joins S.H.I.E.L.D, where she ascends temporarily to the rank of deputy director. She later infiltrates HYDRA, earning the moniker Madame Hydra; though she was actually a triple agent, having worked for Leviathan as a sleeper agent since before her time at S.H.I.E.L.D. She's also a member of an elite group of women S.H.I.E.L.D. operatives known as Femme Force. Another important member of Femme Force is none other than Sharon Carter, who also appears on "The Falcon and the Winter Soldier." Regardless of where Valentina's journey is ultimately headed in the MCU, we can't wait to see where Louis-Dreyfus takes the role.