This Is the Brilliant Voice Behind L3, Who Steals Every Scene in Solo: A Star Wars Story
As the lights went down in my theater and the first words in Solo: A Star Wars Story's intro began to crawl, I was mentally prepared for two things: (1) to potentially fall in love with Alden Ehrenreich and (2) for Donald Glover to steal every scene he's in. While both of those things happened — I mean, how could they not? — they still didn't come close to ranking as the best character in the film. Both of them (as well as costars Emilia Clarke, Woody Harrelson, Thandie Newton, and Paul Bettany) do exceptional work, but it's Phoebe Waller-Bridge's brilliant, enlightened L3-37 droid who saunters off with Solo's best lines.
British actress, comedian, and playwright Phoebe Waller-Bridge provides the voice for L3, who cares deeply about both her partner in crime, Lando, and droid rights. She spends most of the movie cracking jokes at Lando's expense — although they're done with love, since she swears he has an unrequited crush on her . . . and she may or may not have one, too — as well as leading a droid uprising at a key moment.
In a movie like Solo, which packs in quite a few characters, it can sometimes be hard to make a personal connection to the new faces since our introductions to them run the risk of being too shallow. That's not the case with L3; Waller-Bridge brings the perfect amount of sharp wit to her feminist, genius navigator despite never appearing on screen herself (she shot L3's scenes with motion capture).
Solo director Ron Howard couldn't sing her praises enough, telling Entertainment Weekly that "Phoebe is hilarious and brilliant and really helped bring that character to life in ways that are funny and surprising." Cowriter Lawrence Kasdan agreed, noting that her performance transcends CGI. "The effect that she will appear in is amazing, but she comes through very strongly even with this astounding [CGI], both her humor and her physicality," he said. "If you meet Phoebe, she's one of these people you just fall in love with immediately."
That her humor is mentioned by both Howard and Kasdan should come as no surprise if you've seen any of Waller-Bridge's past work. She's the star and creator of Amazon's deeply underrated dark comedy Fleabag (pictured below), which rocketed her into the limelight. The hilarious series follows a flawed woman (never referred to by name) who is coming to terms with the recent death of her friend while handling depression, her dating life, a failing business, a snobby (but endearing) Type A sister, and a psychotic stepmother. The beauty of the show is how she blends life's most tortuous, painful moments with awkward, comedic situations, a skill that she brings to Solo.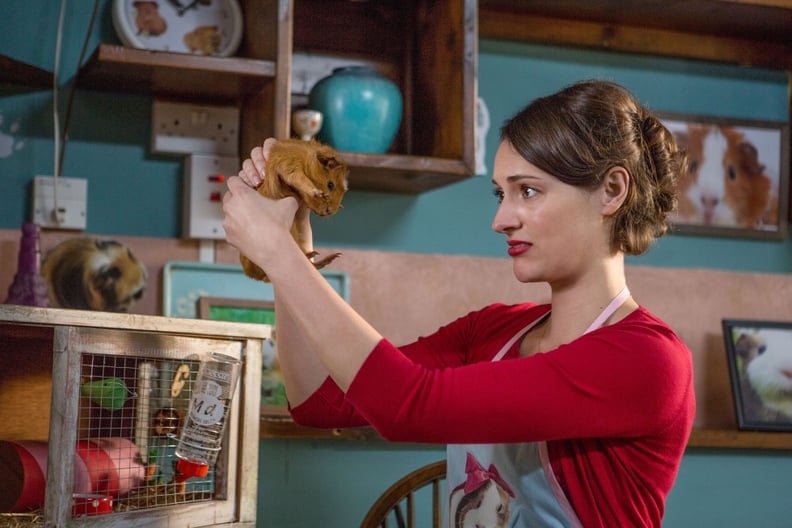 The 32-year-old star also serves as the showrunner for BBC America's critically acclaimed thriller Killing Eve, and she has had roles in Broadchurch, Crashing, and The Cafe. According to her IMDb page, her next role will be in a short called Careful How You Go, which tracks the lives of three "malevolent women."