Killing Eve TV Show Review
I'll Just Come Right Out and Say It: Killing Eve Is the Best Show on TV Right Now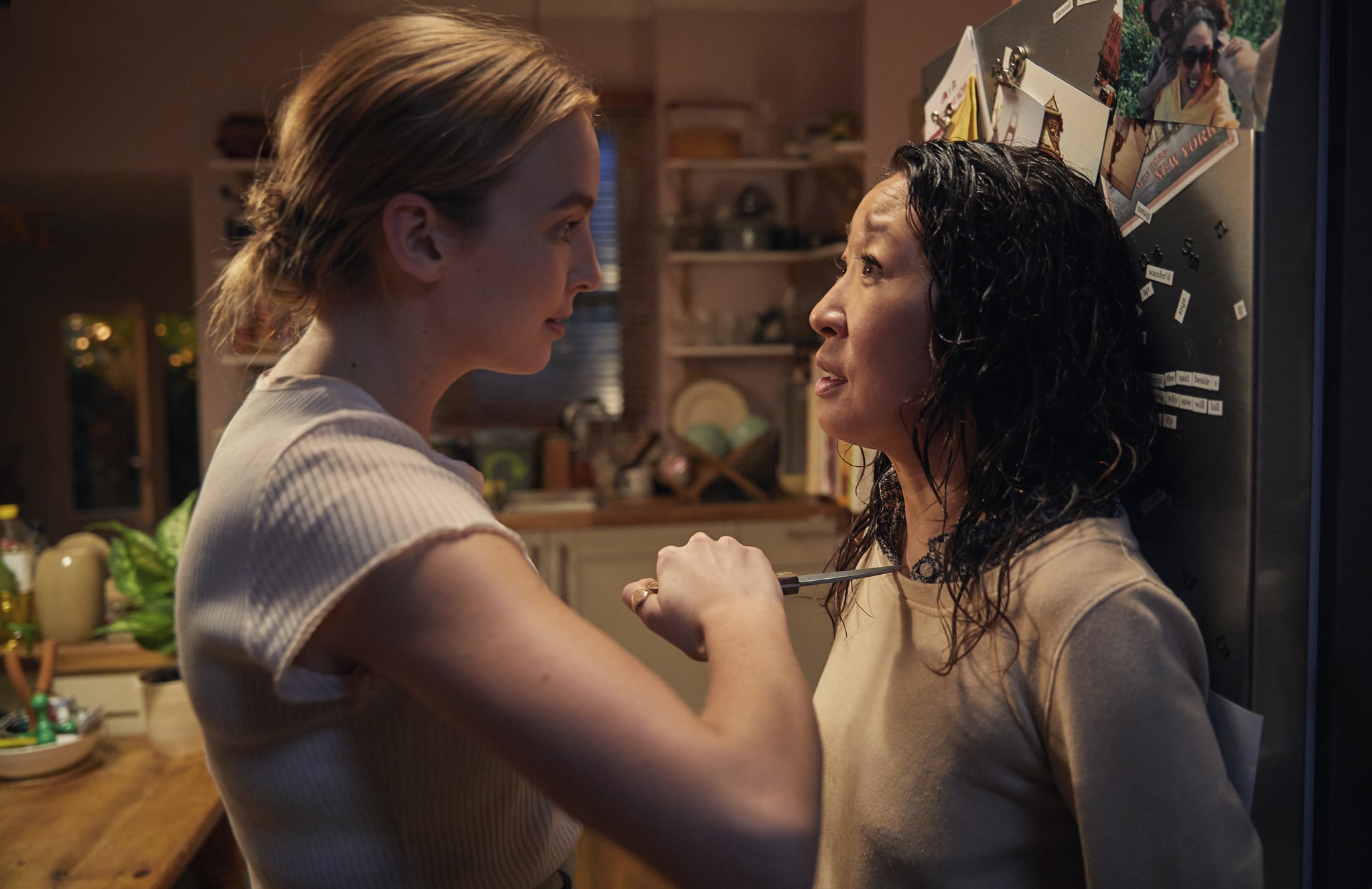 Watching someone be bad can be incredibly fun, and few people do bad better than Villanelle. Or should I say Oksana? Or Natalie? Regardless of whomever Killing Eve's charming psychopathic assassin (The White Princess's Jodie Comer) decides to be on any given day, she'll have you falling for her, head over designer heels, before you even realize she's slit your jugular.
The magic of Killing Eve, BBC America's latest wildly addicting (and often hilarious) thriller, is that the good guys — or good woman, specifically — also get to be a little bad, the way the most interesting heroes always do. Grey's Anatomy's Sandra Oh stars as Eve Polastri, the messy-but-brilliant MI5 operative tasked with tracking down Villanelle, who's having a blast killing her way around Europe. While Villanelle's life is all color, expensive silk, and espionage, Eve exists under the restrictive gray cloud of her department at MI5. She's far smarter and more intuitive than her position warrants, something both her wonderful boss of 10 years — and jealous, stick-in-the-mud higher-ups — can plainly see.
Underestimating a woman is a deadly mistake.
It's not until a legendary agent at MI5's Russia desk (Harry Potter's Fiona Shaw — excellent as always) begins looking into the murder of an Eastern European politician that Eve finally gets to shine. In this case, her deep obsession with female assassins leads her to believe that the person who killed the politician was a woman — given his side hustle as a sex trafficker, she reasons, it makes sense that he wouldn't expect a female assassin to attack him. And therein lies one of the series' biggest themes: underestimating a woman is a deadly mistake.
Killing Eve is based on the Codename Villanelle novels by Luke Jennings, but it has been adapted for TV by playwright, actress, and Fleabag creator Phoebe Waller-Bridge. The British showrunner brings the same level of nuance and style to her female protagonists here as she does in the Amazon black comedy. Fleabag's first season is at its most spectacular when the main character — a damaged woman played beautifully by Waller-Bridge — is allowed to shake free of society's hold on her and act out her most embarrassing, unseemly, and uncomfortably relatable gut reactions. We get to see that dynamic play out in both Eve and Villanelle in different ways, and it's fascinating.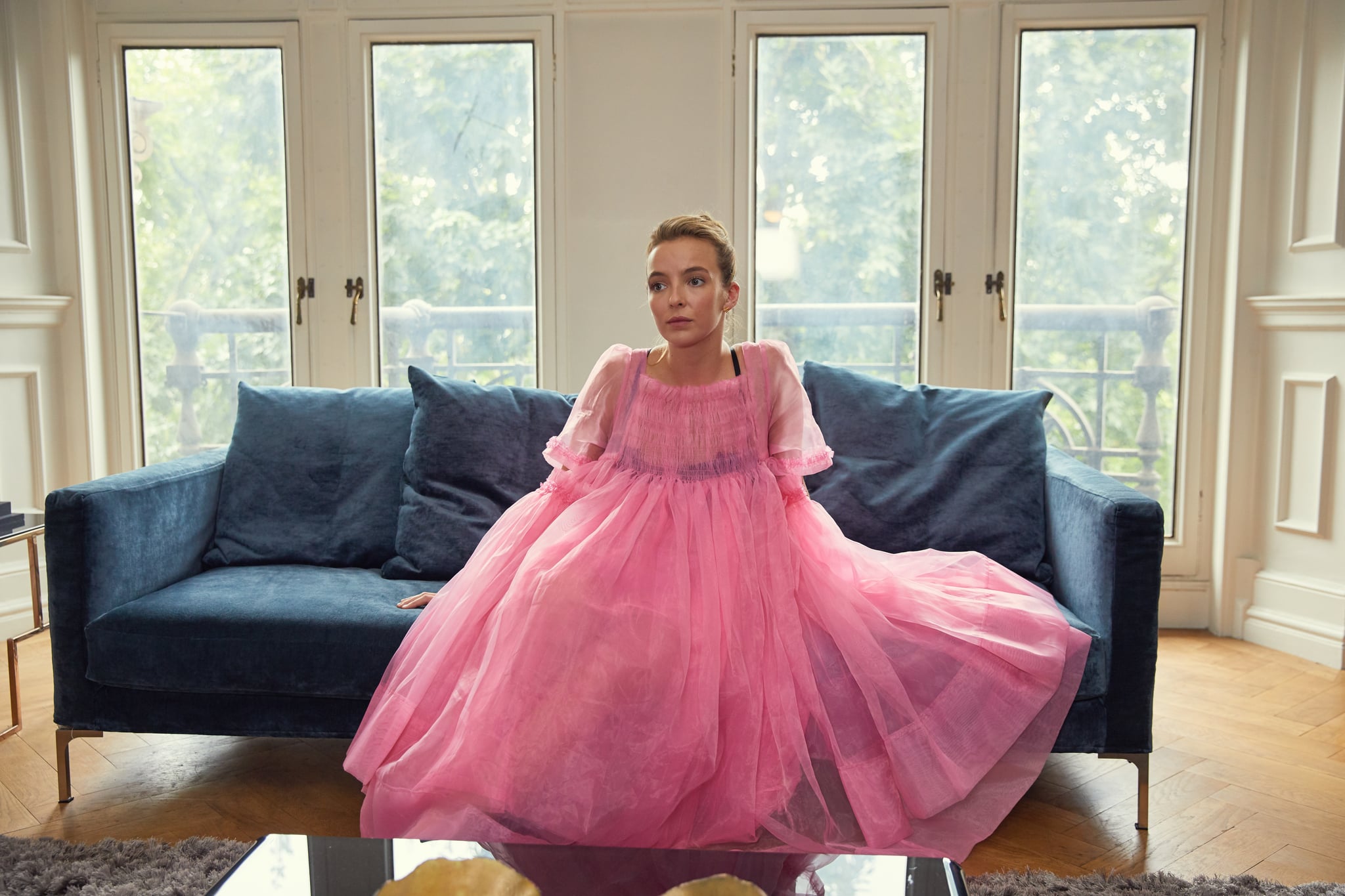 Villanelle is all id, seeking out pleasure everywhere she can find it: in the arms of men and women, in Paris's most expensive designer boutiques, and in the way the light slowly fades from the eyes of her victims. While Eve has become accustomed to a life of restraint, tracking Villanelle begins to bring out her baser impulses. Finally, her dreams of being a spy are on the cusp of being realized.
The very first scene with Oh's Eve is of her waking up by unleashing a painful, ear-shattering wail (her scream alone deserves an Emmy, honestly). She brushes it off a minute later to her husband as merely the reaction to waking up and realizing her arms went numb while she slept, but it couldn't be a more fitting introduction to the character; Eve is finally, painfully awake.
When her world collides with Villanelle's, so begins the ultimate game of cat and mouse. The question is: who's the cat in this situation and who's the mouse? Eve might fumble her way through a few important situations early on in the series, like loudly eating a croissant in front of a superior or inadvertently hurting her husband, but there are very few moments where you question her competence. There could not be a sharper, more capable foil to Villanelle's equally adept villain.
Killing Eve toys with classic spy genre archetypes like the rogue operative and the unstoppable killer by shining them through the lens of what it means to be a woman, especially with stakes as high as these. By the first episode's end, Eve might not have as much blood on her hands as the assassin she's after (literal or otherwise), but it's obvious that this journey won't end without plenty of death, pain, and destruction for everyone involved.
I, for one, can't wait to see how it all unfolds. Waller-Bridge has clearly proved that it won't be the ride we're expecting.