Josh Brolin Brings a Surprising Level of Sadness and Empathy to Infinity War's Thanos
We all knew Thanos was going to be Avengers: Infinity War's big bad, but we weren't expecting his, um, interesting new makeover. The intergalactic villain, voiced by Josh Brolin — who is also taking on the role of Cable in the Deadpool sequel, interestingly enough — made his first impression in the team-up movie's epic trailers thanks to his pale purple skin and one very questionable goatee.
Avengers: Infinity War marks the most screen time ever for Thanos, who we've only gotten minor glimpses of in the past in 2012's The Avengers and in 2014's Guardians of the Galaxy (he's Gamora and Nebula's dad, remember?). But seriously, guys — what is happening on his chin? Are those skin folds? Individual chin muscles? And why does he bear a startling resemblance to Bruce Willis? While Brolin continues to look better with age, his CGI counterpart cannot say the same. Fortunately not even that chin can distract from Brolin's fantastic performance, which brings depth, sadness, and even a little bit of empathy to the character. Marvel's track record with villains hasn't always been on the money (Ultron, we're looking at you), but Infinity War gives Thanos a solid backstory and relatively believable reason for wanting to destroy half of the universe, despite the craziness of the idea.
For those of you wondering why Brolin's voice sounds familiar, it's because you've watched him in countless films over the years. After kicking off his career by playing Brand in 1985's The Goonies, the Oscar-nominated actor has gone on to nab memorable roles in Men in Black III (pictured below), No Country For Old Men, Inherent Vice, Old Boy, and Sicario.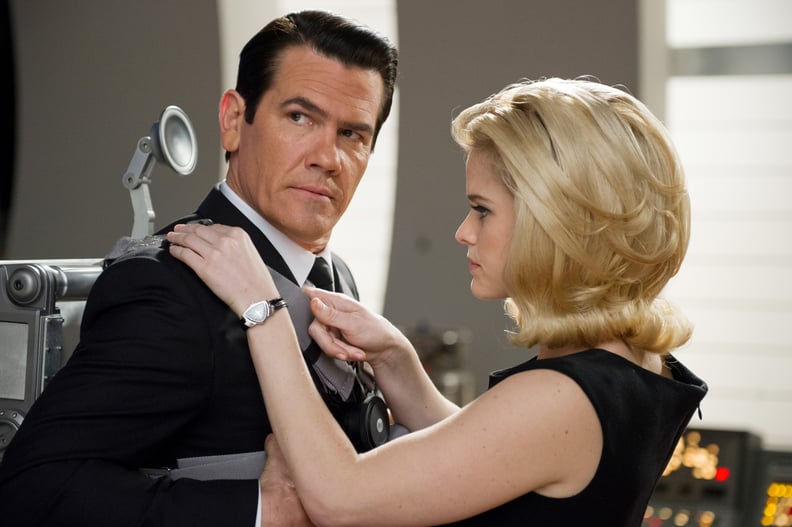 Despite Brolin's handsome appearance offscreen and his nuanced take on Thanos onscreen, Twitter hasn't been able to help themselves from roasting the lavender bad guy ever since the trailers dropped. Hopefully those infinity stones also give Thanos the power to ignore his own memes.