A Sad Reminder of How Taystee Ended Up in Prison on Orange Is the New Black
Orange Is the New Black has been on for so long at this point that you'd be forgiven if you've forgotten how and why all the characters got into prison in the first place. The reasons range from standard infractions (getting caught with small amounts of weed, like Poussey) to the downright tragic (Suzanne's involvement in the accidental death of a young boy). But when it comes to Tasha "Taystee" Jefferson, things are a little murkier.
At this point in the show, which is now in its sixth season, Taystee has emerged as the undisputed MVP. She's fierce, loyal, hilarious, and capable of delivering spectacularly heartbreaking speeches. Between actress Danielle Brooks's phenomenal performance and the nuanced writing, Taystee nearly always acts as the passionate voice of reason in pretty unreasonable situations, which is likely the result of her upbringing.
Taystee gets bumped from foster home to foster home throughout her tumultuous childhood after being born to 15-year-old parents who are unable to raise her themselves. This leads her to cross paths with Yvonne "Vee" Parker (Lorraine Toussaint) at a group home adoption fair. Although it initially seems like Vee is saving Taystee from a life on the streets, her room and board comes with a steep price: Taystee has to start working as an "accountant" for Vee's drug-dealing operation since she's so good at math.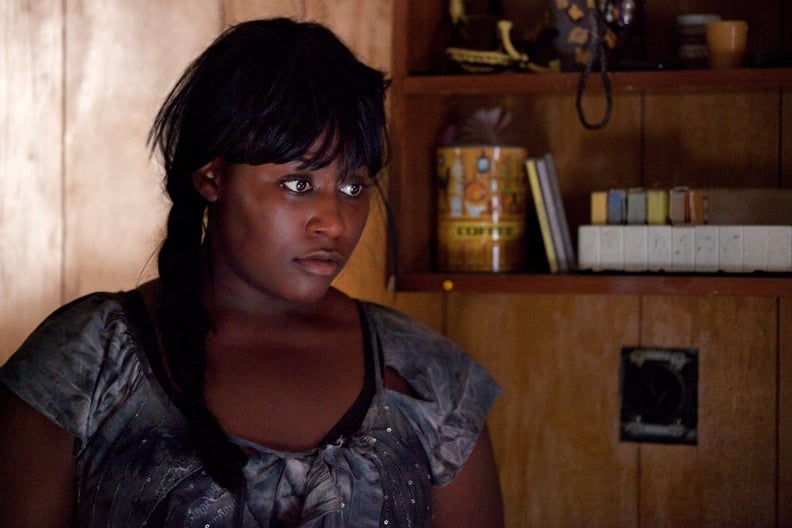 As we see in a season six flashback, Taystee also worked at a fast-food joint called Storky's. The money and benefits clearly weren't as good as what Vee was offering, which convinces Taystee to keep associating with her (to be fair, she's a teenager who doesn't have anywhere else to go). Taystee is eventually arrested and sent to Litchfield, and although we never find out her exact reason for incarceration, it's safe to assume she gets put away for trafficking heroin in Vee's drug ring.
In season one, Taystee does manage to score an early release. She leaves Litchfield and meets up with someone she used to be in foster care with, as well as her rude second cousin, but the familiar surroundings are not enough; the fast-paced real world is too overwhelming for her, as are the strict rules that come with probation. Since she can't find Vee, Taystee purposefully violates her probation so she can go back to Litchfield.
Without spoiling anything, the current season doesn't provide much hope that Taystee will be getting out anytime soon. But still, if we have to put faith in any inmate to defy the odds, it's her.