Is Coachella Safe For Kids?
Tots Take Coachella: Why So Many Parents Bring Their Young Kids to the Music Festival
Charlotte, age 3, pushes her own stroller across a grassy hill, a pair of pale pink, noise-blocking headphones placed over her blond locks. Her mom, publicist Jenni Weinman, is at her side. No, the mother and daughter aren't spending the day at the playground; they're at the Coachella Music Festival.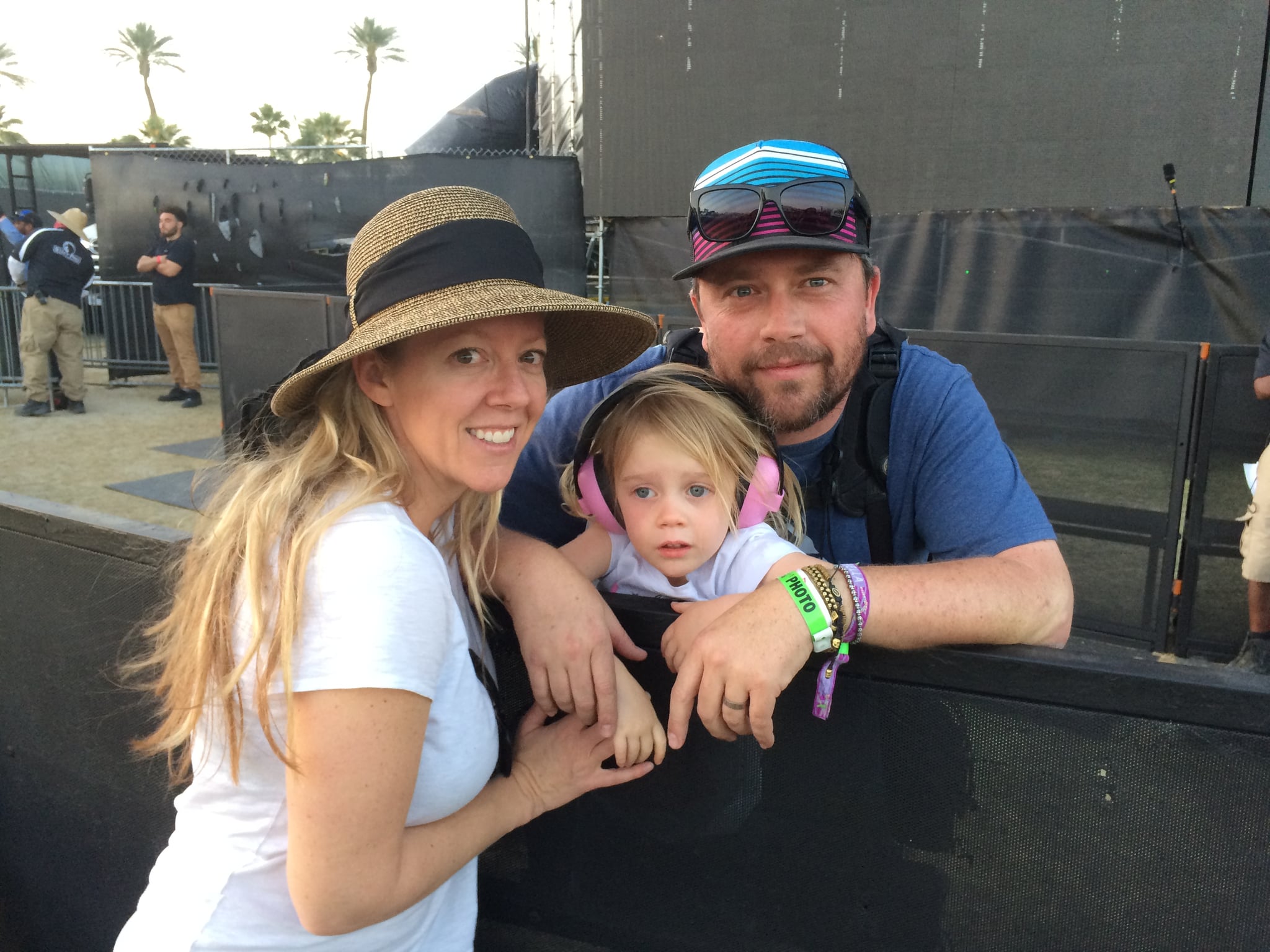 Jenni Weinman and Eric Voake with daughter Charlotte at Coachella's main stage. Image Source: Courtesy Jenni Weinman
Weinman and her husband, music photographer Eric Voake, have brought Charlotte along to the event every year since she was born. For Weinman and Voake, there was no question that Charlotte would become a part of their existing Coachella tradition when they started their family.
"We love her, and she's totally rad, so we want her to be everywhere we are," Weinman told POPSUGAR. "The other thing is, it allows for her to kind of be indoctrinated early to culture. To see different people, different things — the exposure of it all."
Voake, who photographs Coachella bands, gives his daughter a lift. Image Source: Courtesy Jenni Weinman
The Weinman-Voake family is not a rarity at Coachella. In fact, a novice might be surprised by the number of toddler-age kids at the Empire Polo Club fields in Indio, CA, every year. And many parents and parenting experts agree that it's evidence of a larger trend of urban, upwardly mobile moms and dads incorporating their kids into their existing lifestyles. Those parents today seem less apt than previous generations to drastically change their lives once they add kids to the mix or to cleave to traditional ideas of separate "kid" and "adult" realms.
The Coachella Scene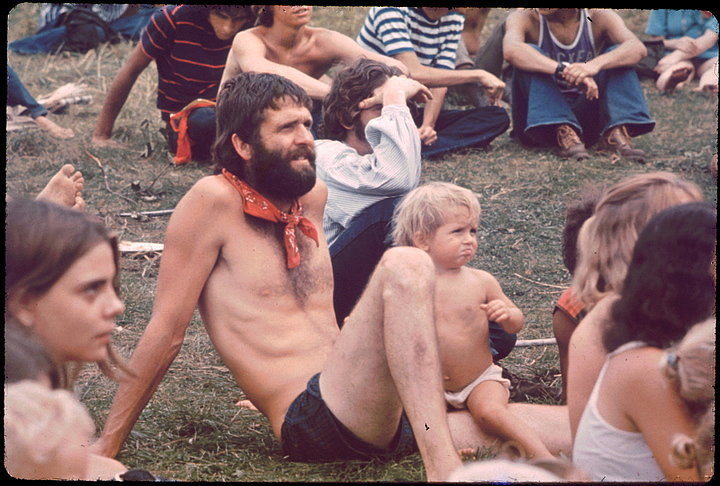 Father and son watch a puppet show at Woodstock in August 1969. Image Source: Getty / Ralph Ackerman
The phenomenon of kids swaying side by side next to their parents at music festivals is nothing new. After all, there are plenty of black-and-white photos of literal "flower" children cavorting half naked in the mud alongside their parents at Woodstock. Still, it's hard to compare Woodstock's relatively minuscule and homogenous crowd and widely held hippie ethos of peace and love to a modern music festival like Coachella. Coachella is less a music festival than a massive cultural event, drawing a cross section of musicians, fashion bloggers, foodies, burnouts, brand consultants, party promoters — and, yes, families with kids.
In short, Coachella looks nothing like Woodstock, and Coachella today looks nothing like Coachella did when it began in 1999. Then, a mere 25,000 people showed up to hear bands like Beck and Rage Against the Machine play for $50 per day. Cut to 17 years later, and the music festival itself is simply the hub of a major cultural and commercial event. This year's headliners were as varied as '90s hair rockers Guns N' Roses, EDM star Calvin Harris, and hipster rapper A$AP Rocky. Last year, more than 198,000 people attended the two weekends of Coachella, and the resulting $84 million in ticket sales made it the highest-grossing music festival in the world, according to BoxScore. Beyond that, easily thousands of others descended upon the Coachella Valley to attend the myriad parties and events that pop up on its fringes each year. Those bashes are hosted by fashion, media, and music companies and lifestyle and consumer brands, all eager for the cache of cool and the access to an upscale, youthful market Coachella weekend offers.
How Kid Friendly Is Coachella, Really?
Eileen Zyko Wolter, a marketing and PR manager who now lives in the NYC area, first took her kids to Coachella in 2011. At the time, her youngest son, Graeme, was 3, and her eldest, Luke, was 7. She says she was surprised by how easy and comfortable their experience was, allowing that she and her husband, David, who's currently an EVP of A&R for RCA Records, had VIP and backstage access.
For Wolter, bringing her kids along was a no-brainer. "We're not superfussy parents, and our kids are really sort of gung-ho to do stuff," she told POPSUGAR. "The biggest thing we were worried about was having a stroller."
As Wolter learned, strollers are indeed allowed at Coachella — though there's nowhere to check them — and there are a few other amenities available to families and kids listed on the festival's website. (Coachella declined to comment for this story.) Children under 5 are free, and the website states that women seeking some privacy are welcome to breast pump at any of the three medical tents on site, where washing stations and sanitizing cloths are available.
But in comparison to Coachella's sister festival, Stagecoach, Coachella seems downright unaccommodating to kiddos . . . at least on paper. Stagecoach, a country music fest, is also held at the Empire Polo Club field. There, kids under 10 are free, the night ends "by or before" midnight, and there is a published code of conduct that threatens ejection for "obscene clothing," "irresponsible use of alcohol," and even "offensive gestures, imagery, or symbolism." Stagecoach boasts the "Halfpint Hootenanny," staffed by a chapter of the Girl Scouts council, where kids can enjoy an animal barn, jewelry-making bar, and performances from kid-friendly musicians. (In some cases, those musicians are actual kids, like one of this year's performers, 11-year-old Emi Sunshine.)
Interestingly, though, arrests at Stagecoach outnumber those at Coachella. This seems to correspond to its more lenient alcohol policy; at Coachella, alcohol sale and consumption is limited to specific "beer garden" areas, while at Stagecoach, alcohol can be consumed anywhere on the premises by those 21 and up. And at both festivals? Marijuana, medically and legally prescribed or not, is verboten. (Though if you get close to the stages during almost any Coachella show, you will eventually wander into a cloud of weed smoke.)
Sgt. Dan Marshall of the Indio Police Department told POPSUGAR alcohol is easily the number one law-enforcement issue at either fest. And in his 13 years at Coachella, he insists that he has never dealt with, or even heard of, a case in which a young child was separated from his or her parents on the grounds. "No. We do not have that. We just don't see it," he said. He adds that, of last year's total of 93 Coachella arrests, "zero" were for crimes against or involving young children.
"Our mantra is: everybody is going to go home in the same condition they arrived in," Marshall said.
Dr. Jen Trachtenberg, a NYC-based pediatrician, says there are, of course, legitimate health and safety concerns parents should have about their children's well-being at an outdoor festival like Coachella: namely, the heat and noise. "You always have to remember with children: they're much more sensitive to the environment and toxins in general," she says.
But if responsible parents are armed with noise-blocking headphones, sunscreen, water, hats, sunglasses, snacks, and bug repellent? Trachtenberg reasons: "Kids are definitely going to be exposed to things. You can't live in a bubble. I haven't been to one of these music festivals firsthand, [but] if you still set your limits and you set an example for your children, they're still going to be exposed to other things. But you need to set a good example for them, and I think things can be OK."
While we did spot one toddler sans any hearing protection at all sitting with his 30-something parents near a loud, large bank of speakers during punk-rockers Rancid's set on Sunday afternoon, that family seemed to be the exception. Of the remaining parents we saw or spoke to at Coachella this year, most seemed prepared with an arsenal of baby-friendly gear— and an understanding that while baby was along for the ride, they would likely need to make kid-friendly accommodations for things like nap needs and time in the shade.
Michelle McCurter and Kerry Schaperow with son Kamden. Image Source: POPSUGAR Photography / Lindsay Miller
Michelle McCurter and Kerry Schaperow had their 2-year-old son, Kamden, in tow on Sunday, when temperatures hit 90 degrees. The San Diego parents detailed the "hours and days" of preparation that went into planning and packing for Coachella. McCurter said her must haves included: "Baby wipes, sunscreen, a water bottle with a filter so you can keep refilling it at the water station, chapstick . . . headphones, definitely. And there are a bunch of tents with air conditioning that we jump around from."
What Coachella Kids Say About Modern Parenting
So, does this microtrend of parents choosing to bring their young kids to Coachella reflect something larger? Do modern parents choose to incorporate their kids into their lives and interests more heavily compared to previous generations?
"Yes, yes, yes," says Dr. Tovah Klein, who has studied toddler development for nearly 30 years and authored the book How Toddlers Thrive. Klein says it's a shift she's witnessed herself in her work but raises some concerns with. "When we become parents, our lives should change. They should change in wonderful ways. Because adding a child to your life is a wonderful thing, it's also a trying thing. And as with any transition in life, moving forward also means letting go of something. Maybe you can't go to the music festival."
The desire to incorporate kids into classically "adult" cultural activities is gaining steam across the country, especially in metropolitan areas among parents with high incomes. (Coachella itself demands a very high price. Weekend tickets cost from $399 for general admission to $899 for VIP admission, meaning that the festival draws an overwhelmingly upwardly mobile crowd.)
In NYC, dining club Nibble & Squeak — with its tagline "Dining For Parents With Pipsqueaks" — makes upscale dining easier for foodies with kids by reserving kid-friendly spaces in high-end restaurants, some of which have Michelin stars and $100-plus tasting menus. In LA, at the Jessica Biel-bolstered Au Fudge, parents can enjoy steak frites or French omelettes in the dimly lit dining room while the kids dine on grilled cheese sticks and chicken nuggets. Or, if mom is craving a grown-ups-only tete-à-tete, she can drop the little ones well within eyeshot in the "creative space," where "au pairs" oversee kids in crafts and games for a $15 admission.
Anecdotally, parents these days seem remarkably open to taking their young kids with them when they go out to meals, museums, or even a friend's house party, as opposed to leaving them home with a babysitter.
Grace and Nelson Stewart arrive at Coachella with their 19-month-old twins. Image Source: POPSUGAR Photography / Lindsay Miller
Grace Stewart and her husband, Nelson, decided to take that tack at Coachella this year. The couple arrived as gates opened on Friday with their 19-month-old twins, Nelson and Grayson Elizabeth. The Scottsdale, AZ, parents — who were looking forward to seeing Ellie Goulding, Bat For Lashes, and Of Monsters and Men — said they were "ready to go," toting two bags of extra sweatshirts, blankets, sippy cups, and snacks.
"When we were pregnant and we were trying to have kids, we always talked about it: 'If God blesses us, we really want to show them what we can, bring them everywhere we can,'" Grace Stewart told POPSUGAR. "We want to culture them at a young age.'"
The Stewarts' ethos is one shared by parents at Coachella and beyond; POPSUGAR Studios' own director of audience development, Kat Malinowska, and her husband often take their 9-month-old daughter, Aleksandra, to "grown-up" events and social occasions in their San Francisco neighborhood.
"We take her to brunch basically every weekend. She chills on our laps and tears up napkins. More unusual places [we've gone] include a hockey game, the museum, an art opening, and house parties," Malinowska said. There's also a practical financial concern for parents in mid- to large-size cities: "Babysitters are $16-$20/hour in SF. Not crazy, but getting a babysitter tacks on an extra $100 or so to anything you do."
Ida Kay works in marketing and communications for Red Bull and had her first child, daughter Sophia, in January. The Santa Monica mom has taken her baby to fashion events and even a facial appointment — which she admits was not the most successful outing. "When we got pregnant, more than one couple told us the trick was to incorporate the baby into your lifestyle from the beginning . . . or else it will never happen," she said. "The baby is obviously the boss in many ways, but if you incorporate them into your lifestyle, you are much more likely to have a balanced life."
That sentiment is one POPSUGAR Moms Director Rebecca Gruber says she is very familiar with. "Parents these days are having kids later than earlier generations, so they had time to enjoy the 'good' life before kids and don't want to give it up now that they have kids," she observed.
The Kids-at-Coachella Controversy
Still, as with seemingly any parenting choice in the internet age, families at Coachella have been the subject of some online scrutiny. A 2015 Huffington Post article put the issue in rather stark terms with the title "Bringing Kids to Coachella: Good or Bad Parenting?" And if the parents happen to be public figures, the opinions are amplified.
When Alicia Silverstone brought her 11-month-old son, Bear, to the festival in 2012, she faced a chorus of mommy bloggers lamenting her choice. In a post for Mommyish.com titled "Sorry, Alicia Silverstone. Your Toddler Shouldn't Be at Coachella," writer Lindsay Cross — who seemingly had not attended the festival herself — addressed the star: "I don't care how adorable he looks in his noise-cancelling headphones . . . Let's think about the biggest story to come out of Coachella this year. In case you missed it, Rihanna tweeted a picture of herself possibly doing coke off a bald man's head." (Some might argue that characterization depends on where one gets their news.)
Similarly, when Victoria's Secret model Alessandra Ambrosio Instagrammed several photos with her 5-year-old daughter, Anja, at the festival in 2014, some commenters called her parental judgment into question, while others jumped to her defense. "Uh, taking your kid to Coachella is probably not the smartest thing to do," wrote one user underneath a photo of Anja midconcert, propped up on an adult's shoulders. "I've been to a number of concerts and have seen kids at them all," another Instagram user countered. "This is an all ages event. The kid can go! She looks pretty happy so I don't know why people are freaking out."
That sort of parent-on-parent pile-on irks Lenore Skenazy, whose book Free Range Parenting might be one of the most well-known and impassioned tomes against so-called helicopter parenting out there today. (Her book synopsis? "Fighting the belief that our children are in constant danger from creeps, kidnapping, germs, grades, flashers, frustration, failure, baby snatchers, bugs, bullies, men, sleepovers and/or the perils of a non-organic grape.")
"If the parents think that something makes sense for their kids, or their kids are ready for X or Y — barring any obvious and egregious reason why we shouldn't trust the parents — I trust them to make fine decisions," she wrote in an email. "Maybe not the same ones I'd make or you'd make. But I don't believe in second-guessing everyone else's parenting. It's not a spectator sport."
So, was there anything these parents ran into that gave them pause during Coachella? After a beat, Eileen Zyko Wolter, the Coachella veteran, was able to remember one. "We did come across, at the end of one of the nights, a bunch of people passed out on the ground," she recalled. "And we just said, 'Oh, you know what happens when you stay out in the sun all day and get tired. They're taking a nap!'"