Halloween Trick or Treat Entertaining Ideas
Wanna Be the Coolest Halloween House on the Block? Stop Carving Pumpkins and Do This Instead!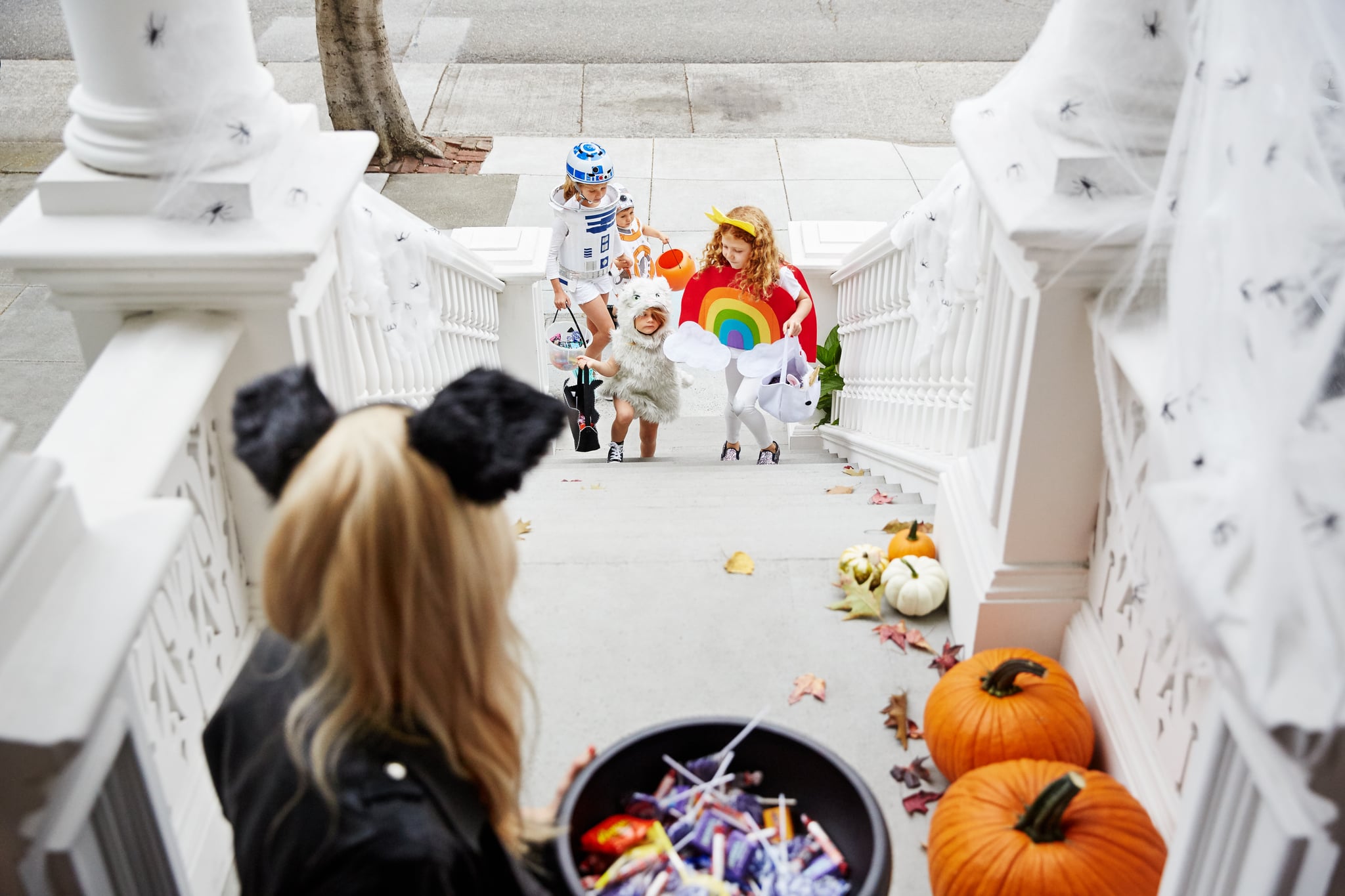 I will fully admit that I am not a fan of Halloween, in general. I've been known to put my Christmas tree up before Thanksgiving and to decorate my house for Easter (who can deny the cuteness of bunnies?!), but Halloween has never really been my thing.
However, I do very much like two things: my two kids and any excuse for a party. The former do not seem to share my disdain for the strange combo of scary and sugarcoated that is Halloween, and their love of the holiday has forced me to also get minimally on board since they became old enough to realize that all those pumpkins on people's porches actually meant something. I, of course, put them in cute costumes, which they wear while walking around our neighborhood asking for candy, which I then attempt to covertly hide so they don't go into sugar comas. Fun, right?
Until last year, I was basically participating in Halloween while still not really enjoying it. And then we moved into a new house, in a neighborhood full of young families who quickly informed me that my home's previous owners were all about Halloween, passing out popcorn, beer, hot chocolate, full-size candy bars, and more than 200 hot dogs every year. Costumes, scary movies, and spiders I might not do, but throwing a party? That I could get on board with.
Costumes, scary movies, and spiders I might not do, but throwing a party? That I could get on board with.
Of course, as the mother of two small children, I've learned to accept my limitations and ask for help. I enlisted a new neighbor friend to do the hot dogs and another to do the popcorn, but the booze and the sweet stuff I was all over. I called in a few friends to let me borrow their Crock-Pots and started stirring up drinks.
For the kids, I whipped up two batches of No Biggie's creamy Crock-Pot hot chocolate. It was gone within the first hour of trick-or-treating, and while I was sad to disappoint many a child who'd heard a rich molten chocolate drink was being served on my front lawn, only to find my stash depleted, my ego was boosted by how big of a hit it was while it lasted. This year, I'm making four batches.
For the parents, I set up a cooler of beer, which no one touched until my trick-or-treating afterparty (more on that later). What did get a big response? My hot apple cider, spiked with salted caramel vodka (find a similar recipe here — I skipped the brown sugar). I filled up disposable, lidded coffee cups with the stuff, and not a single parent turned me down when I asked if they wanted one. Many came back for more.
Since Halloween was unseasonably warm last year, I set up a folding table on my front lawn and served everything there, next to my bowl of snack-size candy bars. I am a firm believer that three small candy bars is way more fun than one full-size one . . . plus, did I mention I was giving out hot chocolate and booze?!
Once it got dark, my neighbors brought over their leftover popcorn and hot dogs and we had a little afterparty, dipping into that stash of beer and giving the kids flashlights to play tag and tell ghost stories with. It was a great party and a perfect night, even if it is my least favorite holiday. I might not be a Halloween person, but being the Halloween party house? That I kind of love.
Image Source: POPSUGAR Photography / Arturo Torres
Product Credit: Party City Cat Ears, Pottery Barn Kids Costume