How My Mother Is Helping Me Raise a Body-Positive Daughter
The 1 Lesson My Mom Taught Me About Body Image That I'm Sharing With My Daughter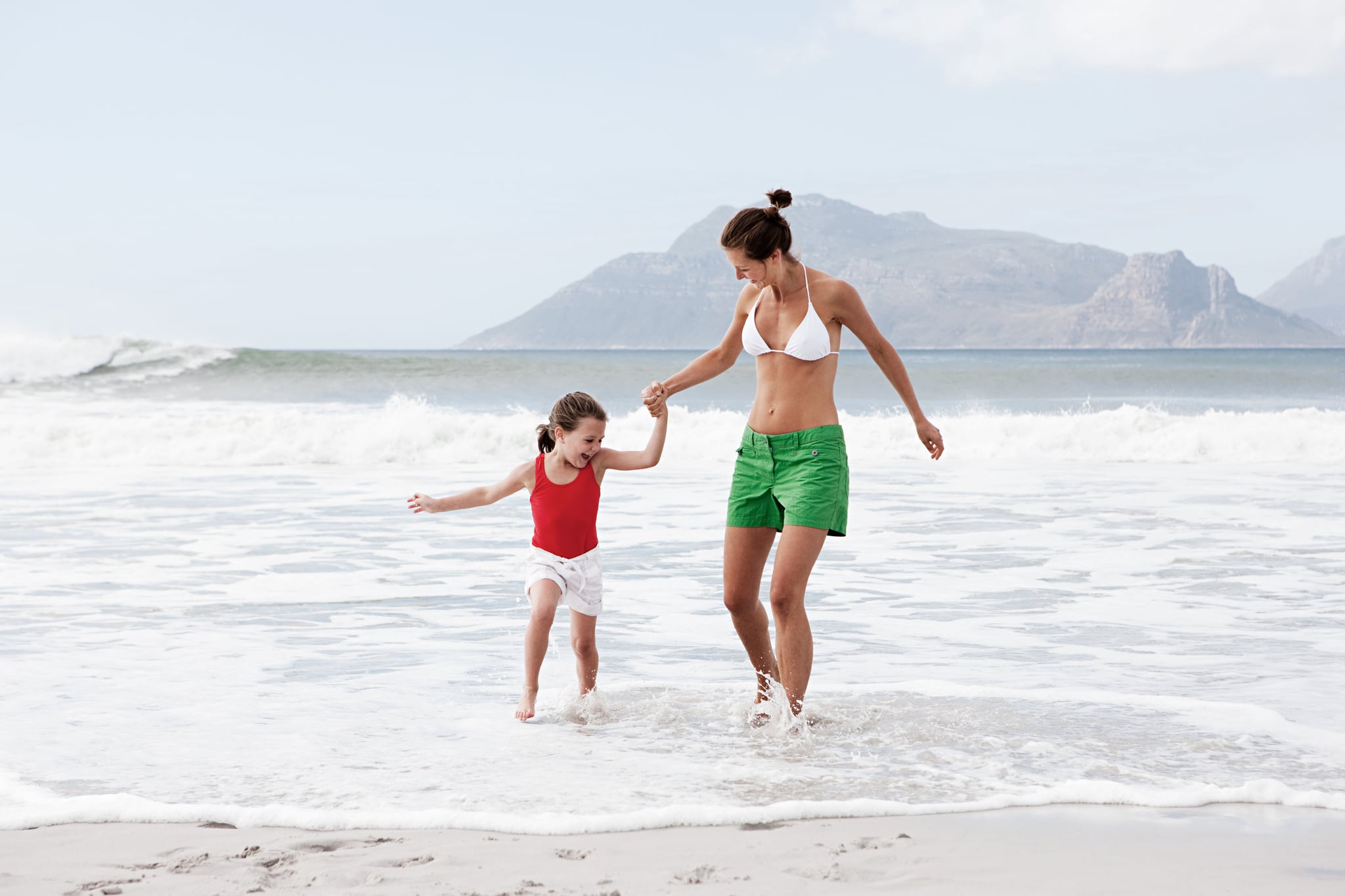 I was in a dressing room, standing in a red bikini with my 70-year-old mother when I realized exactly how to raise my daughter with a positive body image. My mom sat on the bench while I looked in the mirror. I stared back looking at the swimsuit on my body. The bottoms covered my mom kangaroo pouch and the top fit like a sports bra. I posed, placing my hands on my hips, and then asked my mom, "Can I still pull off a bikini? I mean, I'm going to be 40 in a couple years." She looked at me and said something that not only spoke to me as her daughter, but more importantly, as a mother of a daughter, too.
"Angela," she said. "Wear what you're comfortable in."
I looked into the mirror again. I was comfortable in that red athletic bikini — damn comfortable, too. I bought it and rocked it two weeks later on a spring break trip to Florida. The fact that my stomach isn't as flat as it was a decade ago didn't matter. What mattered to me was that I could move better in that two-piece swimsuit compared to the one-pieces I tried on. And on vacation, I felt more confident on the beach building sandcastles and jumping waves with my kids wearing that than covering up my mommy pouch. My imperfections simply floated away with the current.
The word that spoke to me most coming out of my mom's mouth in that dressing room was "comfortable." Not only do I need to be comfortable in what I wear but I also need to be comfortable in my own body — regardless of its shape. And this is the only hope that I have for my daughter and her body image. Bodies are all created differently. That's beautiful, isn't it? So, however my daughter's body evolves, I want her to embrace it. And you know what? She already is.
My daughter is almost 5 and loves to dance and play sports. Her body likes to move. So, she likes clothes that allow her to do just that. Yes, she loves to wear all things frilly, but it's more important to her that she wear outfits that feel comfortable. If she finds a dress full of ruffles and lace but it doesn't fit her just right, she refuses to wear it. And I don't push it, either. She is not my doll to dress. She's coming into her own, and I love it. So, instead, I've recently just started taking her clothes shopping with me. And comfort is her main criteria for the perfect outfit.
I love starting this new shopping tradition with my daughter. I hope that I can give my daughter as much body confidence as my own mother has given me, with all the shapes, curves, and sizes my body takes. Because all that matters is that my daughter is comfortable with what she chooses to wear on her unique body. And when the time comes for her to try on a red bikini, if she feels comfortable in it, I hope she rocks it on the beach — just like her mama.