I Wear a Bikini For My Daughter
Hell Yeah, I'm Rocking a Bikini — Because I Want My Daughter to Learn Self-Confidence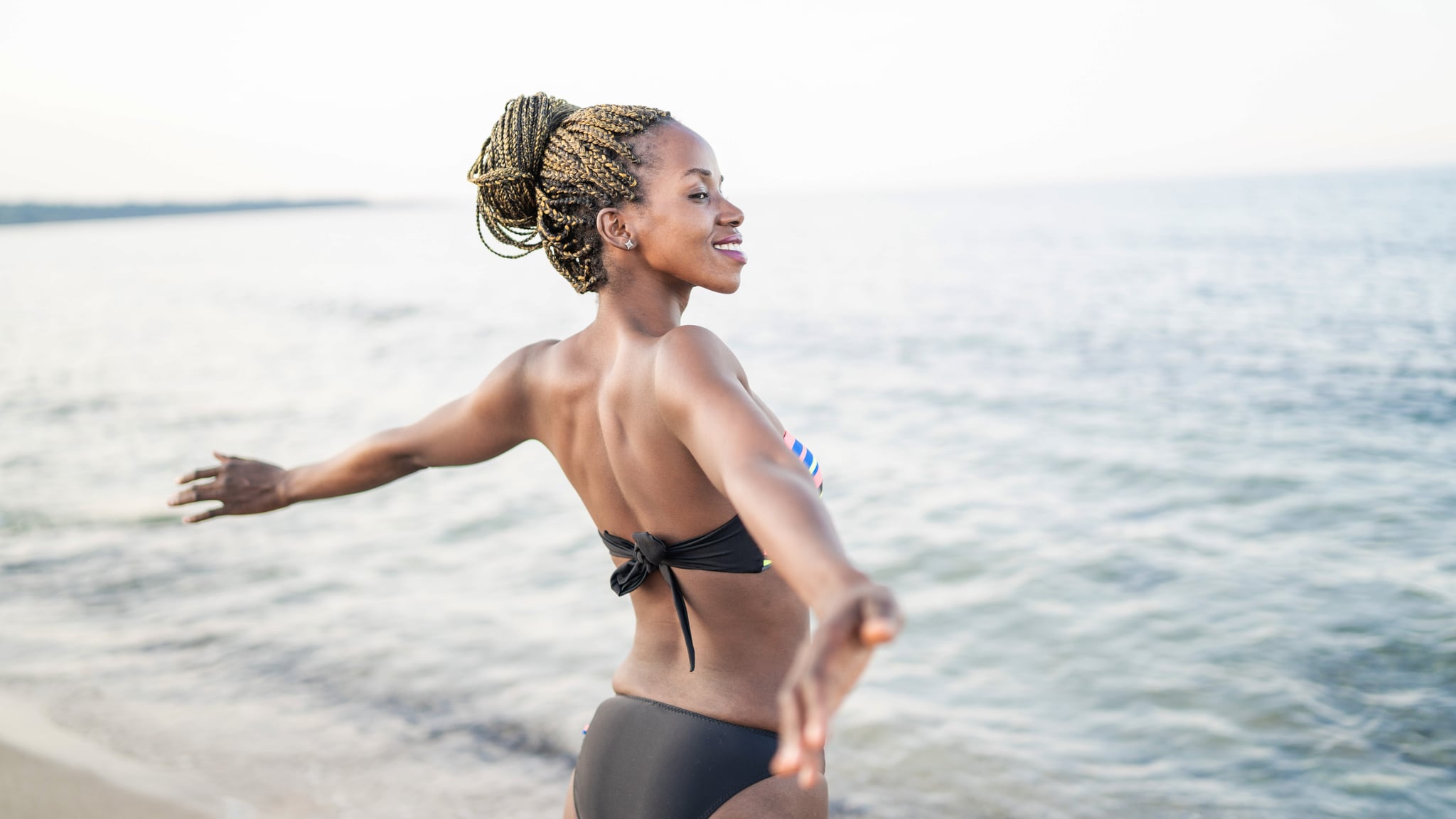 Almost five years ago, I gave birth to a little girl. Since then, I made the decision to wear a swimsuit, and wear it proudly. I've always lived an active lifestyle and felt reasonably comfortable wearing a suit during the Summer months. I mean, I wasn't jumping for joy about it, even in my twenties, but it never bothered me too much. However, the older I've gotten, well, my body parts have decided to start traveling south. Oh, and get mushier, too. But now that I've got a little girl who will look up to me, I will be rocking the swimsuit the best that I can, and for as long as I can, too.
If I am empowered by my own body, in whatever outfit I choose, my daughter will see that. Most importantly, though, she will want to mimic that. What greater gift can I give my daughter other than a self-confidence that is stronger than Hulk Hogan during the '80s? And my daughter? She's already got that kind of self-esteem at age 4. She struts out the door sporting a leopard top and striped legging like she is a boss. I'm sure as hell not going to be the one responsible for messing up that kind of confidence.
If she sees her mother refusing to take her cover-up off at the beach, I'm sending her the message that the size of and appearance of her body matters, or that she's not good enough — exactly the opposite of what I want to teach her. And worse, if she ever hears me say one negative thing about my body in a swimsuit, then that will negatively affect her body image down the line, too. I refuse to allow that to happen. So, today, as a mother of two inching towards 40, I'm owning my body — along with all of its imperfections.
I'm sure I've gained around 10 pounds in the past year (but I wouldn't know for sure because we don't own a scale). I'm not training for a half marathon like I did last year, so my clothes fit tighter. And the bathing suits, yeah, those don't look as great either . . . but I'm still putting them on. My family and I just returned from Florida. I packed a couple of one-piece suits, but I never even slipped one on. For me, I'm still more comfortable in a bikini — despite the added pounds around my middle area. But I'm over it. In my mind, comfort is most important, and I hope my daughter sees that.
Finding suits for young mothers today is tough. We're not quite old enough to wear the suits that are created for a more mature crowd, yet we don't necessarily want our asses hanging out, either. And I know that my girls need a little extra support these days. Before our Florida trip, I think I tried on close to 50 swimsuits. Finally, I found that a sports bra-like top bikini top with bottom that has a slightly higher waist work best for me. Instead of looking to get my best tan, I feel like I could go for a jog instead. Again, it's about comfort and confidence.
Once I found the style that suited me best, I rocked it without a care in the world. I was able to jump in the waves with my kids and lounge by the pool reading a book. I didn't constantly reach for my cover-up or wonder if people were staring at my mom bod. I simply didn't give a sh*t. My daughter is going to see her mother with a very imperfect (and realistic) body wearing a damn swimsuit. It's empowering, and I hope that she feels that. Because when she grows up to become a young woman, whatever shape her body molds into, I hope she flaunts it. Because there is nothing more empowering than seeing a woman feel confident in her own body — regardless of its shape.