Mom's Elf on the Shelf Retirement Letter
Mom "Retires" Family's Elf on the Shelf With a Genius Letter That's Actually Supersweet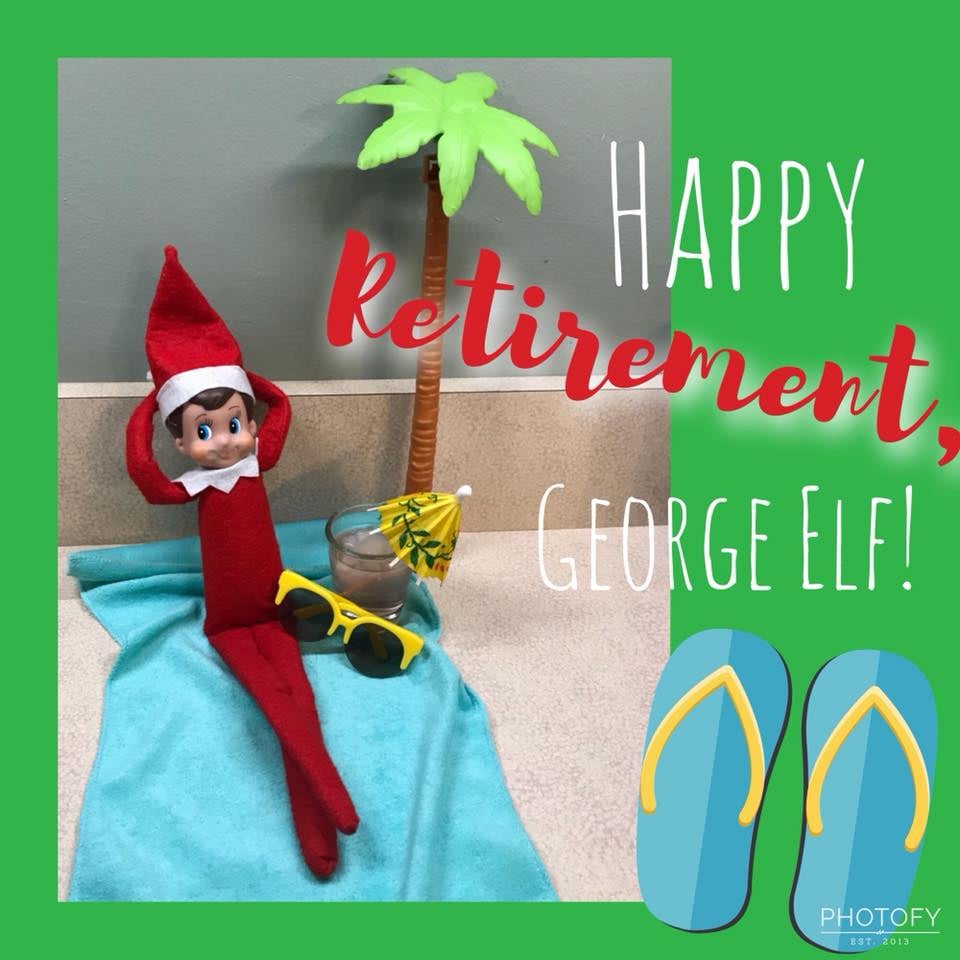 If being responsible for your family's Elf on the Shelf is your least favorite thing about the season, you're not alone, and Christy Heins just made letting go of that holiday stressor guilt-free. As the mom's pastor told her, the holiday season should bring on a feeling of peacefulness, but her kids' Elf, George, was bringing anything but peace. To relieve the stress she felt over the little Elf, she wrote a letter to her three daughters from Santa about George's "retirement," and though it's a hilarious concept, the letter is so sweet that we're already printing out a copy for our own kids without a second thought.
"So, yeah. This is happening!!" Christy wrote in a post to Facebook. "George Elf has been our elf on the shelf for the past three years, but after a short career, we are congratulating him on his retirement. I know that some people truly enjoy setting up elaborate scenes with their elf, but for me, cleaning up after three children and a dog is enough. . . . I crafted this letter keeping in mind that I wanted to keep the Christmas magic alive, and also keeping in mind that many of my kids' friends will be talking about their elves still hiding and doing funny things."
In the letter, Christy had Santa explain to her kids that "just like people, each elf is different" and that George was begging Santa to grant his wish of becoming a real toy that could be played with all season long (because, you know, scout elves aren't supposed to be touched or they lose their magic ability to fly back and forth to the North Pole). Santa lets the girls know that they can now play with George — he's totally OK with losing his magic! — and that he'll be there to scoop George up on Christmas Eve so he can spend the rest of the year with his elf family.
Christy says she has nothing against the tradition in general, but for her family, this is what works. "I hope I've found a way (kind of a cheater way) to sort of keep it going, but take a little pressure off at the same time," she wrote. "I hope the girls will be as excited as I am!"
Read the letter in full below and copy paste the text so you can swap in your Elf's name and family details before printing it out.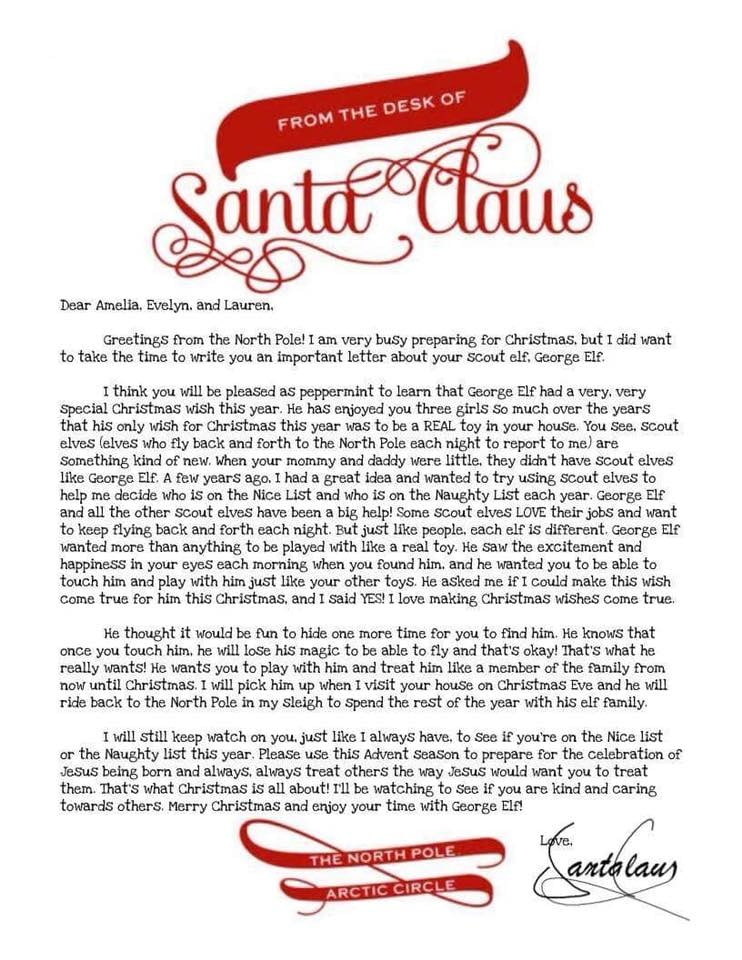 Greetings from the North Pole!

I am very busy preparing for Christmas, but I did want to take the time to write you an important letter about your scout elf, George Elf.

I think you will be pleased as peppermint to learn that George Elf had a very, very special Christmas wish this year. He has enjoyed you three girls so much over the years that his only wish for Christmas this year was to be a REAL toy in your house. You see, scout elves (elves who fly back and forth to the North Pole each night to report to me) are something kind of new. When your mommy and daddy were little, they didn't have scout elves like George Elf. A few years ago, I had a great idea and wanted to try using scout elves to help me decide who is on the Nice List and who is on the Naughty List each year. George Elf and all the other scout elves have been a big help! Some scout elves LOVE their jobs and want to keep flying back and forth each night. But just like people, each elf is different. George Elf wanted more than anything to be played with like a real toy. He saw the excitement and happiness in your eyes each morning when you found him, and he wanted you to be able to touch him and play with him just like your other toys. He asked me if I could make this wish come true for him this Christmas, and I said YES! I love making Christmas wishes come true.

He thought it would be fun to hide one more time for you to find him. He knows that once you touch him, he will lose his magic to be able to fly and that's okay! That's what he really wants! He wants you to play with him and treat him like a member of the family from now until Christmas. I will pick him up when I visit your house on Christmas Eve and he will ride back to the North Pole in my sleigh to spend the rest of the year with his elf family.

I will still keep watch on you, just like I always have, to see if you're on the Nice list or the Naughty list this year. Please use this Advent season to prepare for the celebration of Jesus being born and always, always treat others the way Jesus would want you to treat them. That's what Christmas is all about! I'll be watching to see if you are kind and caring towards others. Merry Christmas and enjoy your time with George Elf!

Love,
Santa Claus
Image Source: Christy Heins