All the Bachelor Contestants Who Went on to Have Kids — With or Without Their Final Rose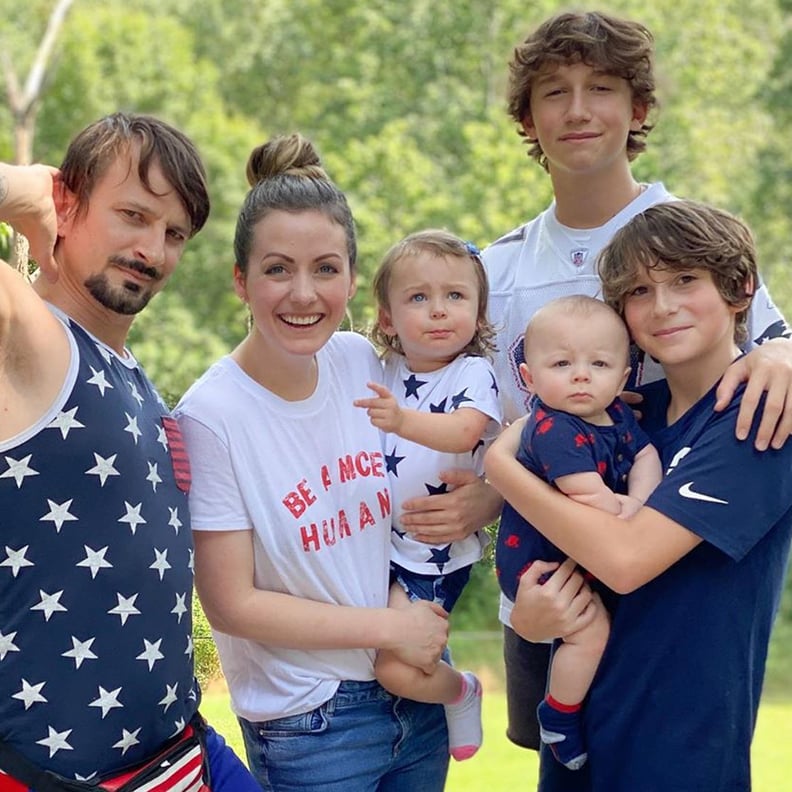 There have been a lot of relationships over the years between contestants on the reality shows The Bachelor, The Bachelorette, and Bachelor in Paradise, but not completely surprisingly, there have been few lasting relationships as a result of the shows — and even fewer babies. However, some of Bachelor Nation's biggest fan favorites have graced our Instagram feeds with photos of their sweet little babes, and we can't get enough.
From the Sutters — who met on the first season of The Bachelorette and have been married since 2003 — to newer couples that got their start on the reality show, as well as some who found love after the cameras stopped rolling, these are everyone's favorite Bachelor contestants with kiddos.
01
Sean and Catherine Lowe
Arguably one of the most active Bachelor couples on social media, the Lowes are constantly sharing photos of their adorable sons, Samuel and Isaiah — born on July 2, 2016, and May 18, 2018, respectively — and daughter, Mia, born on Dec. 23, 2019.
03
Ashley and J.P. Rosenbaum
This pair found love on Ashley's season of The Bachelorette and went on to get married on national television, but announced their split in October 2020. They're mom and dad to Fordham, born on Sept. 30, 2014, and Essex, born on Nov 4, 2016.
05
Jillian Harris (and Justin Pasutto)
After appearing in the final three on Jason Mesnick's season, Jillian Harris got a chance at being the Bachelorette herself, which ended in an engagement that didn't work out. However, Harris later found love with Justin Pasutto and knew it was meant to be. The sweet pair welcomed their son, Leo, on Aug. 5, 2016, and got engaged a few months later in December. The couple's second child, a baby girl named Annie, was born on Sept. 28, 2018.
07
Trista and Ryan Sutter
Trista was the first runner-up on season one of The Bachelor, then met her beau, Ryan, as the first ever Bachelorette. The couple have been married for over 10 years and are parents to Maxwell, born on July 27, 2007, and Blakesley, born on April 3, 2009.
09
Melissa Rycroft (and Tye Strickland)
Famously dumped on national television by Jason Mesnick after originally getting picked at the end of his season, Rycroft went on to find love with old friend, Tye Strickland. The two are parents to Ava, born on Feb. 16, 2011, Beckett, born on April 20, 2014, and Cayson, born on May 18, 2016.
11
Jason and Molly Mesnick
When Jason went back on his original proposal to Melissa Rycroft and choose Molly on his dramatic episode of After the Final Rose, he was already father to Tyler, born on Jan. 25, 2005. The couple then welcomed a little girl together, Riley, born on March 14, 2013.
13
Ali Fedotowsky (and Kevin Manno)
First a contestant on Jake Pavelka's Bachelor season and then the sixth Bachelorette herself, Ali Fedotowsky actually found love after both shows with radio and TV host Kevin Manno, whom she married in March of 2017. They welcomed their first child together, Molly, on July 6, 2016, and a son, Riley, on May 24, 2018.
15
Emily Maynard (and Tyler Johnson)
First known for her appearance on Brad Womack's Bachelor season and then as the eighth Bachelorette, Maynard's tragic past and sweet disposition captured the hearts of the nation. Before reality TV, Maynard was already mom to Ricki — born June 29, 2005 — whose father, NASCAR driver Ricky Hendrick, was killed in a plane crash in 2004 just months after proposing to Maynard and days before she discovered she was pregnant. After two engagements resulting from the reality shows, Maynard ultimately found love with Tyler Johnson, whom she met before entering Bachelor Nation. The two are parents to three boys: Jennings, born on July 26, 2015, Gibson, born on Sept. 16, 2016, and Gatlin, born Nov. 12, 2017.
17
Arie Luyendyk Jr. and Lauren Burnham
After appearing on Emily's season of The Bachelorette in 2012, Arie was given his own season of The Bachelor years later. Although he originally chose another contestant at the end of his journey, he and Lauren became engaged on his season's March 2018 episode of After the Final Rose, announced they were expecting that November, got married in January 2019, and welcomed their first child, a baby girl named Alessi, on May 29, 2019.
19
Bekah Martinez (and Grayston Leonard)
Bekah Martinez, who is best known for her time as the youngest contestant vying for love on Arie Luyendyk Jr.'s season of The Bachelor, welcomed a daughter named Ruth with her partner Grayston Leonard on Feb. 2, 2019 and a son, Franklin James — or "Frankie J" as Bekah introduced him on Instagram — on June 19, 2020.
21
Jade and Tanner Tolbert
Jade and Tanner, who married in 2016 after getting engaged on Bachelor in Paradise, welcomed their first child, a daughter named Emerson, on Aug. 17, 2017. Their second child, a son named Brooks, was born less than two years later on July 29, 2019. The couple is expecting their third child, a son, in November.
23
Carly Waddell and Evan Bass
After a rocky start on the third season of Bachelor in Paradise, Evan and Carly ended up having one of the franchise's most memorable love stories. They got engaged at the end of BIP and were married on national television in 2017, when Carly became a stepmom to Evan's three sons from his first marriage, Nathan, Liam, and Ensley. The couple welcomed their first child together, a daughter named Bella, on Feb. 15, 2018, and a son named Charlie on Nov. 12, 2019.
25
Chris and Desiree Hartsock Siegfried
After becoming engaged at the end of her season of The Bachelorette, Desiree and Chris tied the knot in 2015 and welcomed their first child, a son named Asher, on Oct. 19, 2016, and a second son, Zander, on Jan. 12, 2019.
27
Ashley Salter (and Austin Brannen)
Ashley, a total fan favorite on Chris Soules's season of The Bachelor and Bachelor in Paradise season two, didn't end up finding love on TV. The reality star married her college sweetheart, Austin Brannen, five months after welcoming their first child, a son named Brooks, on April 7, 2016. Their second child, a daughter named Salter Kennedy, was born on March 7, 2020.
29
Chris and Peyton Lambton
After Chris and Peyton were sent home on their seasons of The Bachelorette and The Bachelor, respectively, the two were introduced to each other; and the rest, as they say, is history. The pair got married in 2012 and welcomed their first child, Lyla James, on Nov. 19, 2016. On Dec. 16, 2018, their son Hayes Jennings joined the family.
31
Kelly Travis and Hunter Hamm
After competing on Juan Pablo's season of The Bachelor, Kelly found love off screen and she and her husband Hunter eloped in 2016. The pair then welcomed their first child together, Henry, in June 2018. Their second child, Josephine "Josie" James, joined the party on March 6, 2020.
33
DeAnna and Stephen Stagliano
After acting as the Bachelorette in the show's fourth season, DeAnna started a relationship with Stephen, whose twin brother appeared in the fifth season of The Bachelorette. The couple got married in 2012, welcomed their first child, Addison, on Feb. 6, 2014, and their second child, Austin, on March 1, 2016.
35
Ann Lueders and Jesse Csincsak
Both Ann and Jesse appeared on separate seasons within the franchise — Ann left during the first week of Jason Mesnick's season of The Bachelor while Jesse "won" the fourth season of The Bachelorette. He proposed to DeAnna Pappas (now Stagliano) at the end of the season, but the couple split up six months before their May 2019 wedding date and Jesse went on to marry Ann in 2010. They've since welcomed three kids together: Noah, born Feb. 2, 2011, Charlotte, born March 17, 2014, and Carter, born on Dec. 27, 2016.