As POPSUGAR editors, we independently select and write about stuff we love and think you'll like too. If you buy a product we have recommended, we may receive affiliate commission, which in turn supports our work.
If you're sick of indoor workouts on the treadmill and the kids are a bit distracting, these jogging strollers will help get everyone moving and out of the house. As the weather starts warming up, chances are you'll be wanting to get outside more often anyway — now, you can bring your kiddo along as you work out and get some fresh air. Here, we've rounded up the best jogging strollers on the market (with rave reviews!) that are perfect for a fitness-forward afternoon with your little one.
Pair one of these strollers with your favorite workout shorts and tank, and you're good to go. From expensive models for hardcore trails to economical options for new athletes, there's a stroller in here for every parent jogger. Scroll through to check out the 10 best jogging strollers that are perfect for chasing your running goals, including options from Thule, BOB Gear, and Baby Trend.
— Additional reporting by Lauren Levy
01
Best Jogging Stroller For a Smooth Ride
Guava Family Roam Crossover Stroller ($550, originally $650)

This Guava jogging stroller will make for a hassle-free fitness day with your little one. Designed with a patented three-dimensional fold, it takes up minimal space in the trunk or closet. And all-terrain suspension makes for an incredibly smooth ride no matter the trail. The parent organizer and drink holder also add the perfect amount of storage and convenience in addition to the basket nested under the seat.
02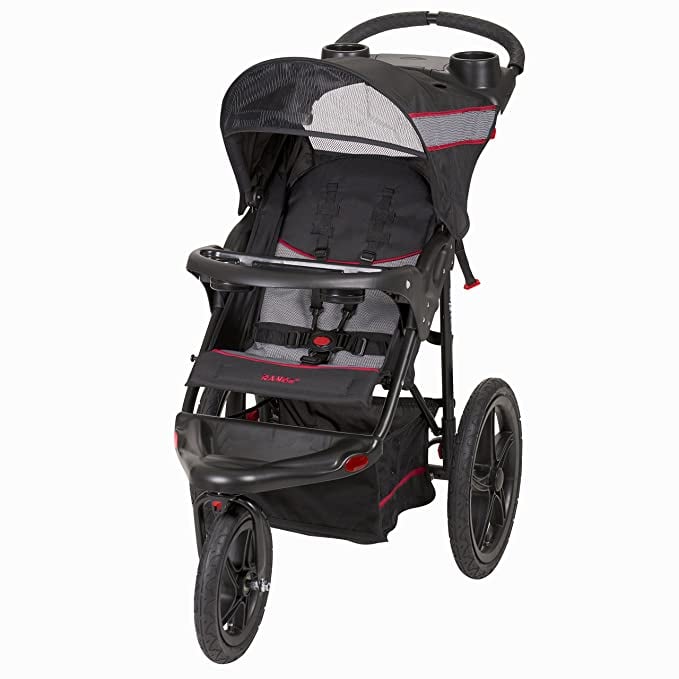 Best Jogging Stroller For Someone on a Budget
Baby Trend Range Jogger Stroller, Millennium ($88, originally $140)
This jogging stroller comes at a great price point — on sale for under $90 — while remaining durable. Parent runners have praised the stroller for its ability to handle all types of terrain. "The road where I jog has cracks, sand, gravel, and minor potholes but the wheels on this stroller managed easily and smoothly," one Amazon reviewer wrote. So if you're looking for a cost-friendly jogging stroller that doesn't sacrifice on stability, this one's for you.
03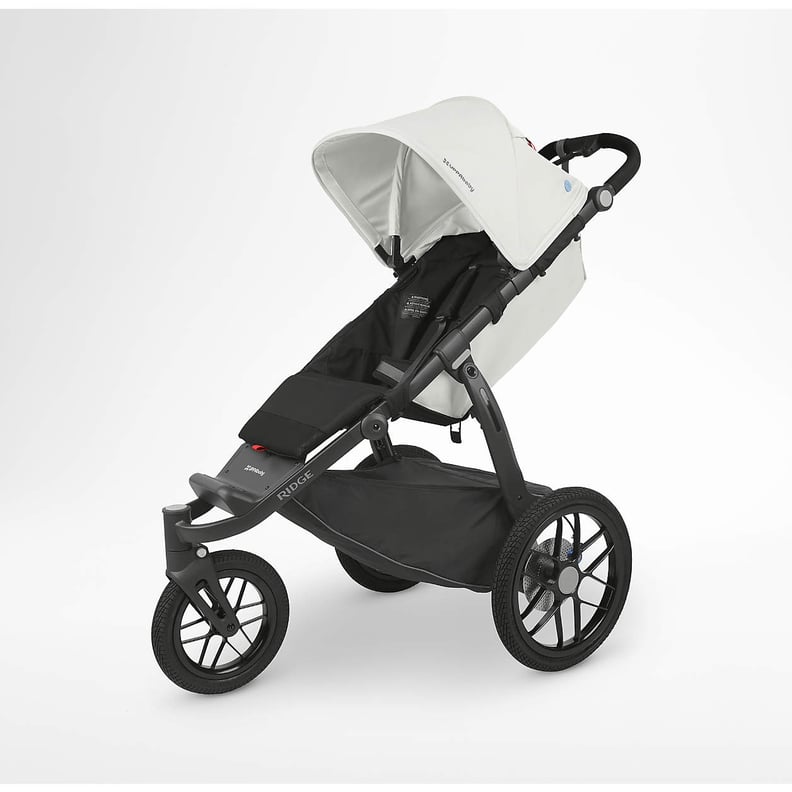 Best Jogging Stroller For Versatility
UPPAbaby Ridge Bryce White Foldable Stroller ($600)
This jogging stroller from UPPAbaby was designed to handle a variety of terrain, from sidewalks to trails and everything in between. The responsive suspension system will keep your little rider comfortable, and the padded seat reclines for snoozing. Reflective details on the frame and basket also provide visibility, while storage spots for your water bottle and phone will add ease and convenience to your run.
04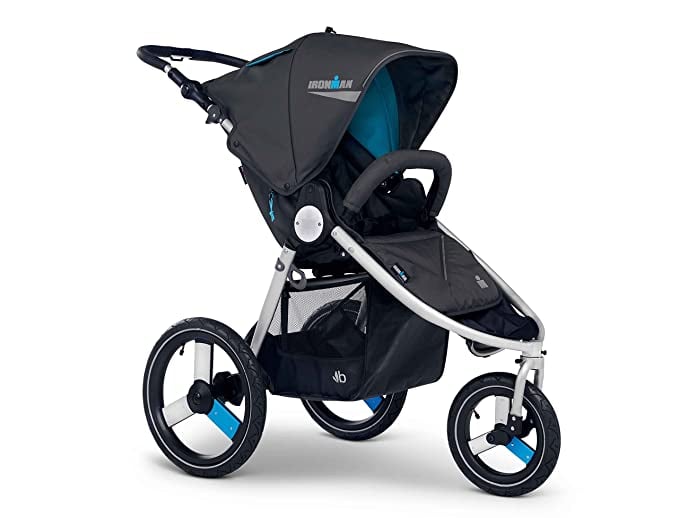 Best Jogging Stroller For Speed
Bumbleride Speed Jogging Stroller ($699)
This jogging stroller is equipped with three modes on the front wheel for running, jogging, or walking so you can pick up the pace whenever you feel like it and not have to worry about your kid's safety. "I'm an avid runner and rock this thing pretty fast and hard and it works great. I've run with it under six minutes a mile without any issues or speed wobbles from the front wheel," one reviewer wrote. The stroller was also designed with sustainability in mind and is made with recycled materials.
05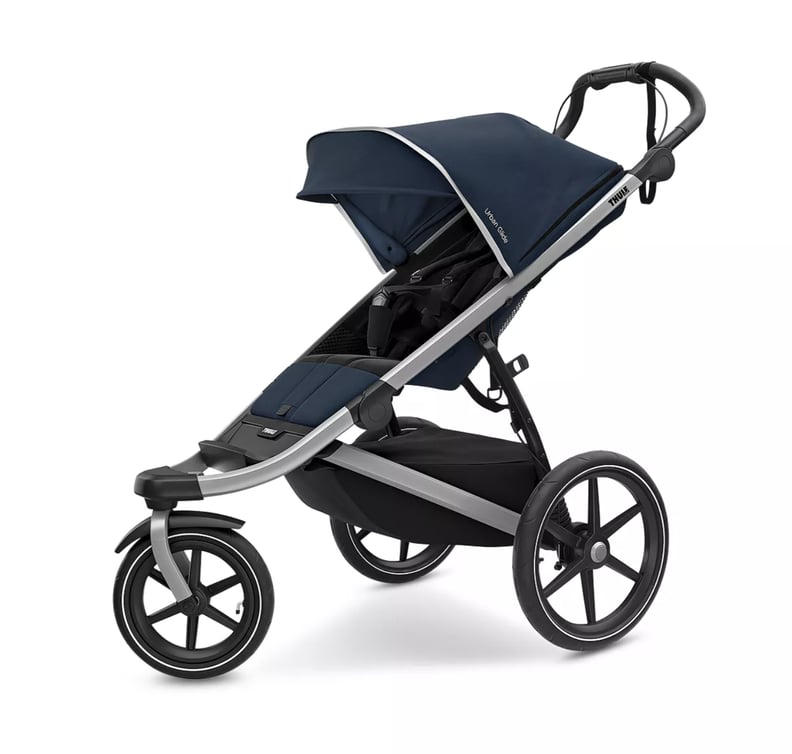 Best Jogging Stroller For a Sleek Ride
Thule Urban Glider 2 ($650)
The Thule Urban Glider 2 is about as sleek as it gets with its predominantly solid colorway and white-lined wheels and canopy. Plus, this Thule jogging stroller is easy to maneuver thanks to three large all-terrain wheels and a swivel front wheel that locks into place for jogging, and it folds down with one hand.
06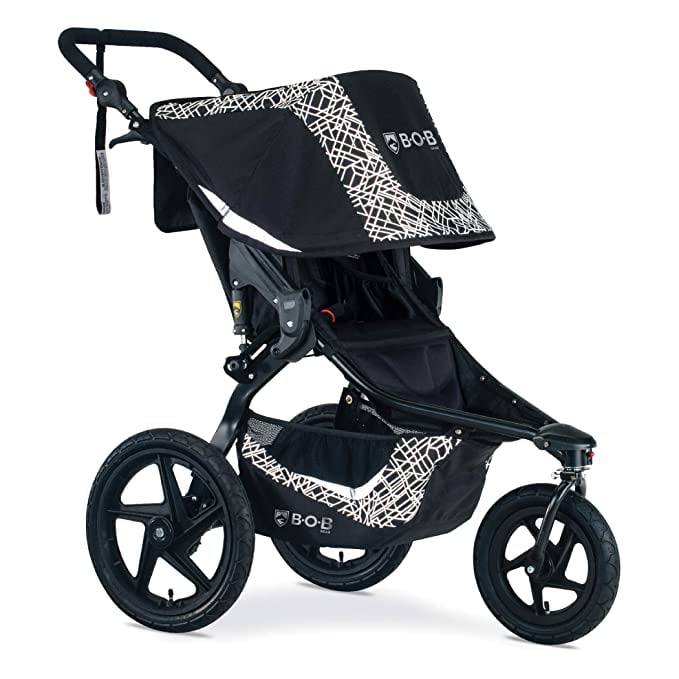 Best Jogging Stroller For Storage
BOB Gear Revolution Flex 3.0 Jogging Stroller ($550)
With more than 2,500 reviews, parents love this BOB Gear jogging stroller for its versatility and easy storage. In addition to a mountain-bike–style suspension system, it also boasts a spacious cargo basket and six storage pockets so you can easily go from a trail run to a playdate dropoff. When you're ready to toss it in the car or closet, a two-step fold makes it super compact.
07
Best Jogging Stroller With Car-Seat Compatibility
Graco FastAction Fold Jogging Stroller ($147, originally $210)
When you're a parent, you always have something on your to-do list. This Graco jogging stroller will take you from running with your mini me to your next errand with ease given the one-second, one-hand folding mechanism. It also accepts all Graco infant car seats with a secure one-step attachment. One reviewer called it "the easiest open and close stroller I have ever used."
08
Best Lightweight Jogging Stroller
Joovy Zoom360 Ultralight Jogging Stroller ($300, originally $340)
This Joovy jogging stroller comes in at a little over 25 pounds, making it a great option for parent joggers looking for a lighter stroller option. And don't worry, just because the stroller is lightweight doesn't mean it skimps on other important specs. Users have praised its suspension, large canopy, and ability to recline for naps.
09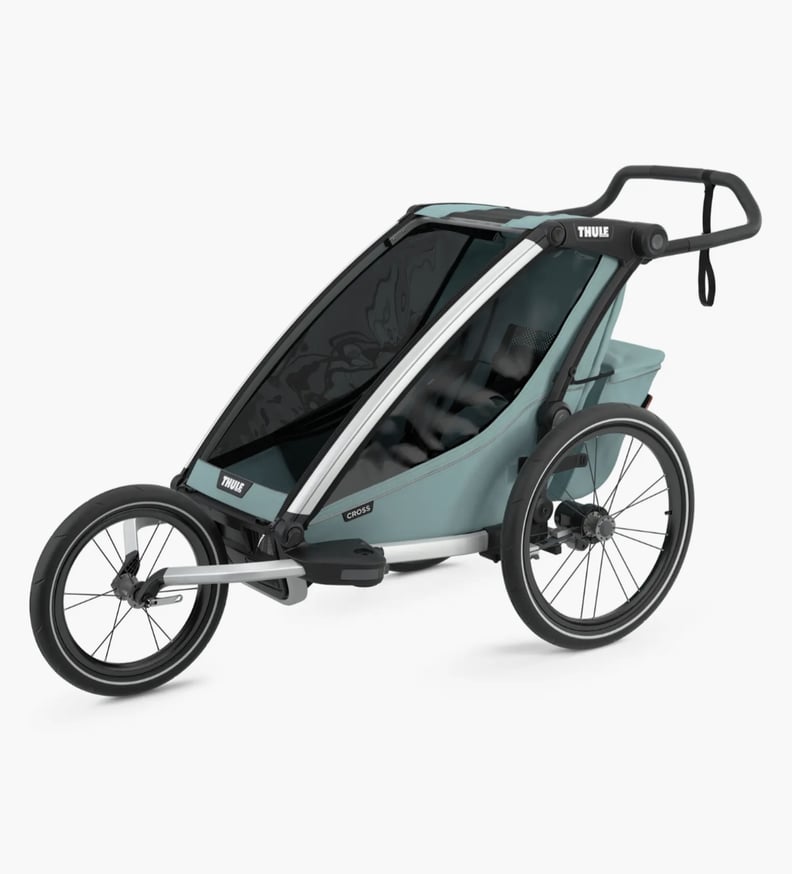 Best Hybrid Jogging Stroller and Bike Trailer
Thule Chariot Cross 1 ($1,250)
The Thule Chariot Cross 1 is perfect for a multisport parent looking to bring the kids along for both bike rides and runs. This stroller conveniently converts from a regular stroller to a bicycle trailer with ease. And the rain or sun shield will protect your rider no matter the weather. There's even an option to convert the stroller for cross-country skiing in the winter (pieces sold separately).
10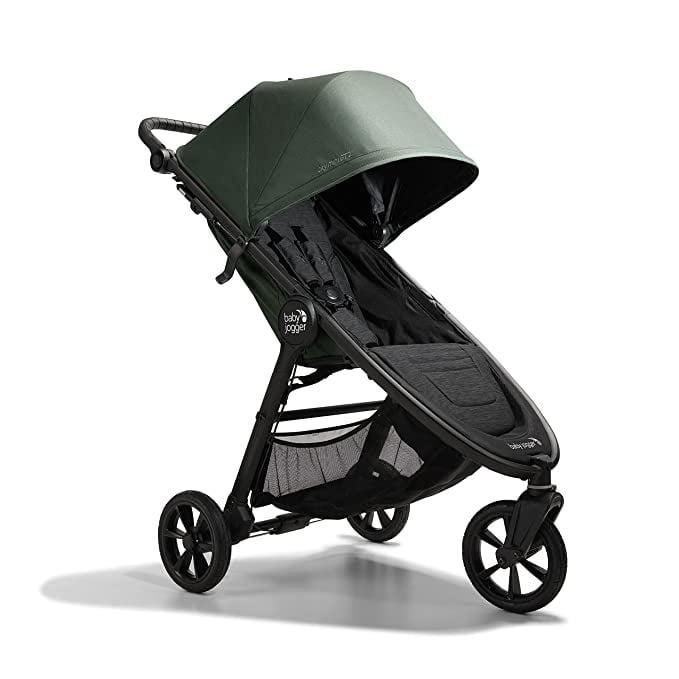 Best Jogging Stroller For a Stylish and Comfortable Ride
Baby Jogger City Mini GT2 All-Terrain Stroller, Briar Green ($400)
This stroller comes in a rich briar green that will complement any workout set. Plus, your kid will sit comfortably with the Baby Jogger's adjustable calf support, near-flat reclining seat, and an air ventilation panel. Amazon reviewers have given it a nearly five-star rating for being easy to fold and maneuver and having durable "forever tires."