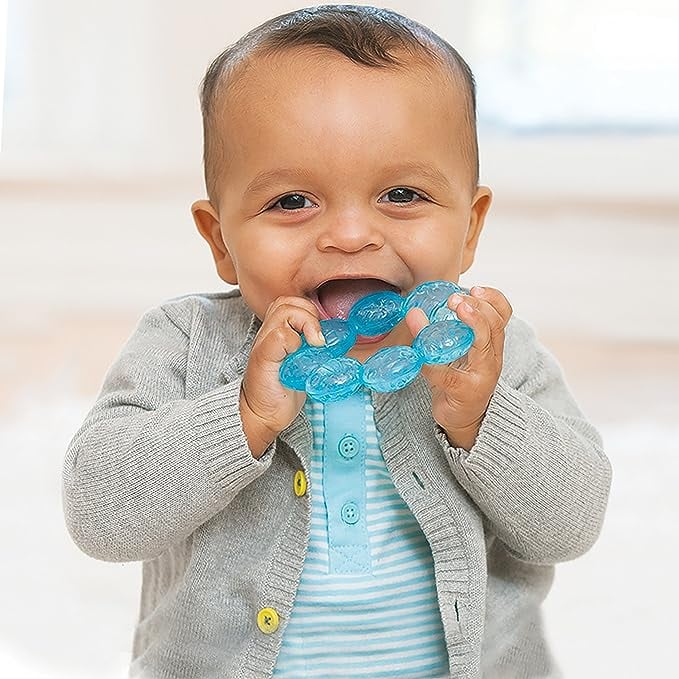 Infantino Store
Infantino Store
As POPSUGAR editors, we independently select and write about stuff we love and think you'll like too. If you buy a product we have recommended, we may receive affiliate commission, which in turn supports our work.
The word "teething" can create a sense of dread in new parents. Though the process will end with your little one getting their first set of pearly whites, growing them can be a challenging time.
"Teething typically begins around 6 months of age and can last until the child is 3 years old," says pediatrician Leah Alexander, MD, FAAP, the medical consultant of parenting blog The Baby Swing. "During this time, children's gums may become swollen and tender, and they may experience increased drooling, fussiness, biting, or chewing on objects."
Baby teething toys specifically designed for a child to mouth or chew can be useful tools. "A teething toy may help soothe a baby and alleviate some of the symptoms, like irritability, poor sleep, or drooling," says Preeti Parikh, MD, FAAP, an NYC-based pediatrician and the executive medical director of GoodRx.
Teething toys for babies are a dime a dozen (like many types of toys), and they're not one-size-fits-all. Each infant will have their preferences. However, experts can share some general tips to help parents evaluate baby teether toys (and size does matter). "Teething toys that are easy to grip can make it easier for your baby to use," says pediatrician Luke Prest, MD, of Children's Hospital of Philadelphia. "Make sure the toy is big enough not to be swallowed or choked on."
Dr. Prest adds that the item's material is also important when choosing baby teething toys. "A teething toy should be made of strong material that doesn't break apart or splinter, as this can be a choking hazard," Dr. Prest says.
Dr. Alexander suggests inspecting any toys before giving them to a child. And be sure to keep an eye on their toys as they continue to play with them to ensure they're sanitary. "Parents should clean teething toys regularly with hot soapy water and never leave their child unattended while playing with these toys," Dr. Alexander says.
Ready to start shopping? Based on pediatrician and online reviews, find the best teething toys for babies ahead.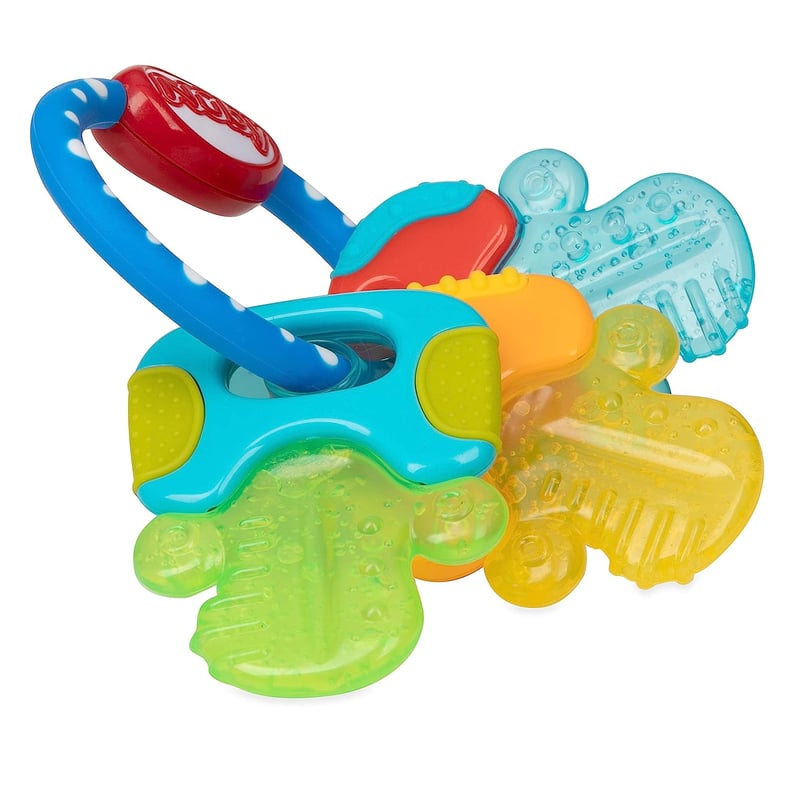 The Best Cooling Teether
Nuby Ice Gel Teething Keys ($5, originally $6)
These ice-gel teething toys, with a 4.7-star Amazon rating based on more than 103,000 reviews, are a favorite of Dr. Alexander.
"These keys are made of BPA-free materials, making them safe for little ones to chew on," Dr. Alexander says. "Additionally, their textured surfaces help massage and stimulate gums, which can assist with teeth eruption."
Nuby designed the teethers using a cooling technology that activates when caregivers place the teethers in the refrigerator. The end result? A cool (literally) way to soothe gums.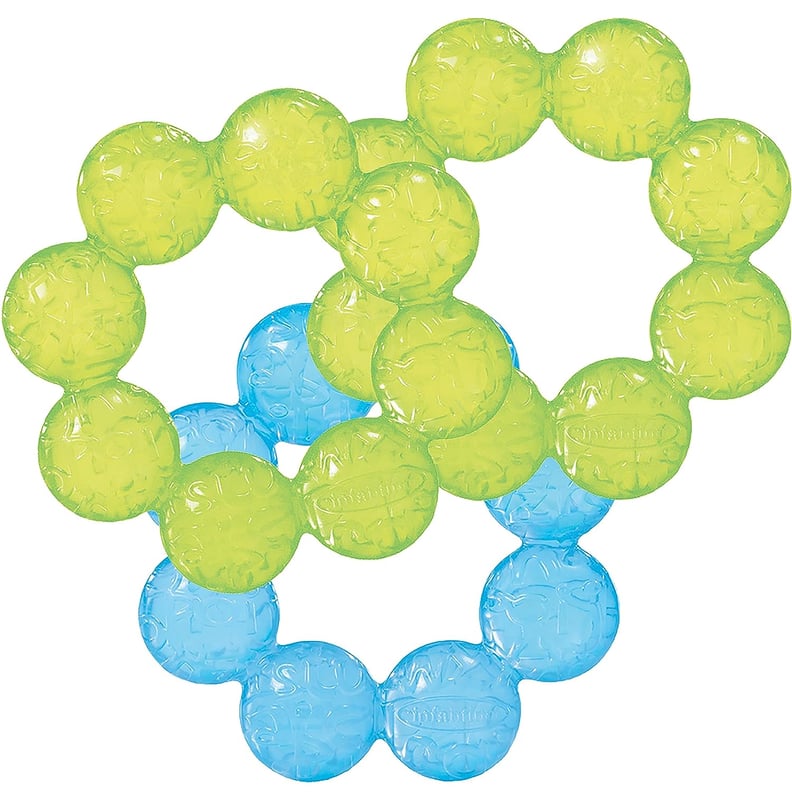 Best Teether For Grasping
Infantino 3-Pack Water Teethers ($7, originally $9)
The Infantino three-pack of water teethers is another highly rated option, with 4.6 stars based on more than 12,000 Amazon reviews. Dr. Alexander is also a fan.
"These textured teethers are easy to grasp and hold, making them perfect for little hands," Dr. Alexander says. "Additionally, they can be cooled in the fridge . . . which can help soothe sore gums during teething."
The multisensory teethers also make crinkle sounds, which Dr. Alexander says may help distract a teething baby. Babies of all ages can use this teether.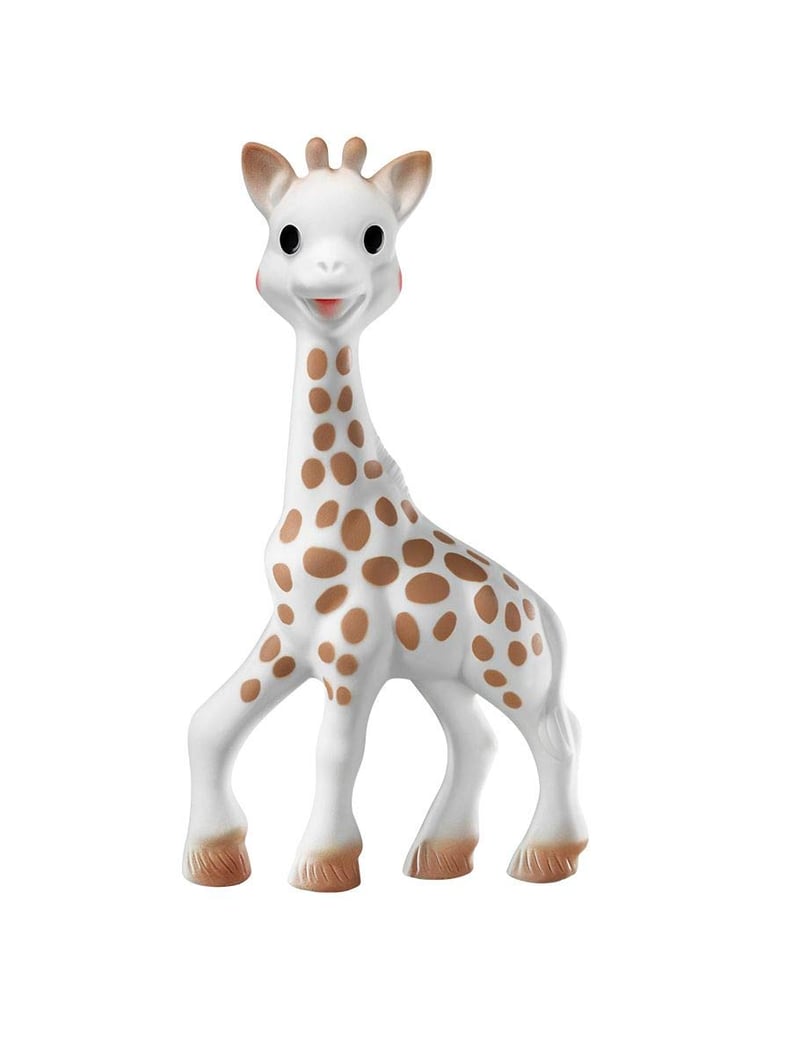 Best Animal Teether
Vulli Sophie the Giraffe ($24, originally $30)
At $24, Sophie the Giraffe can feel like a splurge. Still, nearly 32K Amazon reviewers give the giraffe, which has enjoyed a more than five-decade run on expectant parents' registries, a 4.8-star rating. For these fans, the baby teether toy lives up to its advanced billing.
"Sophie has been a staple on our house since we had children," wrote one reviewer. "All of my kids have loved this teether."
Sophie is made of 100 percent natural rubber and boasts numerous chewable parts with different textures, from her hooves to her ears. The soft polka-dot fur and squeaky sound help even the fussiest of littles crack a (nearly toothy) smile.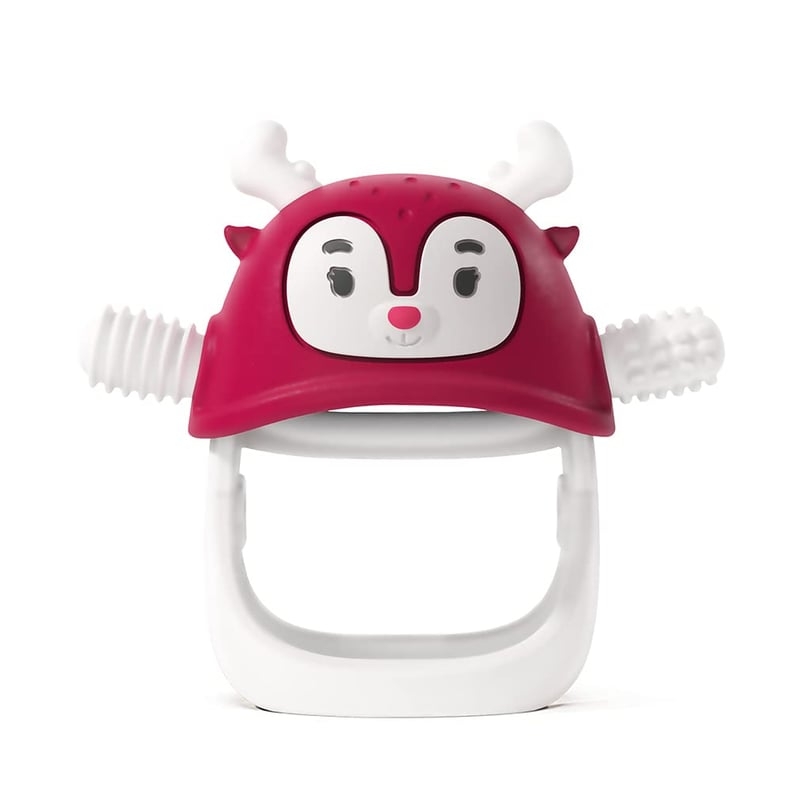 Best Teether With Multiple Nubs
Smily Mia Reindeer Baby Mouthing Toy ($10)
Smily Mia may be a reindeer, but the toy is a year-round gift that keeps on giving to parents of teething babies. It's small and light, so it's manageable for a little one to grasp and hold independently. Mia has multiple textures, such as arms with massaging nubs, to massage pained gums.
"I'm on my third baby breaking teeth and have run the gamut of options when looking for relief for those painful gums. . . . The natural grip of the Smily Mia Reindeer and the multiple teething nubs gives baby a sturdy, and lasting, teething toy that will survive until the last of their teeth break through," wrote a veteran parent.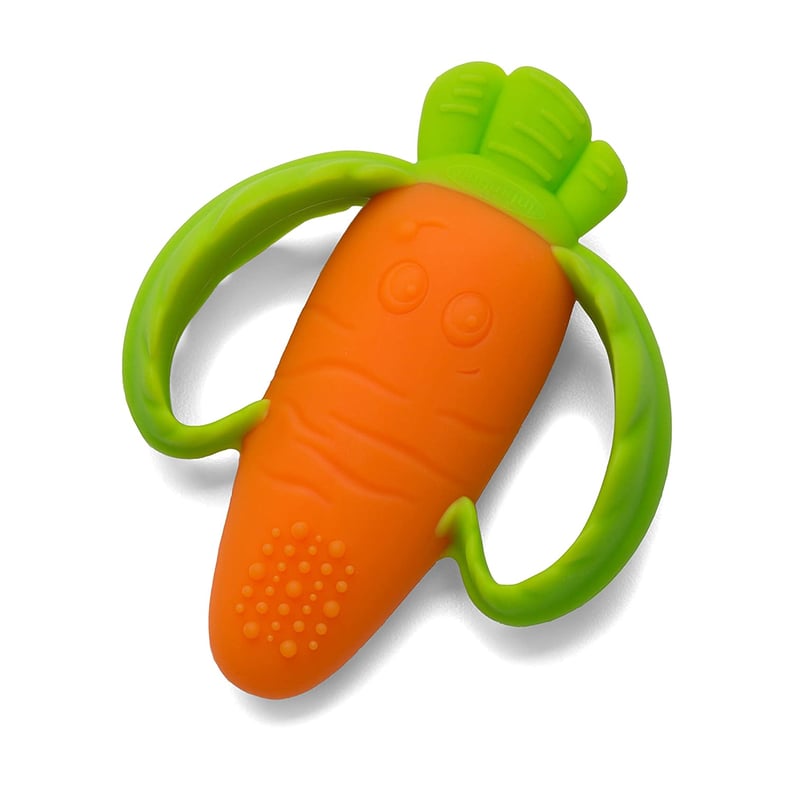 Best Food-Themed Teether
Infantino Lil' Nibbles Textured Silicone Teether ($5)
Whether your little one starts teething before or after introducing solids, a food-themed teether like Infantino's Lil' Nibbles can be a fun addition to your teething toolbox.
The teethers, with a 4.8-star Amazon rating based on more than 41,000 reviews, come in five shapes: carrot, apple, corn, fruit kabob, and pea pod.
"This is the only teether my baby will actually use!" said one reviewer. "No small pieces that could break off. Perfect 'handles' for my little to hold on to."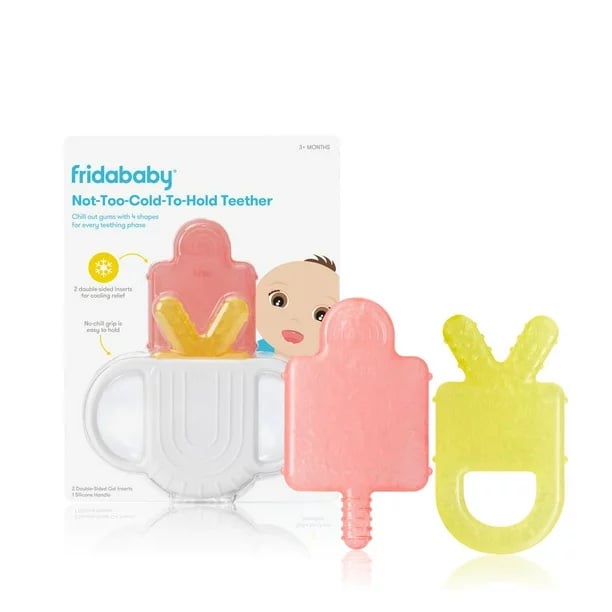 Best Not-Too-Cold Teether
FridaBaby Not-Too-Cold-to-Hold Teether ($10)
Cooling teethers can be so relieving for a teething baby. However, some crave coldness on their gums but want something warm to hold. Frida Baby's Not-Too-Cold-to-Hold Teether offers the best of both worlds courtesy of a stay-warm handle plus two multi-textured chillable silicone inserts.
Nearly all of the Walmart reviews are five stars, and the teether has a 4.7-star overall mark.
"They freeze super fast!" raved one five-star reviewer. "I've bought two sets so far! I love the holder so my son can actually get relief."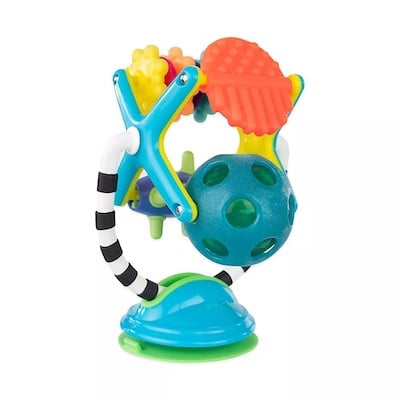 Best Sensory and Teething Toy
Sassy Teethe & Twirl Sensation Station Tray Toy ($10)
For a multiuse toy, consider Sassy's Teethe & Twirl Sensation Station. The soft and textured surfaces are easy to mouth and provide something to chomp on while teething. Meanwhile, the bright colors offer visual appeal, and a rattle assists with teaching babies to turn their heads toward sounds. The Ferris wheel spins, allowing babies to develop reaching and batting skills. Bonus: a suction sticks to trays, like a high chair, making it an easy toy to keep a baby entertained during meal times (even at restaurants).
"My 6 month old loves this thing! We stick it to her tray on her high chair and her walker," wrote one reviewer. "Also [it's the] perfect on the go toy if you need to bring something to occupy baby!"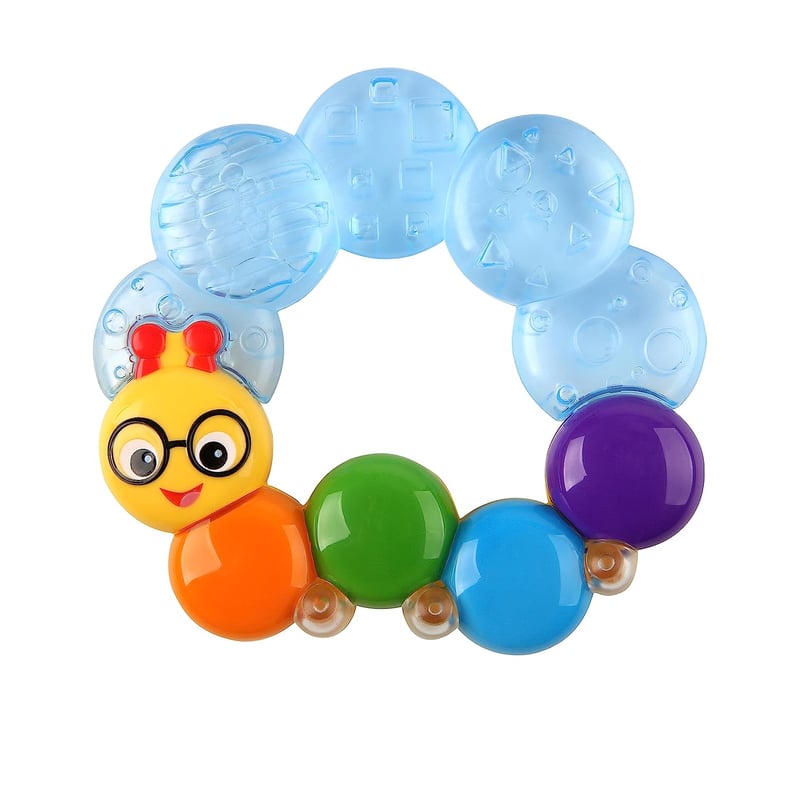 Best Teething Rattle
Baby Einstein Teether-Pillar Rattle and Chill Teething Toy ($5)
With a colorful, smiling caterpillar and an ability to soothe teething babies, the Baby Einstein Teether-Pillar Rattle and Chill Teething Toy is a welcome sight to little ones and caregivers alike. Caregivers can pop it in the fridge to chill it, providing added relief to gums. The textured design makes it a cinch for babies 3+ months to hold, and the rattle adds another sensory element.
"My baby loves it," wrote one five-star reviewer. "Easy to hold, clean, and it's better when [it's] frozen. Cools the baby's gum."
Best Pacifier Teether
RaZbaby RaZberry Silicone Baby Teether Toy ($5, originally $6)
The pacifier shape is familiar to infants and allows for hands-free teething. The textured nipple provides support and comfort. It can also be frozen for added relief. The design is handy for early teethers working on their grasping skills.
"Our baby started teething early and we found it a challenge to find a good [teether] for his age," wrote one reviewer whose baby was 3.5 months old at the time of purchase. "Initially, we thought a mitt would be a good idea, but he wouldn't relax his hand and would only make a fist. . . . This [teether] is like a pacifier and he put his hand on top of it or can grab the handle as it is small! It's perfect size for his little hands to grab!"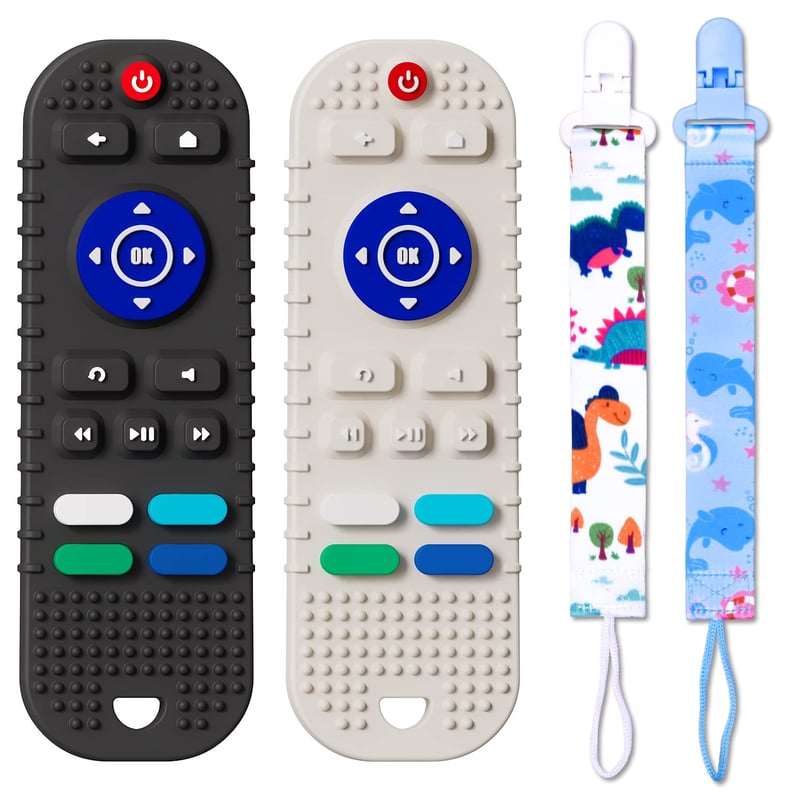 Best Remote Control Dupe Teether
Mgtfbg Remote Control-Shape Molar Teether Chew Toys ($7, originally $9)
Some babies adore reaching for the remote. Playfully fake them out while also helping relieve teething pains with a remote-control-shaped teething toy like these from Amazon. The set comes with black and gray remote controls complete with numerous textured surfaces ideal for mouthing, biting, and soothing. A pair of anti-rope attachments let you clasp it to a baby's clothes, reducing the likelihood it'll drop (or get lost at the worst time).
"We have a six month old and she's been obsessed with our cell phones and the remote lately," wrote one reviewer. "She will drop whatever she's playing with if she sees the remote and try to grab it and put it in her mouth. So when we saw these teethers we were excited and they work great! She gets the excitement of the remote and it's something we don't mind her chewing on. The fact that these come with a clip so you can attach it to her clothes so she's not able to throw it on the ground or drop it is awesome."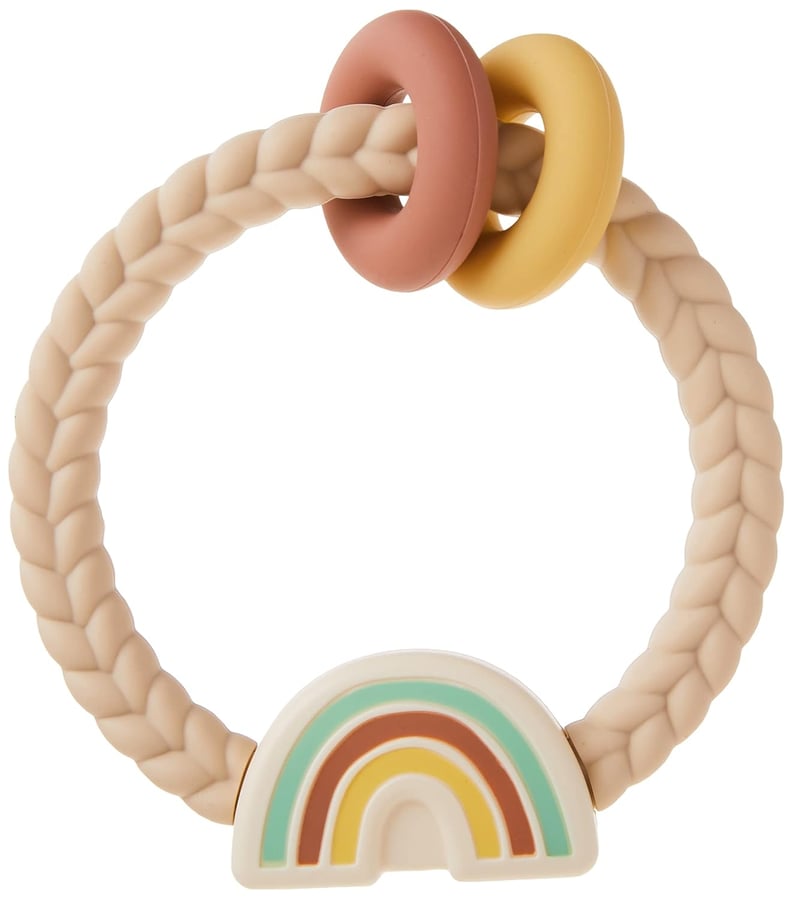 Best Aesthetic Teether
Itzy Ritzy Silicone Teether With Rattle ($9, originally $11)
This Itzy Ritzy Silicone Teether features a rainbow charm, a textured bracelet, and two attached rings. The ring isn't just visually appealing — a soft rattle allows extra entertainment. It also has a wide opening that is easy for young hands to hold.
"Good chew toy . . . Cute!" wrote one parent. " I would deff buy again!" Reviewers give the teether, designed for infants 3 months and older, a 4.8-star rating.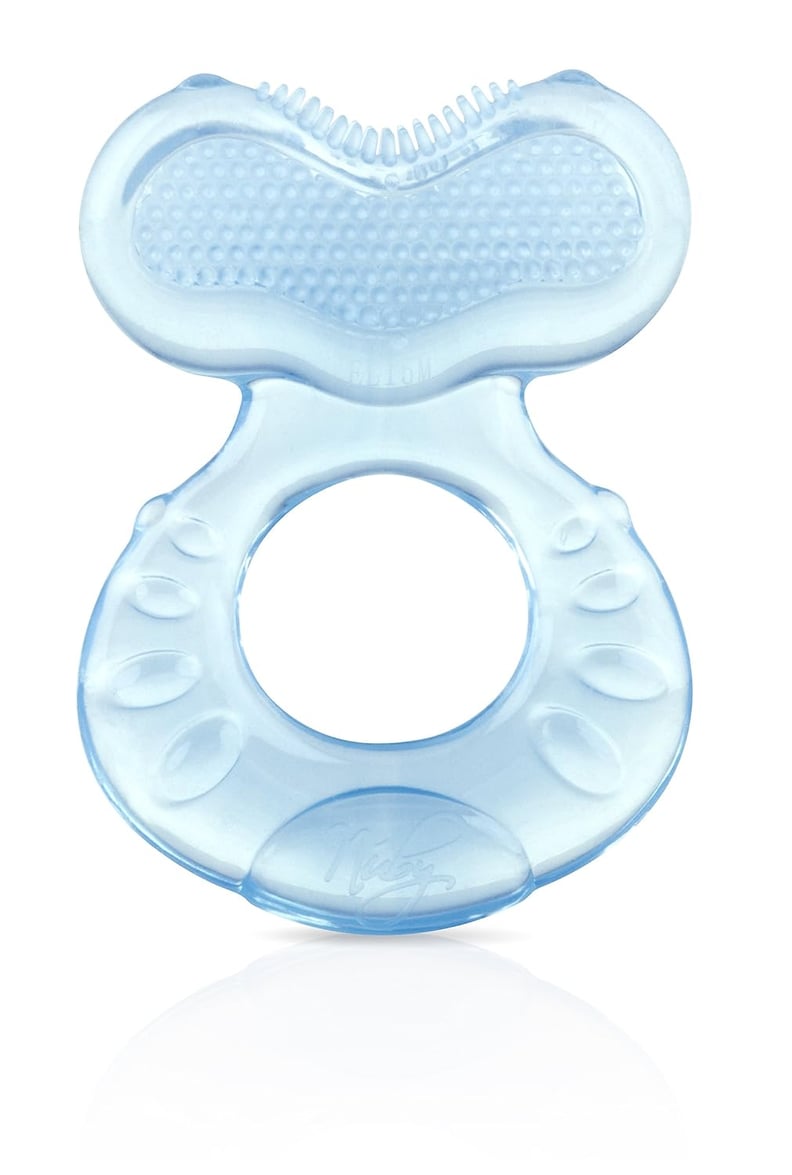 Best Silicone Teether With a Case
Nuby Silicone Teethe-eez Teether With Bristles ($5, originally $6)
These silicone teethers come with a case, which Dr. Alexander says helps keep them safe and clean when not in use. When it is in use, Dr. Alexander says the Nuby Silicone Teethe-eez Teether is designed with pain relief in mind.
"The fish-shaped teether is made of 100 percent silicone that is super soft and perfect for little hands to hold," Dr. Alexander says of the teether with a 4.7-star Amazon rating. "It features multiple teething surfaces, helping with the eruption of new teeth and providing relief during teething."