This Mom's Chick-fil-A Maternity Shoot Will Have You Reaching For the Dipping Sauce Stat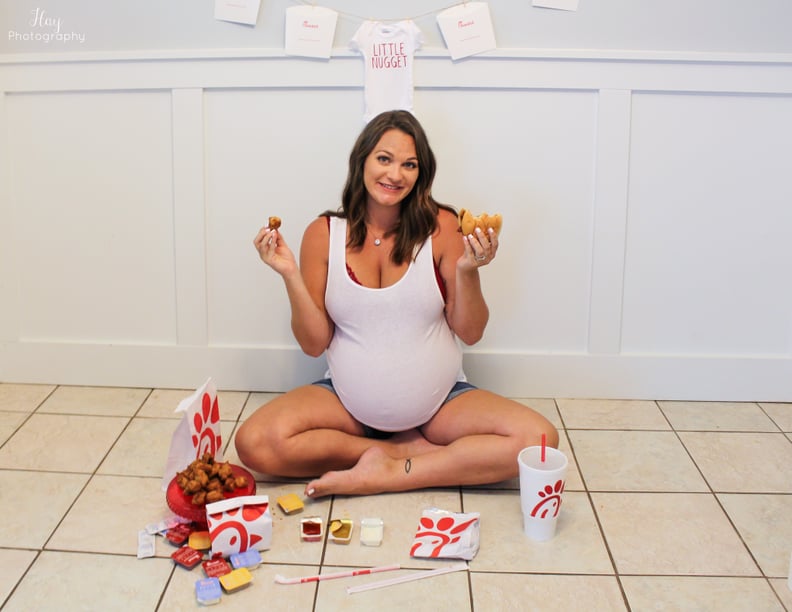 Hay Photography
"I always take pictures for my sister, so when it came to coming up with an idea for her maternity session, we wanted it to be really unique," she explained. "We really wanted to do something fun and creative. After searching for some ideas, I came up with the notion of doing a 'food cravings' maternity session by incorporating her cravings into the photos."
And for this mom, chicken nuggets from her favorite restaurant were at the tippy top of her list. The pair hit the nearest Chick-fil-A and stocked up on Bre's favorite menu items before heading to her house to take pictures.
"She craved Chick-fil-A throughout her pregnancy, so we decided to go that route," Hayley said. "We wanted the shoot to be super relaxed, laid-back, and fun — and that's exactly how it went! It was hilarious and so much fun! My sister actually made the 'little nugget' onesie while I was setting everything up!"
Neither Bre nor Hayley will ever forget the memorable afternoon they spent together. After all, it's not every day you get to take pictures of your pregnant sister eating chicken nuggets.
"This was my first food-inspired photo shoot, and it was amazing. We set everything up in her dining room, and she just put on a tank top and shorts. Then I had her sit down and start eating all the food she's been craving," Hayley explained. "Doing this shoot was so funny, we laughed pretty much the whole time. And because Bre's my sister, it made the photo shoot less stressful. Doing a lifestyle maternity session and capturing the reality of pregnant women was awesome!"
Scroll through to get a full look at this mama's playful maternity shoot, and try to keep your mouth from watering in the process.