Chrissy Teigen Set Up Another Scavenger Hunt For Luna For Her Fifth Birthday — See the Photos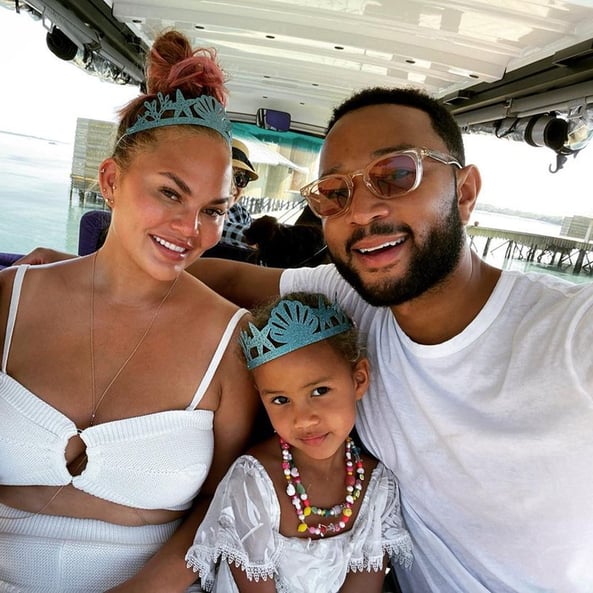 If you follow Chrissy Teigen on Instagram, you know that she loves to go all out to celebrate her people. On April 13, Chrissy celebrated the release of her mom's cookbook, The Pepper Thai Cookbook, and on April 14, she was at it again to celebrate her daughter, Luna, turning 5 — all while on vacation! In sweet snaps posted to Instagram, both Chrissy and husband John Legend shared birthday messages for their girl, throwback photos, and new vacation pictures. One of the photos was captioned, "yes day!" implying that Luna got a full day of her parents saying "yes" to all of her requests, but it was the late-night scavenger hunt that Chrissy let her followers actually tag along for.
On her Instagram Stories, Chrissy shared video snippets of Luna and John searching for clues and reading them out. "Hi my sweet girl! Here's a game you will like!" read the first clue. "Your very first clue is in the back of a bike!" Luna visited a few other locations before John read out the last clue, which ended with, "Head to the pier because it's zombie time!"
This isn't the first time Chrissy has set up a scavenger for her daughter; back in September, Luna followed handwritten clues around the family's home in pursuit of a delicious prize.
Ahead, see all of Chrissy's and John's posts for Luna, as well as snaps from her epic birthday scavenger hunt.
Chrissy and John's Birthday Messages For Luna
Chrissy and John both shared this adorable photo of their newly minted 5-year-old with heartfelt messages. John kept it short and sweet, writing, "Our baby is 5 now."
Chrissy captioned her post: "to my beautiful, kind, funny, smart, incredible little girl, I can't believe you are 5 today!!! thank you for 5 truly perfect years. our dream daughter. also props to me and john you're welcome!!!!"
Chrissy's Birthday Photos of Luna and John
Chrissy also shared a series of cute snaps of John with his 5-year-old mini me, writing, "the four most perfect photos."
Chrissy's Yes Day Family Photo
Chrissy shared this family photo with the caption, "yes day!"
John's Throwback Photos of Luna
John also shared throwback photos of Luna in a gallery, writing, "Luna at 4, 3, 2, 1."
On April 15, Chrissy followed up with more photos from Luna's special day. "Scavenger hunt all through the island to get to ZOMBIESSSSS - her dream birthday!" she captioned an Instagram post. "'Why do you post Luna so much more' you ask? Because Miles hates pictures and he's always butt ass naked."