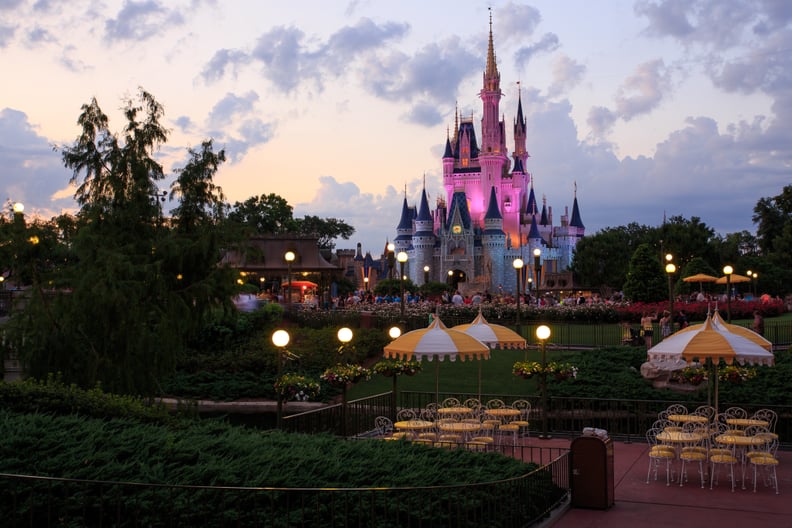 Flickr user Brett Kiger
As POPSUGAR editors, we independently select and write about stuff we love and think you'll like too. If you buy a product we have recommended, we may receive affiliate commission, which in turn supports our work.
01
Wear Sneakers
I know it's tempting to rock a cute pair of flip-flops or flats, but when it comes to Disney World, sneakers are king. Take it from someone who has worn all three.
02
Stock Up on Disney Before Disney
Head to your local stores (Target, Walmart, Party City, etc.) to do a Disney haul and then bring the goods with you for your kids or ship everything to your hotel before you arrive. You'll save money, and your kids will still have "souvenirs."
03
Bring Your Own Snacks
Disney World allows guests to bring in food and drinks. Stock up, and you'll save a ton of dough and your sanity when your tot starts to think about having a food meltdown.
04
Remember Where You Parked
No, seriously. The excitement of arriving to the happiest place on earth ends in a very unhappy way for anyone who forgot where they parked. Snap a shot of your location with your phone immediately, and you're set.
05
Download the My Disney Experience App
And all FastPasses, reservations, event times, wait times, etc. will be at your fingertips.
06
Don't Hesitate to Ask For Ice Water
Leave your bottled water at home (it's heavy to lug around) and simply walk up to any counter service or snack station that serves soda and ask for a cup of ice water. They'll happily give you one, always!
07
Get There Early
Be one of the first to arrive and you'll not only get to watch the opening ceremonies, you'll also enjoy the shortest lines you'll see all day.
08
Use Extra Magic Hours
If you are staying at a Disney resort, definitely take advantage of the Extra Magic Hours.
09
Find the Starbucks
Yes, there are actual Starbucks in all of the Disney Parks. Expect long lines, but it really helps to make early mornings at the happiest place on earth a bit, well, happier.
10
Don't Wait in Lines For Princesses
If you've got a princess worshiper, do yourself a favor and book a breakfast (at Cinderella's Royal Table in Magic Kingdom) or lunch (at Akershus Royal Banquet Hall in Epcot) with the princesses. This way your princess will get to meet all of the leading ladies (minus the Frozen sisters, unfortunately), and you won't have to wait in a single line. It's pricey but well worth it.
11
Make Food Reservations
This is a great way to be able to sit down, take a break, and cool off. Most restaurants in the parks (and Downtown Disney and the hotels for that matter) will be fully committed, and you usually can't just walk in.
12
Definitely Eat at Beaches & Cream Soda Shop
The Beaches & Cream restaurant at the Beach Club Resort is one of the most underrated restaurants at Disney — and it now accepts reservations too. Get the Kitchen Sink and your kiddos will talk about it for years to come.
13
Make Sure Kids Go Potty Before Getting in Lines
Cast members are typically very helpful in getting a little one to the potty stat, but it does mean you'll need to swim against the stream of a crowd, and that's just not fun. Go first and save yourself the stress.
14
Use Your "Rolling" FastPass
Before arriving, you can book up to three FastPasses for rides in the same park online (30 days before, unless you're staying at a WDW resort, then it's 60 days!), then once you have used them all, you can use the My Disney Experience app to make an additional FastPass reservation. Once you use that one, head back to the app and repeat! Pro tip: schedule your reservations for as early in the day as possible, so that you have time to book more throughout the day.
15
Use Your FastPasses Wisely
In other words, don't book FastPasses on rides that don't usually have long waits or rides that you don't really care about riding.
16
Use the Rider Switch Service
If guests in your party can't or won't ride a ride (too scared, too short, too teenager-y), then you don't have to miss out too. One adult can wait with the nonrider while the rest of the party experiences the attraction. Then once the riding adult in the party returns, the waiting adult can then board the attraction without having to wait in the regular line again. Just tell a cast member at the beginning of the line, and they will take care of you. Your riding child can even go twice (once with each parent). Pretty cool, right?
17
Rent Strollers Elsewhere
If you're not bringing a stroller, think about renting one locally from a place such as A Baby's Best Friend. The benefits are threefold: you save a ton of money, they deliver directly to your hotel room, and you don't have to leave it at the park (getting out of the park and back to your hotel room with an exhausted child and no stroller is not ideal).
18
Make Your Stroller Stand Out
Don't even get me started on stroller parking at Disney World; it's crazy. Do yourself a favor and make your stroller stand out and easy to spot. We usually put about 10 colored rubber bands on the handles of our strollers so we can spot them quickly — even after they have been moved by a cast member in our absence.
19
Bring a Stroller For Kids Who Have Aged Out of Their Strollers
Your 2-year-old definitely needs a stroller, but your bigger kid does, too. Even if your 6-year-old typically does not ride in a stroller, you'll all be happy you have one for him at Disney. It's a lot of walking! Trust me on this one.
20
Bring a Clip-On Stroller Fan
Take it from us Floridians, it can get hot down here — and we're used to it. A clip-on fan will keep your little one cool, and you can take it off and give yourself a breeze every once in a while too.
21
Bring 2 Strollers Instead of a Double
I know you love your Double Bob for your two kids, but the crowds at Disney are not the easiest to navigate with such a wide load. We now bring two umbrella strollers, and my husband and I each take a stroller and then we can zip around the park with ease. Plus, if one child falls asleep, the other can still keep going strong while one parent tucks away with the sleeper.
22
Buy Themed Gifts When You See 'Em
All stores are not equal when it comes to the gift stores at the park. We have made the mistake of telling our kids they should wait to see what they want until the end and then had to walk all the way back to locate the one item they had their hearts set on.
23
Give Your Kids a Gift Card
Before you go, hand your kiddos a preloaded gift card. You decide the amount and then they can use it to buy whatever they want — explain that when it's depleted, no more gifts. This will help avoid your kids asking you to buy everything they see.
24
Bring an Autograph Book and Marker
Like anything, you can certainly buy one there, but they'll cost ya. Plus, many moms like to make them for their kids so they are more customized.
25
Bring Your Princess Dresses
Don't buy them there, unless you want to pay upwards of $70 to $100 each.
26
Bring Cheap Colorful Ponchos
If it rains, which it probably will for 10 minutes at some point during your visit (this is Florida, after all), you can buy fun clear ponchos with Mickey on them for about $8 a pop. Or, you pack cheap colorful emergency ponchos ($10 for six), and you'll not only save money, your family will also stand out in a sea of clear ponchos.
27
Don't Forget a Rain Cover For the Stroller
If you don't own one, or if you're renting a stroller, many savvy mamas find that a cheap clear shower curtain does the job too!
28
Utilize the Baby Care Centers
If you're heading to a park with an itty-bitty babe, don't forget about the Baby Care Centers. Each one provides a nice spot away from the chaos where you and your baby can cool off, nurse, rock in a rocking chair, eat in a high chair, change a diaper, warm a bottle, or simply just hang out. There is also a little store that sells necessities if you forgot something.
30
Avoid the Fiery Show
If your kiddos have even the slightest fear of fire, then you might want to skip the Indiana Jones Epic Stunt Spectacular show at Hollywood Studios. It's lengthy and features a lot of fire. You have been warned.
31
Take a Siesta
Think about taking a break from the parks in the late afternoon for an hour or two. It's when they are the most crowded and hot (and when children are the most tired). Resting allows everyone to refuel (perhaps even nap), and it also ups your chance of your little ones making it to the fireworks.
32
Bring Your Own Glow Sticks
Disney comes alive with lights after dark, and your tot will most likely start eyeballing a $15 glow sword as the cast members start rolling them out and swinging them before your tot's eyes. Come prepared with your own cheaper glowing gear, and you'll all be happy. Plus, kids love to hand out glow sticks to other kids while waiting for the parades, and it kills time.
33
Leave During the Fireworks
This might sound crazy if you're a big fireworks-lover, but if you're sort of indifferent toward them, then heading out of Magic Kingdom during the fireworks is a no-brainer. Everyone else will be stopped and looking up at the sky, which means you'll be able to fly out of there without fighting any crowds.
34
Go During a "Party"
Plan to go to the Magic Kingdom for Mickey's Not So Scary Halloween Party or Mickey's Very Merry Christmas Party. Tickets are a tad cheaper, lines are a lot shorter, and usually it's a bit cooler.
35
Do Point Out Food Allergies
Disney is by far the most food-allergy-friendly place on the planet. If you or your child has a food allergy, tell them. Someone (usually a manager or chef) will come out and help you every step of the way. Plus, there are allergy lists of ingredients at all the carts. Never hesitate to ask!
36
When All Else Fails, Hop On the People Mover
When you're tired of waiting in lines, need a break, want a low-key ride, or just need a minute to regroup, get on the People Mover at Magic Kingdom. There is never a line, the kids will still feel like they are on a "ride," and it's something everyone can go on and you'll even have fleeting moments of air conditioning.
37
Pick One Parade
Unless you really, really love parades, you only need to pick one parade to get a good spot for and watch. Once you've seen one, you don't really need to see another.
38
Go on Dec. 10
I feel like I might be breaking some sort of Florida-resident code here, but Dec. 10 is the best day to visit a Disney park. Don't ask me exactly why that's such a magical date — just know that if you can make it work, you will not be disappointed.