The Ultimate Guide to Doing Disney Over Christmas Flickr user traveljunction
Every day at Disney has the potential to be the most special day of the year, but Christmas Day at Disney definitely takes the cake. While you'll need to mentally prep yourself for the crowded craziness (as this is actually one of the busiest times of year to go), the magic of Disney combined with the magic of Christmas will make this vacation one you and your kiddos will never forget.
Read through for tips, tricks, event information, and more to plan your holiday Disney vacation.
01 Plan the events you want to go to early.
If you're a last-minute planner, Disney at the holidays is going to be tricky for you. To ensure your family gets to do all of the most magical things on your vacation, read up on all of the shows, attractions, and events beforehand so you can decide which are the most important to tackle in case overcrowding creates a planning ultimatum.
02 Don't miss any of the holiday events!
Most Disney attractions are around all year long — don't miss the seasonal ones!
03 Buy tickets for shows and events well before you leave for your trip.
The holiday shows at Disney are truly magical, so naturally, everyone wants to see them. If you want to go to Mickey's Very Merry Christmas Party, it's best to get tickets well in advance (they're on sale now!).
If you want to bring your kiddo to the Candlelight Processional (you definitely should) or Fantasmic!, it's a good idea to book a reservation for the dinner showing, which guarantees seating for your family.
Pro tip: if you're staying in a Disney hotel, you can book FastPass+ up to 60 days before your trip to get on line for rides and attractions before you even step off the plane (if you have an annual pass or purchase a day ticket, you can make selections 30 days before your trip).
04 Meal reservations, too!
There's nothing worse than screaming kids — or adults — with rumbly tummies. Make reservations well ahead of time so that the magic of the day doesn't disappear in everyone's "hanger."
Pro tip: not all restaurants release their inventory to the Disney reservation system, so if everything's full online, try calling them directly — or if you have some time to spare and are in a pinch, try walking up on the day (this method is underrated, as most people assume you need reservations!)
05 Don't park hop on Christmas Day.
06 Navigate Mickey's Very Merry Christmas Party like an expert.
If you're going to Disney before Dec. 22, the tickets for MVMCP cost between $90 and $109 per person and most people say that it's worth the extra cash as it's a really great show with so many different components. There is a lot included in the ticket:
Mickey's Once Upon a Christmastime Parade
A Totally Tomorrowland Christmas!
A Frozen Holiday Wish
Holiday Wishes
Club Tinsel
Disney character meet and greets with characters dressed in their holiday attire
Snow on Main Street, USA
Free cookies and cocoa
Pro-tip: View the parade from Main Street!
07 If you're not attached to the parades, or you've already seen them, use that time for rides!
If you've already seen the Christmas parade a few times too many, or maybe it's too loud for one of your kiddos, use this precious time when everyone else is marveling at the lights and songs to hop on shorter ride lines.
08 And if you're not attached to each other, use the single rider lanes for rides!
Of course, Christmas and the holidays are all about family — but if you can deal with the time apart from each other for a few blissful minutes of ride time, utilize the single rider lanes to cut waiting times by a ton.
09 Be on an opposite schedule as everyone else.
In order to "avoid the crowds" on one of the most crowded days of the year, ignore a "normal human" schedule. Eat lunch at 11 a.m. or after 2 p.m., get on lines for the most popular characters and attractions when the park opens (or book with FastPass+!), and if your heart isn't set on Magic Kingdom or Epcot, there will likely be less people in Hollywood Studios and Animal Kingdom on Dec. 25 and 26.
10 Bring your snacks/lunch with you.
Although it may seem easier to just "grab something at the park," during this busy season, it's actually easier to grab a seat and have a backpack picnic with your family to avoid waiting on food lines and spending extra cash. Same goes for snacks — though, let's be honest, you really need one of those Mickey Rice Krispies treats.
11 Check out all of the holiday offerings at Disney Springs to avoid the parks on the busiest days.
If you're going to be in Disney over Christmas but aren't jazzed about lines and crowds on Christmas Day, use that time to check out all of the holiday offerings at Disney Springs. It'll still be busy in that area, especially as you don't need a park ticket to get in, but that also means you can come and go as you please if the events get too hectic.
Here's what they're offering up for the holidays:
Seasonal treats at select restaurants such as holiday-themed poutine and peppermint macarons
12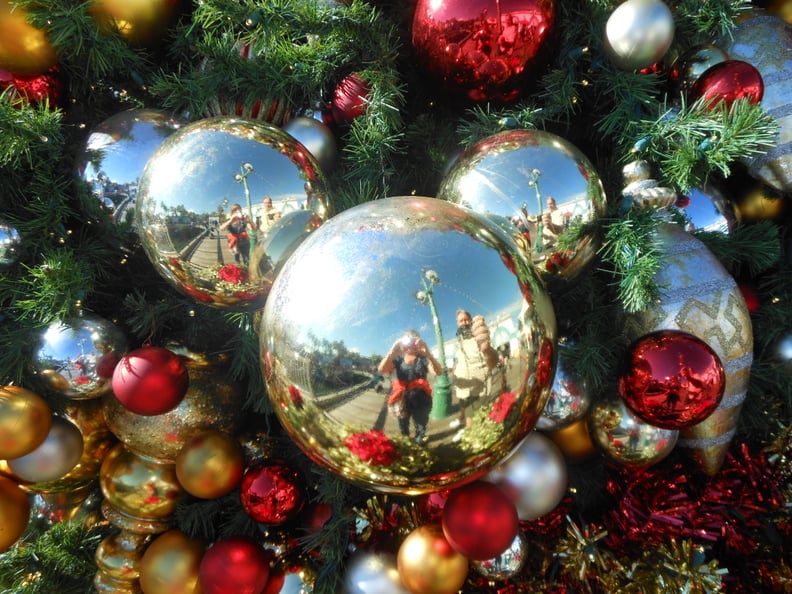 The extra few bucks to stay in a resort hotel may be worth it this time of year.
Disney does a bunch of things in their resort hotels to make you feel like you're "home for the holidays." Each hotel has their halls (lobbies) decked, and you can spend a little bit extra for some fun in-room experiences like "Dreaming of a Disney Holiday" ($450), in which kiddos can return to their hotel room after a long day of fun to find that their favorite characters have left them a bunch of holiday surprises to make them feel more at home.
13 If you're not staying in a resort, visit them anyway!
If you're not staying in any of the resorts, it's free to travel to all of them from the parks and to go into the lobbies and see all of the decorations (and in the Contemporary and Grand Floridian resorts, giant gingerbread house displays), if you're up for a DIY tour adventure!
14 Don't forget about the magic of the holidays.
In a place as crowded and full of people as Disney, it's important to remind yourself to take every moment in, try not to stress, and stay positive even when you're on a two-hour-long line for a 10-minute show. Take tons of photos, enjoy your awe-struck, smiling kiddos, and have fun — the holidays only come around once a year, and being in Disney for them is an experience your family will never forget!