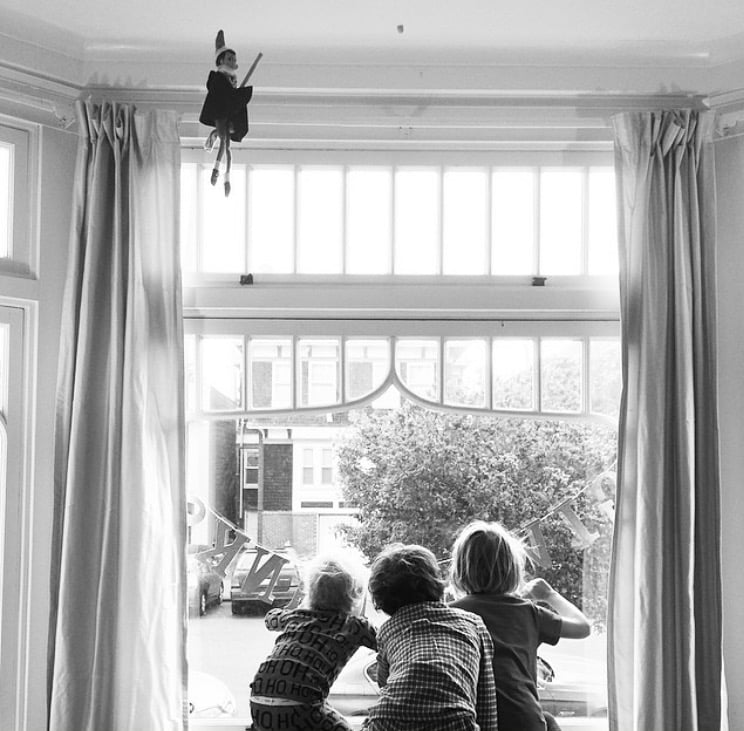 Michele Bell
Michele Bell
It's the most wonderful time of the year, right? For many parents, it feels quite the contrary. The holiday season is a stressful and harried time of year. We have to get to our kid's school on time for their holiday performance, wrap presents, go to holiday parties, volunteer at the food bank, wrap more gifts, bake cookies, buy a hostess gift, decorate a gingerbread house, plan the trip to Aunt Amy's house . . . the list goes on and on and on. But for kids, it really is the most magical time of the year!
They wake up and punch open another door on the Advent calendar or unwrap another Hanukkah present. They watch How the Grinch Stole Christmas and Home Alone on repeat, decorate cookies with friends, and sit on Santa's lap to whisper their heart's desires. And in recent years, they fly out of bed every morning to find their beloved elf hiding in the house waiting to report their behavior to the jolly guy up North. Love him or hate him, that Elf on the Shelf is here to stay and he's brought his magic with him.
While some kids are weary of the red felt doll, others, like mine, are obsessed with him. They write notes to him, make outfits for him, take pictures of him, and they even cry on Christmas night when he leaves, always hoping he'll stay just another day or week or adopt us year 'round.
There would be a big hole in our holiday hearts without his antics and high jinks.
Although I've gone a tad overboard with the tradition (ahem, some might say I have issues), the affection that my kids have for our Alfie has brought a whole new magical spirit to our family during the holiday season. We have had the Elf on the Shelf tradition for about six years, and my three children, ages 10, 8, and 5, believe he is 100 percent real. My eldest child has questioned his legitimacy over the last couple of years and recently, just as I thought the jig was up with her, she began writing notes to him again. Some of her friends know the "truth" of the matter, while others are still staunch believers.
I know she may be sad to find out it was me all along, but I hope she and her brothers will realize that the reason I kept allowing them to imagine Alfie trekking up to Santa every night is because it has made our house magical every morning from Thanksgiving night until Christmas evening for years. They delight in his adventures, his outfits, his Barbie friends, and his ability to educate them on current events.
So say what you want to about that Elf on the Shelf, but we like him and the invisible dust he has sparkled in our home for all these years. Sure we would have survived without him, and I wouldn't be so sleep-deprived in December, but there would be a big hole in our holiday hearts without his antics and high jinks to keep them laughing, entertained, and sometimes well-behaved. And the magic is not lost on me, the mama elf behind Alfie on the Shelf. What a gift it is to watch my kids believe in something so strongly with all their heart and soul. Just like that old 1970s band, Pilot, sings:
"Oh, ho, ho,
It's magic you know,
Never believe, it's not so,
It's magic, you know,
Never believe, it's not so."
I've managed to keep the magic alive well past many kids' magic-believing expiration dates, so here are my top three tips for other families looking to do so with their Elf on the Shelf:
Cut off his tag that says he's made in China!
Write a note to your kids using your nondominant hand to disguise your handwriting.
Move him nightly, even if it's just from one picture frame to another, so they don't start to suspect something's up with Mom and Dad.