39 Photos That Prove Jennifer Lopez and Alex Rodriguez Have the Cutest Blended Family in Hollywood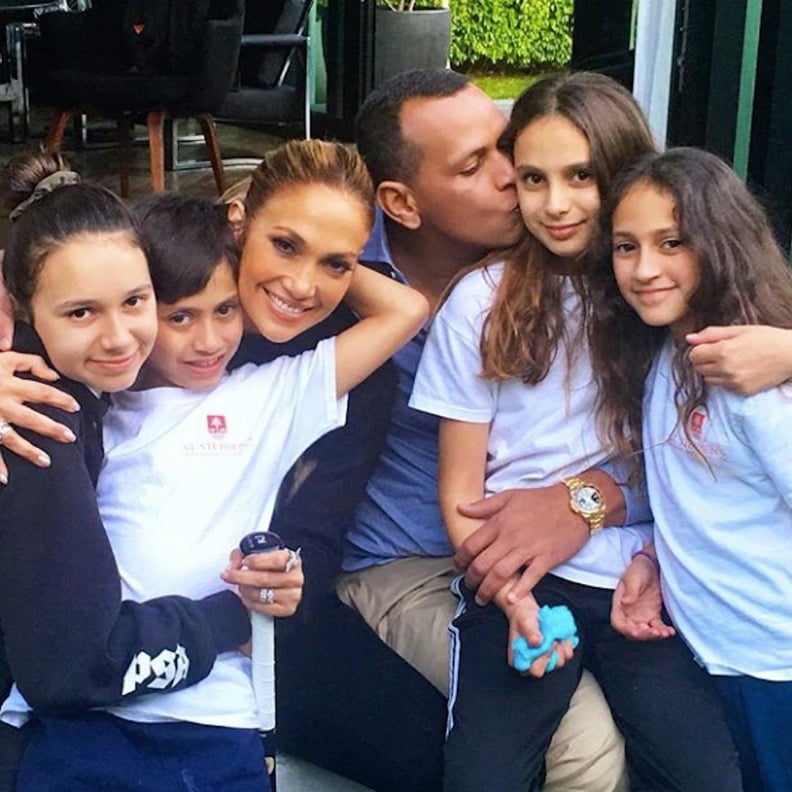 Jennifer Lopez and Alex Rodriguez are a match made in celebrity heaven. Besides their incredible talents and good looks, they've managed to show the world how a blended family should be. Having come from a family with step children and half-siblings, I know how hard it can be to make these situations work, and if their Instagrams are any indication, they've really figured it out. Blending their two families — two daughters on his side (Natasha and Ella) and twins on her side (Maximillian and Emme) — J Lo and ARod really are parenting goals. Here are just a few times they've proven that with love and hard work, a blended family can be a beautiful thing.
— Additional reporting by Katelyn Evans
01
They Love Each Other's Kids as Their Own
Jennifer and Alex love each other's kids like they are their own, and they both often share photos of their family like this on Instagram.
02
Jennifer Adores All of Her Girls
Just because she didn't give birth to Alex's daughters doesn't mean she can't adore them. "Me and mine," she captioned this sweet photo of her daughter Emme and Alex's daughters Ella and Natasha.
03
They Celebrate Each Other's Accomplishments
Alex shared this picture of the family at his daughter Natasha's middle school graduation to congratulate her.
04
They Carpool Together
The family never seems to mind squeezing in the backseat of the car. Alex shared this selfie on the way to drop the kids at school with the caption, "Daddy carpool duties."
05
They Root For the Same Team
The whole family is a fan of the New York Yankees, Alex's former team. In addition to often sporting pinstripe apparel, they showed their support at baseball game in New York.
06
They Love to Dance
The whole family has dance moves — how couldn't they with a teacher like J Lo!? Alex shared this silly shot of the family supporting his daughter Ella with the caption, "No better Saturdays than backing up this dancing queen."
07
They Give the Best Hugs
In this sweet post, Jennifer's kids Emma and Max give the couple a big squeeze.
08
They Take Beach Days
The family took a quick trip to the beach in Malibu to watch the sunset and celebrate the new year together.
09
They Make Room For Each Other
The couple always makes time for their family in their busy schedules. And sometimes, they literally make room for each other. The family didn't mind squeezing in the backseat of Alex's convertible to ring in the new year together.
10
They Have Matching PJs
After posting a photo of him and Jennifer in matching pajamas for Christmas, Alex shared this shot of Ella and Emme in matching fuzzy, blue PJs for family night.
11
They Practice Music Together
Like Jennifer, like daughter and step-daughters! The couple's girls put on a ukulele performance for them as they sat fireside.
12
They Celebrate the Holidays Together
The family gathered at home to get in the holiday spirit and decorate their Christmas tree.
13
They Love a Lazy Morning in Bed
Alex shared this sweet shot of the family snuggled up in bed with the caption, "Thankful for mornings like this with the ones I love most..."
14
They Learn From Each Other
Even with the couple's busy schedule, Jennifer finds the time to help the kids with homework.
15
They're Best Friends
Jennifer's daughter Emme and Alex's daughter Ella share a snuggle. How cute is their bond!
16
They Fight For Women's Rights
Alex shared this photo with his girls and his support for women's rights with the caption, "Proud and excited to be witnessing #herstory alongside these leading ladies as more women have won seats in the US House of Representatives than ever before. There's no better time for my girls to grow up seeing examples of women dreaming, believing, and achieving."
17
They're Close as Can Be
Even smushed in the backseat of the car, the family is all smiles.
18
They Goof Around Together
The family loves to have fun. In this hilarious video, Max and Emme show off their Halloween costumes and some silly dance moves.
19
They're Each Others Number One Fans
The family is front and center (or more accurately, backstage) at Jennifer's shows. Emme looked like a princess while supporting her mom at her second show in Vegas.
20
They Support Each Other
The family is always showing their support for each other, from attending J Lo concerts to posing with ARod baseball bats. The family tagged along to support J Lo during her performance at the VMAs.
21
They Party Together
The whole family and a few friends traveled to a tropical location to celebrate Jennifer's birthday.
22
They Jam Out in The Car Together
While vacationing in the Hamptons, Alex shared this video of the Jennifer, his daughter, and a friend jamming out to some tunes in the car.
23
They Head Off to School as a Team
The bond between their kids is evident in this cute photo en route to school.
24
They Celebrate One Another
Performances, like the dance recital pictured here, are important times for children to see all of their parents be supportive and encouraging. Jennifer's ex, Marc Anthony, who is Max and Emme's father, frequently hangs out with the couple to cheer on their kids.
25
They Give Post-Swim Cuddles
There's nothing better than a cozy cuddle from someone you love, especially after a long day of playing hard.
26
They Have Fun on Social Media
Not that they need filters to look good, but it's so sweet the way they're clearly playful with one another. Even a simple photo snapped by Alex's daughter shows so much joy.
27
They Bond While Flying
Hanging on a private jet is a fantastic way to get around, but what makes this sweet photo really stand out is how attentive Alex is to Jennifer's son, Max.
28
They Know That Time Together Is What's Really Important
If these photos don't make you want to attend a family BBQ, I'm not sure what will.
29
They Include the Whole Family on Certain Date Nights
The couple could easily go to sporting events solo, but instead, they love bringing along their kids, like at this Lakers game.
30
She Brings the Kids to Work
When I went to work with my dad, I got to help him grade papers and sit in the teacher's lounge. Their kids get to visit a TV set as she films her show Shades of Blue.
31
They Take Family Trips
Jetting off to Idaho for a family trip, they embrace the family vacation, complete with killer leisure wear.
32
They Crush Choreography Together
In this viral video, Alex's eldest daughter, Natasha, manages to hold her own with alongside Jennifer as they perform some choreography for her song "Dinero." It's clear they worked hard, but also keep it fun, as evidenced by the giggles at the end.
33
They Have Fun in the Pool
You don't need to go far to make time for each other. A simple day in the pool can be enough to help ensure quality time.
34
Alex Recognizes How Important Being a Dad Is
In his touching Father's Day tribute, Alex shared some thoughts and photos about being a father, including to Jennifer's children, writing, "As I grow older and proudly watch them doing the same, not only are my kids my pride and joy and number one priority — now they also motivate me."
35
They Respect Their Exes
When it comes to raising children, it's important to remain respectful with your ex and your partner's ex. It's clear that this family knows how to work together and doesn't let the past get in the way.
36
The Make Family Meals Happen
Family meals, even if it's a simple taco Tuesday, make a big difference to family bonding. They know how important it is to dine together over good food.
37
They Know That Group Hugs Are the Best
One thing that's clear from their Instagram photos is that they genuinely enjoy being around each other. They are playful and affectionate.
38
They Help Keep Each Other Healthy
Clearly neither of them need any help working out (have you seen her abs?), but if this pose is any clue, they also enjoy being active together.
39
Most of All, They Truly Care For One Another
When merging a blended family, things might not be perfect all the time, but what is most important is that everyone cares for one another. This family clearly has that figured out.