As POPSUGAR editors, we independently select and write about stuff we love and think you'll like too. If you buy a product we have recommended, we may receive affiliate commission, which in turn supports our work.
Bedtime is one of the areas where my family doesn't follow the rules. We were "supposed" to implement a bedtime routine that includes one quick book, a kiss goodnight, a tuck-in, and then lights off. We had every intention of following the parenting rule book, but once my daughter turned 3, she insisted that somebody lay with her until she falls asleep. My husband and I both work for ourselves, and the evenings are sadly the time when we both catch up on emails and sneak in some extra work. Working after hours is unfortunately part of the deal when owning a small business. The drawn-out snugglefest is so sweet, but doing this every night really puts one of us behind on our work!
We tried to follow Dr. Google's advice and set some boundaries with our daughter, but the cuddles won out. I tried bringing my laptop into her bed, so I could work while we snuggle, but she kept wanting to "help" me type, and it was too much of a distraction. I spent a week skipping my evening work, but then ended up staying awake way too late catching up. Finally, I had a lightbulb moment.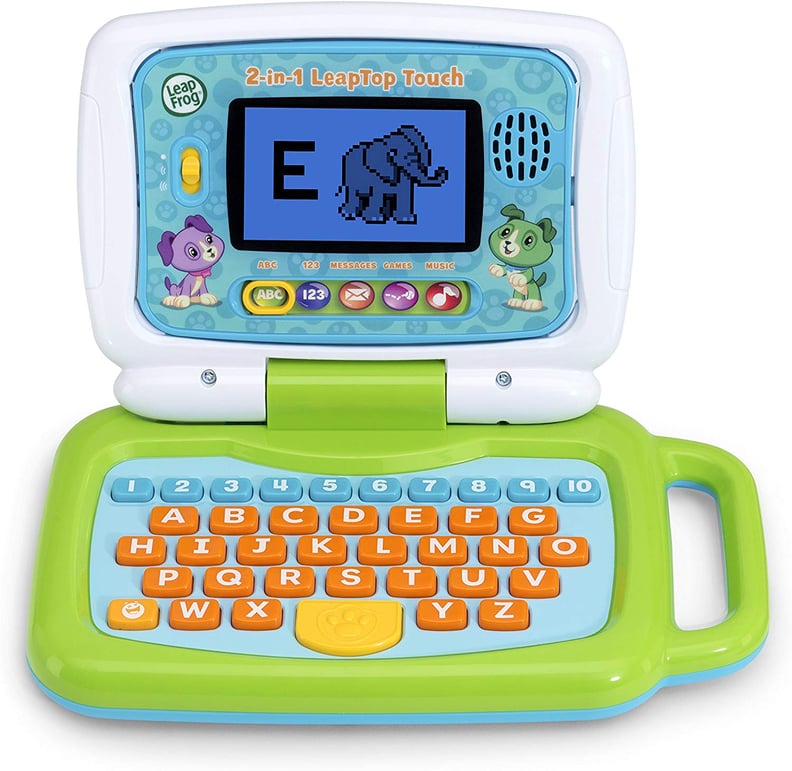 I found the LeapFrog 2-in-1 LeapTop Touch ($20), made especially for toddlers. This laptop does not emit blue light and offers very simple games like ABC identification and counting. I told my daughter that instead of helping me work, she could do her own work on her very own laptop. Thankfully, she was all about it.
When bedtime came around, I turned out the lights, and we both fired up our "laptops." I clicked away responding to emails that had come in over the past few hours, and my daughter happily clicked away like her mama. After about 10 minutes of her work, she told me that she was feeling tired, turned her laptop off, and snuggled up to me and fell asleep. And this has been our bedtime routine ever since.
It isn't the ideal solution. It adds up to more screen time every day and many evenings, I would really love some alone time to catch up and just be by myself. (Does anyone else get touched-out by the end of the day?) But allowing my daughter to work on her laptop while I work on my laptop at bedtime prevents fights, tears, and bedtime anxiety. It also saves a ton of time that we were spending negotiating and convincing her to sleep on her own. Being a working parent requires some unconventional to help get you through the day. And besides, even if they come at a sometimes inconvenient time, those extra snuggles are supersweet to get.